Demonxz95
Card Design Champion

Eternal Prophet
Join Date:

3/20/2016

Posts:

3,899

Member Details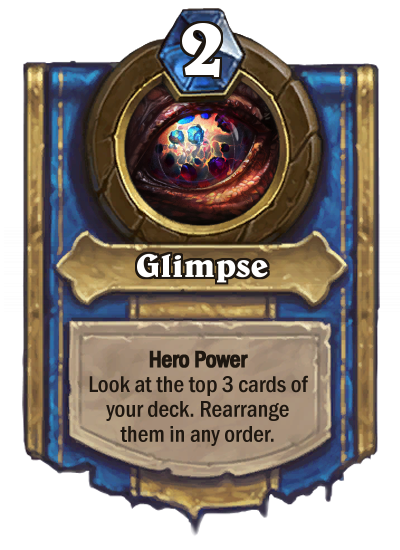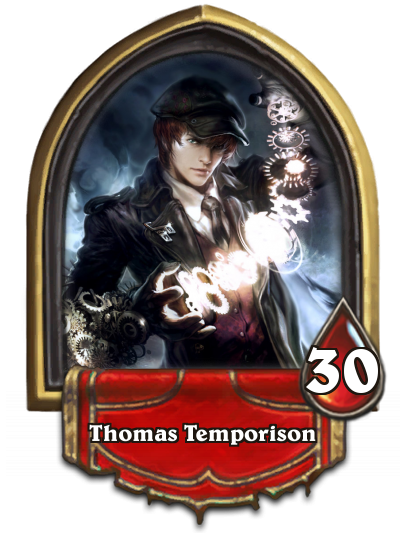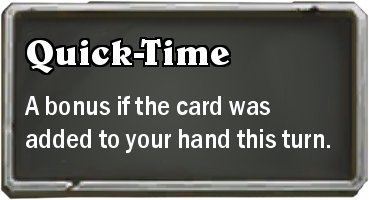 My entry for "Deathwing Needs a Friendwing" was the Time Traveler class. Out of more than 100 entries, I ended up scoring 5th place for the second big comp in a row and was only one spot away from the finals. In the end, the winner of the competition was McF4rtson's Sea Witch class.
Time Traveler is a control-oriented class focused around... well, time and manipulation thereof. One main strength is the constant ability to see the next cards you draw through the Hero Power, Glimpse. Glimpse has you look at the top 3 cards of your deck and will allow you to rearrange them in any order, giving you information as to what you will draw next and being able to change it to optimize your play. Unlike the traditional basic Hero Power, Glimpse doesn't have an immediate impact on the board as soon as you use it, but it's extremely useful for planning out future turns and optimizing your draws.
The class contains a new keyword in the form of Quick-Time. Cards with Quick-Time effects will have their effects activated if you play the card on the same turn you receive it, either by drawing it or generating it. Either way counts. In most other classes, this effect seems like it would be inconsistent and top-deck reliant. The Time Traveler class however has many ways to get around this, namely their Hero Power in which you can rearrange the cards you draw to make sure you draw the Quick-Time cards when you actually want to draw them. There are also some cards in the class which can make Quick-Time cards even easier to activate.
UI for the Hero Power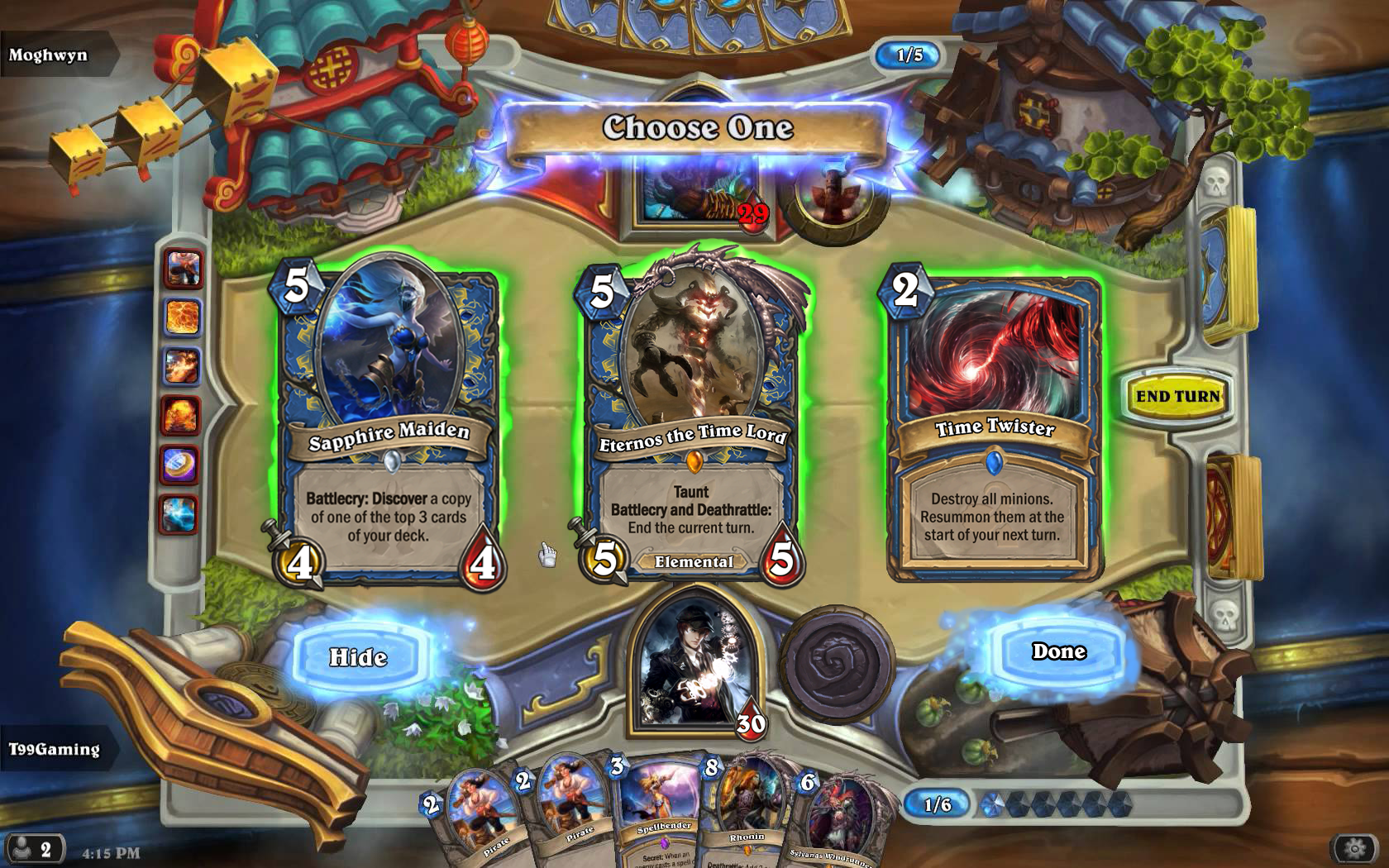 Click and drag the cards around to change their order.
Special thanks to NiRaSt for making for picture.
Strengths:
Strong card draw and card generation. Quite a bit of it too! In Time Traveler, keeping a good hand size is generally not a problem.
Strong removal and AoE. This is a Control class after all.
Ability to plan future turns in advance because of the Hero Power and some class cards.
Weaknesses:
May have a hard time finishing off the opponent as most of the class's direct damage can only target minions.
Limited win conditions overall.
Fairly high skill cap. To players who aren't familiar with this class, it may prove to be hard to play.
Out of every big project I've ever made, this is the one I'm the most proud of and satisfied with, and I hope you like it as well.
Themes:
# 1: The Top of your Deck:
One VERY prominent theme with the Time Traveler class are top cards of your deck (usually 3, but 4 in the case of Future Sight). The Hero Power and Future Sight allow you to look and rearrange the order of said cards. Some other cards like Chrono Prophet have varying effects based on what the top card of your deck is.
Examples: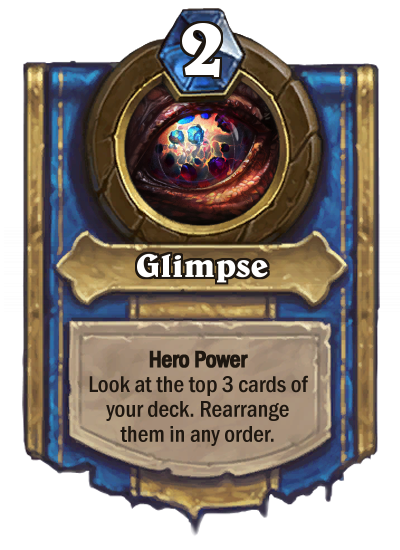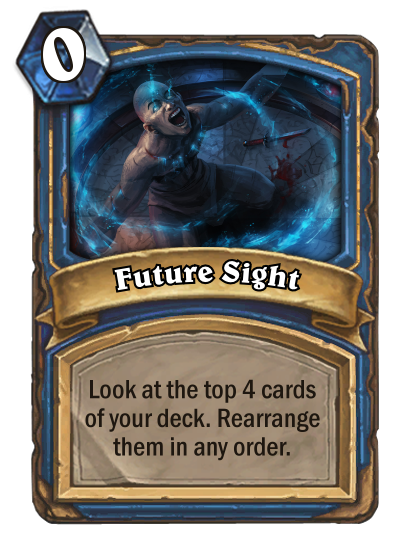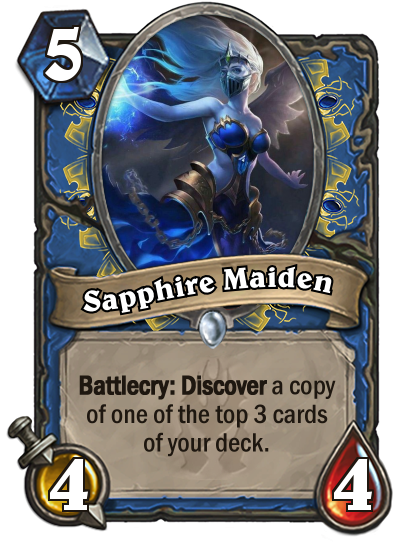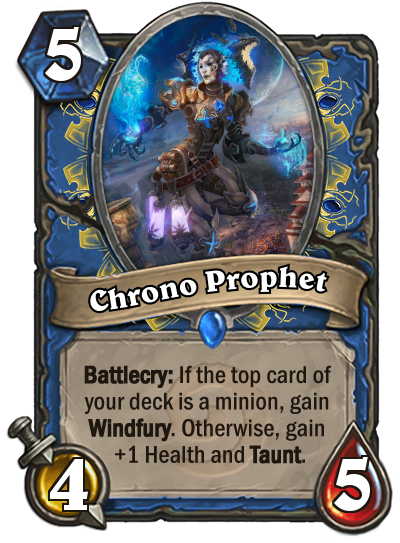 #2: Quick-Time:
Quick-Time is the keyword here, so of course it needs fair representation. In addition to normal Quick-Time effects, some other cards have effects that interact with the keyword without actually using the mechanic (akin to Fandral Staghelm with Choose One cards).
Examples: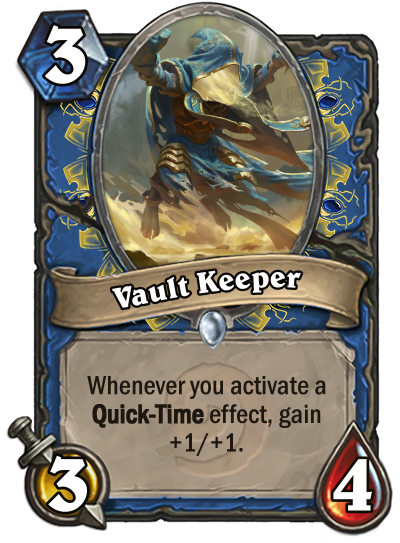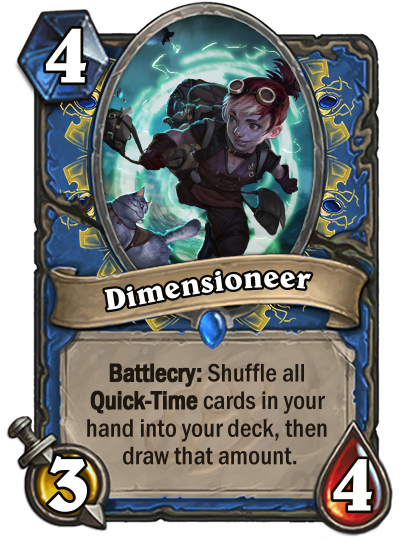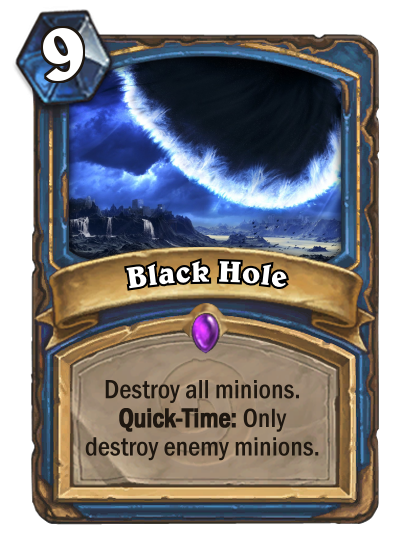 #3: Card Draw and Generation:
As a Time Traveler, you have the ability to go forward in time to draw cards, or go through alternate dimensions to gain cards from outside your deck. Generation is a prominent theme, but I think I executed it so it's not as frustrating as Mage.
Examples: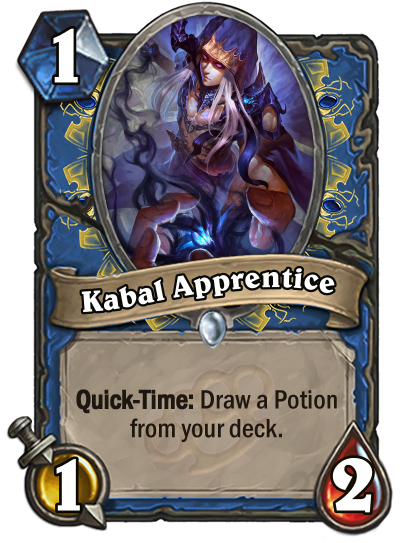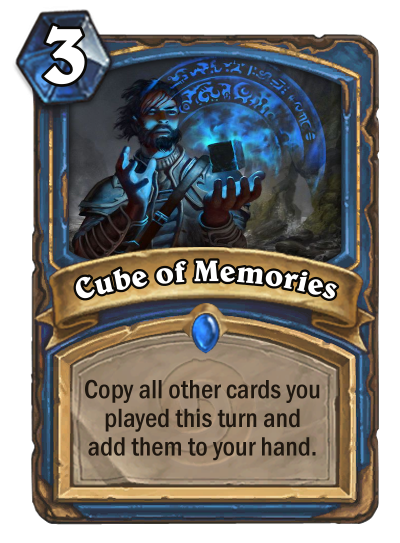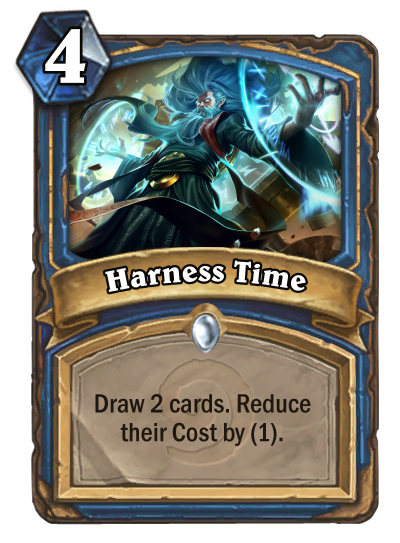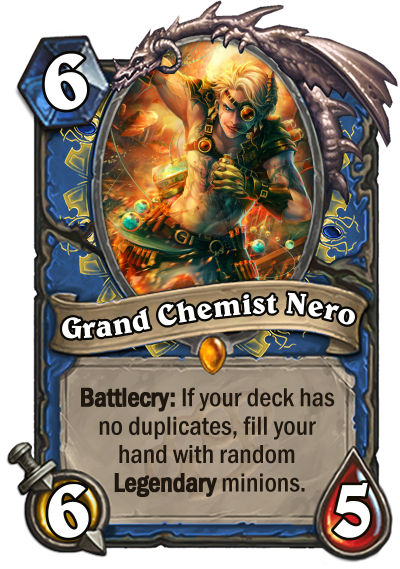 #4: Cost Reduction:
Although not as prominent as some of the other themes, Time Travelers specialize a lot in cost reduction effects.
Examples: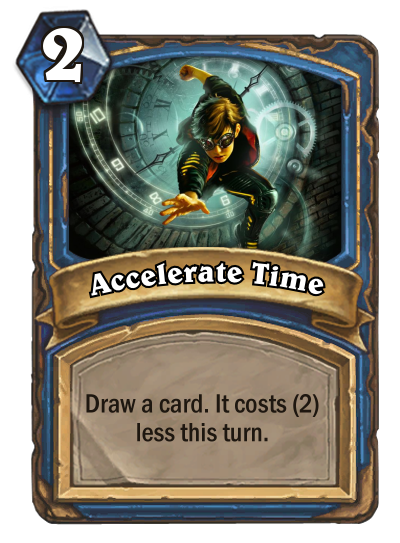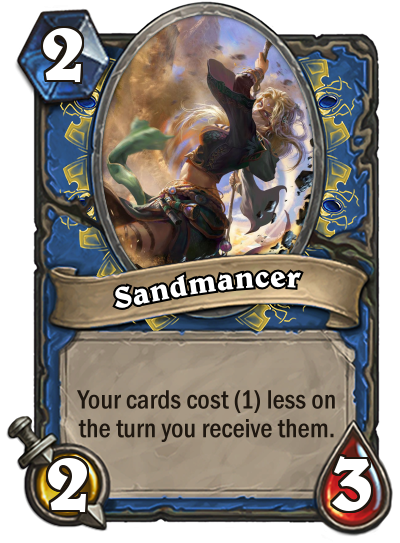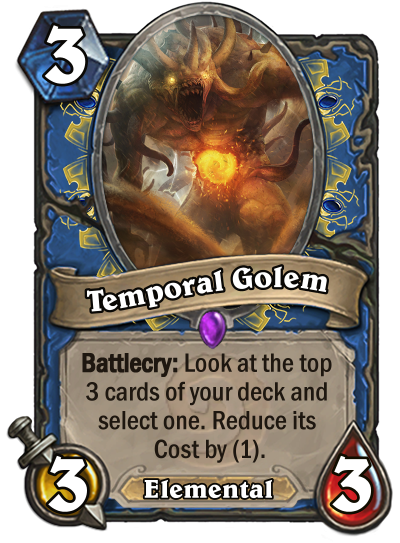 #5: Different Dimensions (Moving through time)
Time Travelers don't just move forward through time, but also through other dimensions and also alter the past. Parallel Dimensions plays a big role for Quick-Time effects, allowing you to shuffle Quick-Time cards which didn't get their effects off back into your deck and Quick-Time cards you draw after that will activate, even if they were originally in your hand when you played it.
Examples: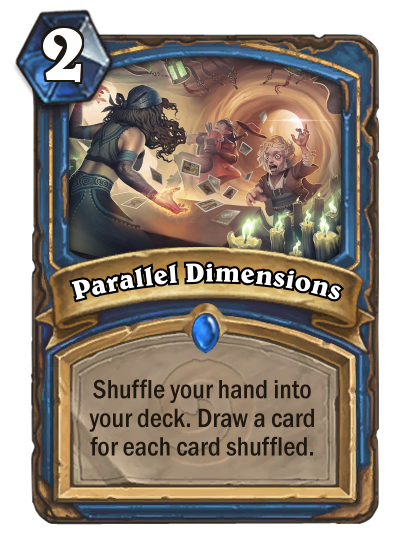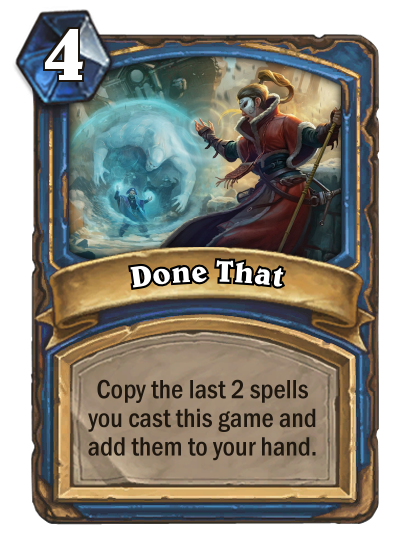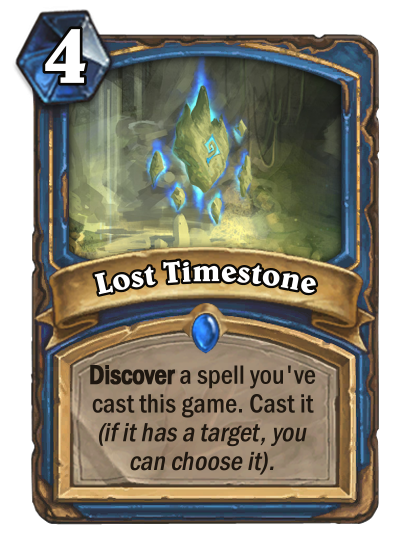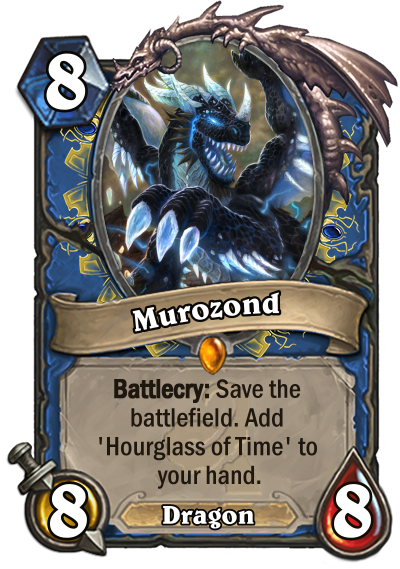 #6: Elementals
The tribe of choice for Time Traveler are Elementals. Time Traveler's mainly use sand elementals (as sand is the theme of time after all) and rift elementals, which are kind of lightning-y in a way.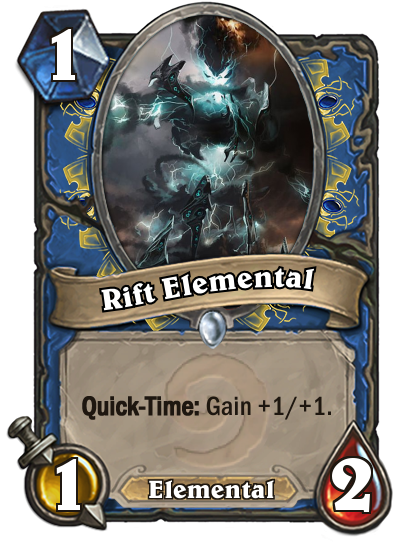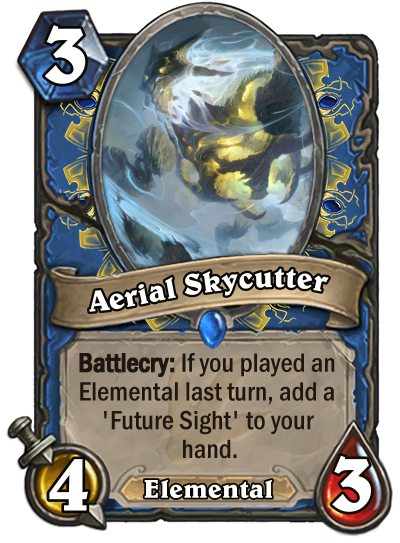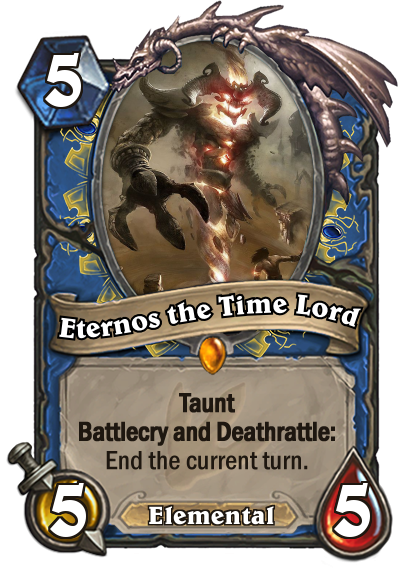 #7: Low amount of RNG
RNG is a very prominent part of all card games, but especially Hearthstone. While RNG can sometimes be very fun, it can also be very frustrating, annoying and takes away some aspect of skill. Normally effects that would have random targets instead have chosen targets instead and random effects are not extremely varied. Whereas cards that cast spells cast them with random targets (Servant of Yogg-Saron, The Runespear, etc.), Theatre Symphonist allows you to choose them instead. The only card in the entire class with a high amount of randomness is Grand Chemist Nero.
Examples: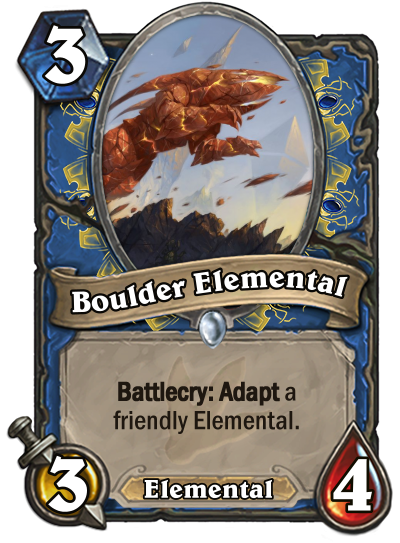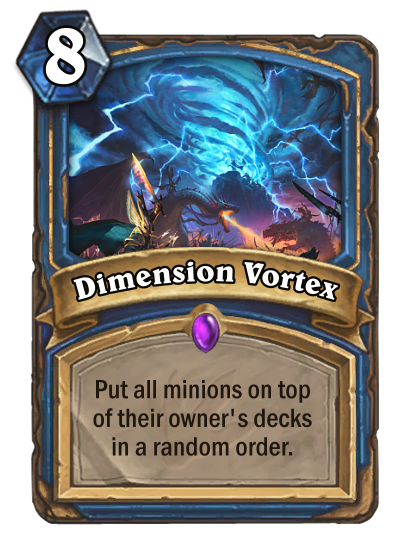 Emotes
Normal Emotes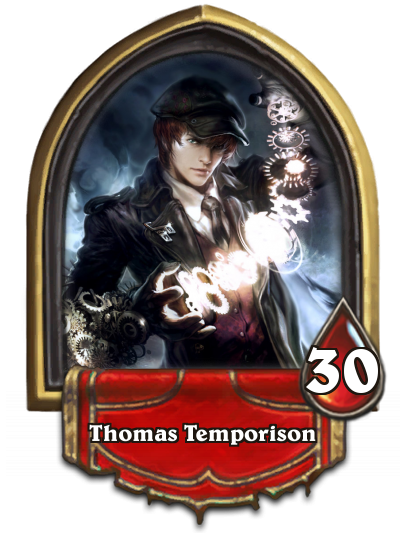 | | |
| --- | --- |
| Opening Remark | |
| Mirror Opening Remark | |
| Greetings/Lunar New Year Greetings | |
| Mirror Greetings | |
| | |
| --- | --- |
| Well Played | |
| Thanks | |
| Oops | |
| Sorry | |
Wow

Threaten

Attack

"For destiny!"

Thinking 1

"Hmm..."

(every Basic hero uses "Hmm..." as their first Thinking emote, so I didn't feel the need to make a speech bubble for it.)
| | |
| --- | --- |
| Thinking 2 | |
| Thinking 3 | |
| Rope Burning | |
| Hand Full | (some heroes use "My hand is full!" Others use "My hand is too full!") |
| | |
| --- | --- |
| Concede | |
| Selection in Arena/Collection | "I know how this turns out." |
| Pirate's Day | |
| Winterveil Greetings | |
Death Knight Emotes
| | |
| --- | --- |
| Play | "This timeline is mine to control." |
| Greetings | |
| Well Played | |
| Thanks | |
| | |
| --- | --- |
| Oops | |
| Wow | |
| Threaten | |
| Attack | "Death is imminent." |
| | |
| --- | --- |
| Thinking 1 | Hmm..." |
| Thinking 2 | |
| Thinking 3 | |
| Rope Burning | |
| | |
| --- | --- |
| Concede | (This is a reference to N. Tropy from the Crash Bandicoot series. In Crash Bandicoot: Warped, he says this line after he dies.) |
I realized half-way through that I forgot about the Hallow's End Greetings. As you can imagine though, that would probably just be "Happy Hallow's End".
Basic Set
Basic Set

As it should for all classes, the Basic Set introduces you to some of the most important cards of Time Traveler and displays some of its core themes.

---

Sample cards

The full list:

Additional Information:

The cards Been There and Done That are a reference to the phrase "Been there, done that". They are both 4 mana spells that create 2 copies of something (either minions or spells). One of the challenges of the competition was to create 2 separate cards that together make one phrase.
Classic Set
Classic Set

The Classic Set expands upon the Basic set and introduces several themes of the class: Elementals, card shuffling, Quick-Time effects, etc. This along with the Basic set make up the core of the class it will stand on through set rotations. Expect some of these cards to be staples of most Time Traveler decks.

---

Sample cards

The full list:

Additional Information:

Cards shuffled into your deck with

Parallel Dimensions

have a chance to be immediately redrawn. Cards drawn with

Parallel Dimensions

will have their Quick-Time effects active even if they were sitting in your hand for a turn and were redrawn.
The Cost reduction effect of

Temporal Golem

is applied to the card and will keep its reduced Cost even if the order of the deck is changed.
Shuffling your deck (with

Parallel Dimensions

or

Kara Shellen

) will change your deck order, meaning

Parallel Dimensions

will not necessarily draw the same cards if you looked at the top of your deck earlier. If you know what the top cards of your deck are, you may have to consider if you want to use the effects or not.

Kara Shellen

appears in the artwork of Done That.
Curse of Naxxramas
The one card from Curse of Naxxramas, plays with recent actions, a theme present in many cards in the class. Rapid Necromancy itself is a card with a skill cap, requiring you to time how you play it, but it can indeed be very powerful if you do so. AoE however might make it a bit unpredictable. I guess this also means Time Traveler technically had resurrection before Priest.
Goblins Vs. Gnomes
Going against the grain, Goblins vs Gnomes does not have much randomness for Time Traveler, as low amounts of RNG is intended to be a class theme. In this set, the class has a theme of interacting with your opponent. Unlike most of the other classes, Time Traveler does not have any Mech synergy and only has one Mech (Chicken Transmutator).

---

Sample cards

The full list:

Additional Information:

Disturbed Flow

is a copy of "Avert" from thepowrofcheese's Chronomancer class, just because it's too perfect.
The first of your tuns after you play

Sally Fizzlespark

, your cards will cost 1 less than their original Cost. On the second of your turns after playing her, your cards will cost 1 more than their original Cost. After that, your cards go back to their original Costs.
Blackrock Mountain
Blackrock Mountain introduces a bit of Dragons to the set although the class is not intended to be a Dragon class, like Priest for instance. Flashback Dragon utilizes card generation in an interesting way so your opponent may have to think twice about they use to kill it.

Additional Information:

If

Flashback Dragon

is killed by a minion attack or effect (Battlecry, Deathrattle, etc.), you will gain a copy of that minion.

If it's killed by a spell, you will gain a copy of that spell.
If it's killed by a weapon attack or effect, you will gain a copy of that weapon.
If it's killed by a Hero Power, you will get nothing.
If killed by a Hero card Battlecry (possible with Deathstalker Rexxar, Shadowreaper Anduin, or Hagatha the Witch), you will gain a copy of the Hero card.
If it's killed by a spell from Yogg-Saron, Hope's End, Scroll of Wonders, or similar cards, you will gain a copy of the spell that killed it.

However, if it's killed by a Shudderwock Battlecry, you will gain a Shudderwock. This is because Shudderwock doesn't actually play cards, but rather it just repeats the Battlecries of those cards.
The Grand Tournament
In The Grand Tournament, you win or you die, the Quick-Time and top of your deck mechanics are expanded a bit. It gives the class a new AoE, as well as having a counterplay mechanism that still feels fair to both players (Temporal Magician).

Upgraded Hero Power (from Justicar Trueheart)

Foresight is the upgraded form of Glimpse. This version mirrors Future Sight, giving you an extra card to look at. Although it may not look like much to some people, the difference one card makes can be very significant. Future Sight is one of the most important cards for the class, so this could be a strong Hero Power.

---

Sample cards

The full list:

Tokens:

Additional Information:

Argent Timekeeper

's Cost reduction effect works like

Temporal Golem

's effect. The card affected will keep the Cost reduction if the deck order changes.

Temporal Magician

's Battlecry works exactly like

Parallel Dimensions

. Only difference is that it's applied to both players.
If multiple minions in your hand are tied for the highest Cost,

Challenger's Portal

will choose a minion at random.
League of Explorers
League of Explorers similarly uses the Discover mechanic and some of its class mechanics in a new way.

Additional Information:

If multiple cards in your hand are tied for the highest Cost,

Ancient Historian

will pick one of those cards at random to shuffle in.
Whispers of the Old Gods
Whispers of the Old Gods adds some new mechanics to the mix as well as utilizing some old ones. The Quick-Time mechanic is expanded in a new way with Power of Yogg-Saron. Have you ever wanted to reduce C'Thun's Cost? There's now a specific support card for it!

---

Sample cards

The full list:

Tokens:

Additional Information:

If you activate

Demented Lackey

's Quick-Time effect, C'Thun's Cost will be displayed in the animation.

Timekiller

is a corrupted version of

Timewalker

from the Classic set. The effect of gaining Attack is instead changed to dealing damage.
If

Dark Replication

transform into a card with a Quick-Time effect, the effect will only activate if

Dark Replication

was added to your hand that turn.

Additionally, if your deck is empty,

Dark Replication

simply won't transform into anything.
One Night in Karazhan
The "if the top card of your deck is X" mechanic last used all the way back in the Classic Set returns in the form of Theatre Symphonist. Other than that, nothing too special goes on, but every Karazhan card copies something.

Additional Information:

Notice how

Theatre Symphonist

doesn't say "(targets chosen randomly)"? This is because the targets are NOT chosen randomly, unless the card is just inherently random. You cast the card as if you were casting it from your hand, meaning if it has a target, you choose the target!
Mean Streets of Gadgetzan
Not being a fan of the Grimy Goons tactics, not wanting to join the Jade Lotus because of a dislike for Jade Idols, and not being able to find other classes to create a new gang, Time Traveler joins The Kabal. Despite their allegiance, Thomas knows that Kazakus is a crime leader. Their allegiance however allows them to combine The Kabal's potion creation techniques with Thomas's time manipulation abilities.

---

Sample cards

The full list:

Tokens:

Additional Information:

Dimensioneer

's Battlecry works exactly like

Parallel Dimensions

or

Temporal Magician

. It however only shuffles Quick-Time cards instead of your whole hand.

Robbing Time

flavorfully allows a Kabal class to mess up other Kabal classes by shutting off their Highlander cards. The card was originally made for a challenge. The challenge ended up not going through, but I liked the card enough to keep it.
Journey to Un'Goro
Some sand elementals from the nearby deserts of Tanaris and Ulduam have wondered into Un'Goro. Do you suppose that's how the Tol'vir got there? Being an Elemental class since its creation, Time Traveler finally gains access to some Elemental synergy in several forms, and the craziest Quest to hit Hearthstone. Fan favorite card Eternos the Time Lord also appears in this set.

---

The Quest!

The full list:

Tokens:

Additional Information:

I made

Wandering Timemage

before Pogo-Hopper existed. I might change the name so the text looks better. Have now done that.

Lost Timestone

has a similar effect to

Theatre Symphonist

. The targets aren't random, unless the card is inherently random. You choose the target!
Restarting the game with

The Rift

will reset both players back to the mulligan. The turn counter and everything else is reset. For example, if either player has a C'Thun in their deck, it will go back to a 6/6. Cards like

Lost Timestone

will also not be able to generate cards you played last game if you didn't play it this game.
Knights of the Frozen Throne
Thomas is dead! In this timeline at least, he'll be back to normal by the time K&C comes along. Card creation is a theme in this set, although it's not random like it is for Mages. Some one-off mechanics are also used in this set.

---

The Death Knight!

The full list:

Tokens:

Lich King Boss Card

Frozen Soul is the boss card played by The Lich King at the same of his turn. When he plays it, he limits your card playing abilities as for the rest of the game, you can only play one card on your turn. Doesn't matter how much mana you have, you play one and you can't play another. Time Traveler has lots of cards which draw and generate other cards which can be good to get more cards to play, but also stops you from playing them as you get them. Quick-Time effects become only possible to activate by top-decking those cards.

Additional Information:

Chronecromancer

is a portmanteau of "chronomancer" and "necromancer", as the effect combines chronomancy and necromancy. It's also a tribute to Ragnador and Schlauchneid's Necromancer class from the same big competition. The class was a finalist.

Frozen Reflections

is a tribute to Maxlot's Summoner class, another finalist from the big competition. The class has a Legendary minion named "Glibbi the Infused" with the same Battlecry as this spell.

Greased Lightning

is a tribute to CheeseEtc's Chef class, another finalist from the big competition. The card mimics the class's Roast mechanic. The card name is also a pun as grease is involved in cooking. It's also a reference to the phrase "greased lightning".

Thomas the Endbringer

's effect of drawing extra cards at the start of your turn stacks based on how many copies of it you play. For example, if you play 2 copies of it in one game, you will start drawing 3 cards at the start of your turn.
Kobolds and Catacombs
Upon reaching the Kobold's catacombs, Thomas discovers what resembles an Egyptian crypt. Time Traveler has an Egyptian theme in Kobolds & Catacombs with sphinxes as minions (and a humanoid canine resembling Anubis) and all sorts of pharoah magic. In terms of mechanics, Quick-Time is a big theme for Time Traveler in this expansion, with several cards that either have or interact with Quick-Time effects. Big Time Traveler is also given support with Guild Teleport.

---

The Legendary Weapon!

The full list:

Tokens:

Additional Information:

The class has two sphinx minions:

Tomb Guardian

and

Sphinx of Fortune

, both of which have Quick-Time effects that add copies of themselves to your deck.

Gorgon Archer

is a tribute to McF4rtson's Sea Witch class, the winner of the big competition. The card depicts a gorgon, which can be seen as a relative of the nagas and sea witches the class is largely based off of. Specifically, it has the same cost and statline as "Scallywag Bonnie" from that class, as well as an effect based on your deck.

---

Dungeon Run:

Starting Deck:

Card Bundles:

Time Travel:

Top of Deck:

Cost Reduction:

Cult of C'Thun:

Unique:

Elementals:

Quick-Time:

Sand:

Rift:

Copy:

Deathrattle:

Legendary:

---

Arena Exclusive

Temporal Flux is the Arena-exclusive card for Time Traveler added in Patch 10.4 alongside cards like Crackling Doom, Polymorph: ???, and Blazing Longsword. Although it might seem weak at first glance, this card could be pretty strong in combination with several copying tools, which is why this is not a Constructed card.
The Witchwood
Just as Thomas is about to approach Gilneas, it appears that Toki is already doing his job for him, so he has no worry. Like K&C, Quick-Time is a theme in this expansion. Some new mechanics are used, and the class obtains its first source of pseudo-healing: Reversion.

Upgraded Hero Power (from Baku the Mooneater)

Yes, I already posted this in the TGT part, but I'm doing it again!

---

Sample cards

The full list:

Tokens:

Additional Information:

Gilnean Timekeeper

will reduce the Cost of Quick-Time cards in your hand, even if their Quick-Time effects are not active.
Temporal Loop spells created by

Crystal Phoenix

do not reset the turn timer, because it would otherwise be possibly to indefinitely prolong a turn, breaking the game.

Using a Temporal Loop spell will make it disappear permanently, similar to how the Temporal Loop Hero Power is only usable once per turn.

---

Taverns of Time

To join in with cards like Flash Forward, Master of Realities, and Fatecleaver, Infinite Harbinger and Matter Split are the Time Traveler's tools of choice for the Taverns of Time event.
The Boomsday Project
In the Boomsday Lab, Time Travelers study the field of portals and creation thereof, lead by head portal scientist, Sarax, Rift Creator. Rather bizarre however is that Time Travelers are not pushed into any one mechanic in this class, as opposed to what you'd normally see in a class's set in any expansion. Instead, Time Traveler gains a myriad of cards with different effects.

---

The Legendary Spell!

The full list:

Tokens:

Additional Information:

Bullet Time

is basically a giant reference to The Matrix.
If the first 3 cards you've played this game contain any duplicates,

Wormhole Physics

will list cards played later instead. For example, if the second and third card you played this game are the same,

Wormhole Physics

will give you the fourth card you played this game instead of the third.

Sarax's Emergency Rift

works exactly like

Murozond

, just for your hand instead of the battlefield.
Rastakhan's Rumble
In Rastakhan's Rumble, you are in charge of a new team: Tharon'ja's Serpents, championed by Sul the Sandcrawler. When you have so much time control ability, you have many ways to win. Introduced in this set is something quite rare for Time Traveler: a proper win condition. Up until now, most Time Traveler decks have relied on simply out-valuing your opponent. In the Gurubashi Arena, you have a way to win in form of Tharon'ja the Serpent.

This set is very WoW based. This is very unusual for Time Traveler, which normally is mostly original to Hearthstone with tidbits of WoW sprinkled in.

---

Sample cards

The full list:

Tokens:

Additional Information:

Effects that give you new Hero Powers typically say the effect of the Hero Power on the card instead of the name of the Hero Power. In the case of

Vortex Shift

though,

Parallel Dimensions

is a very distinst collectable card, so I thought it was appropriate.
If two or more of last 3 cards you played this game are same card,

Peerings of the Past

will dig deeper until it finds 3 unique cards in order of when you played them.
Shoutout to thepowrofcheese: Two of these cards originate from his Chronomancer class:

Delayed Reaction

and

Arch Rivals

. Names and artwork differ.
Like Feugen and Stalagg, Tharon'ja's Deathrattle will also count the deaths of enemy Tharon'ja's as well. Silencing it works the same way as well. You need to Silence the last one to die for the Silence to be meaningful. This is because even when a Silenced minion dies, it's still considered to have died.

---

Rumble Run

As Rikkar steps into the Arena, he has pledged himself to Tharon'ja and his team. Who can blame him to be honest? All the cards and power you get seem really cool (*wink, wink*). Victory will overthrow Sul the Sandcrawler as his champion. It's up to you (playing as Rikkar) to win. After his own prophet murdered him behind his back, Tharon'ja has wanted someone new to take that spot for a while.

Sample cards

The full list:

The Shrines

---

The minions

Additional Information:

Starting Decks:

Serpent Rift:

Tharon'ja's Soul:

Time Portal:

Card Bundles:

Time Travel:

Top of Deck:

Cost Reduction:

Discover:

Elementals:

Quick-Time:

Rift:

Copy:

Deathrattle:

Legendary: