Fluxflashor
Staff

Chief Executive of Deathwing
Location:

Canada

Join Date:

5/23/2013

Posts:

14,152

BattleTag:

Fluxflashor

Member Details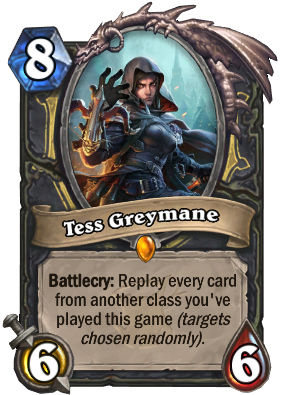 Discuss!
---
Clarifications by Mike Donais
This card functions like pre-nerf Yogg. (source)
Battlecries of minions will not trigger. (source)
If you previously stole a Hero card from your opponent's class, played it, and became that class, Tess plays all of your Rogue cards instead. (source)
---
Learn More About The Witchwood
Looking to learn more about Hearthstone's eighth expansion? Visit our expansion guide for The Witchwood!!

Last edited by
Chimera
on Apr 6, 2018

@Fluxflashor - Follow me on Twitter and send dank memes.


/Fluxflashor - Follow me on Twitch too, variety streaming!
Discord - Talk about Hearthstone stuff.