Agithore
Sludge Belcher
Location:

Pakistan

Join Date:

6/24/2015

Posts:

4,955

Member Details
Lockbox of Rogue minions, spells, and weapons. Expect fun, interesting, and at times, gimmicky cards.
Season 1
"Decorated with grace and elegance, Rogues take pride in making each and every one of their kills a sight to behold. With tricks more than what their sleeves can fit, Rogues are armed with the deadliest traps* and sharpest blades. *Not actual traps, visit the Hunter class for those."
General cards with no particular theme, or aesthetic.
Card Name

Image

Description

First Blood

A simple yet efficient card, that I think can act as a

combo

enabler as well as a comeback mechanic. Can be said to be similar to the Warlock's Mortal Coil. Generally I'd consider drawing a card more costly than equipping a 1/2 weapon, as such the damage output of First Blood has been increase as compared to Mortal Coil.

Widow's Wick

An old idea that I had thought of sometime back. Can help you regain the board after a Muster for Battle or Imp-losion. Can deal a lot of damage when combined with weapon buffs and has a handsome amount of durability to ensure that it does.

Knife Juggle

Just something to counter a turn 2 Shielded Minibot. Creation of salt? Maybe.
| | | |
| --- | --- | --- |
| Masquerade | | An interesting tool that can be used to deal a huge amount of face damage to your opponent if he leaves behind a strong minion on the board. |
| Blackmarket Sentry | | This card is based of off Shado-Pan Rider. It has low on curve stats, but if you combo it, it becomes a Chillwind Yeti for 3 mana. |
| | | |
| --- | --- | --- |
| Dual Wield | | A new idea to Hearthstone, the ability to equip two weapons, and attack with each. Could be fun to have the ability to equip both Assassin's Blade and attack with it and have a Poisoned Blade that loads up in the background... Hey!! It's called Theorycrafting... |
| | | |
| --- | --- | --- |
| Blade Enchantress Zevha | | The buff applies only to the weapon you currently have equipped. Could work as a 4 drop in a tempo-based Rogue. A stronger Chillwind Yeti, which might actually be run now since Piloted Shredder won't be in standard. |
Sen'jin Dagga' Juju

Let us solve this healing problem once and for all, aye? Well, mon, dis fine lil' juju potion' may no' solv' da probl'm fullee, bu' it will decr'ease, ya, mon.

Troll dialect aside, I think of this card to be the Power Word: Glory of Rogue. Functions quite similarly, has a combo to make it even better. Really promotes Rogues playing weapons with high durability instead of just their Hero Power. Also is a low cost spell, which is always a plus side for Rogue.
| | | |
| --- | --- | --- |
| Mahnoor Snowblade | | Could give Rogue a bit more survivability. Seems not too OP imo, however if I were to nerf it, then the "Talwaar" could have less durability. All in all, a Tirion-ish Rogue card that acts similar to an Ice Block combined with Gorehowl. 2complex4me |
| | | |
| --- | --- | --- |
| Shadowy Sentinel | | An attempt at combining two different Rogue archetypes (Mech & Deathrattle), to possibly form one strong one. The Deathrattle can belong to any collectible card in the game, ranging from Haunted Creeper's to Sneed's Old Shredder's to even a board wipe on your part from Abomination. So, the RNG range is huge, and could possibly even be broken, but since your don't know what deathrattles you get, there's no literal way of playing around them. |
| | | |
| --- | --- | --- |
| Power "Candy" | | The kind of candy your parents warned you not to eat as a kid. Strong effect at first, but you better be prepared to deal with the "side effects". Seems balanced imo. Compare it with Tinker's. Here's the side effects: |
| | | |
| --- | --- | --- |
| Persuade | | Fun combination of Entomb and Corruption. I could not find better wording for this without it sounding weird, help appreciated. |
| | | |
| --- | --- | --- |
| C. Lumbus | | Famous for his ability to turn small items into strong artifacts, C. Lumbus can find his way into an interesting Rogue deck with Cutpurses and Tomb Pillagers. More coins in the future means more synergy for this guy. Has good stats for the cost, because the effect is too linear to be consistent and needs prior set up. |
Mafia Lady Lydia

After her failed rebellion against King Varian Wrynn, Lady Lydia needed to Conceal herself and her goons because the Stormwind Knights were looking to Execute her.

In any case, this is a Loatheb-like effect which is very much needed now that Standard is coming.
Asha'Alor Agent

Strong

taunt

for 6 mana that restores at least 8 damage to your hero over time. Possibly over powered, but Rogue does need something like this.
| | | |
| --- | --- | --- |
| Demonic Mischief | | Rogues really remind me of those weird Dungeon-y fellows who hide and do weird experiments. One of those experiments may be summoning weird creatures from the Twisting Nether! Hence, this card. |
Season 2
"As the looming threat of the Old Gods has resulted in an imminent war against the dark forces, the world of Azeroth calls for a new breed of hero. When glimmers and rays of the holy light fade, and the calls of nature answer to none, Azeroth is in need of heroes who take matters into their own hands, now more than ever. Will you be able to suppress the forces of the Old Gods?"
Focus on the uses of Toxins, and other such themes introduced in
.
So, what's new?
Let's start the new season by introducing the main theme around it: The Toxins. With the release of
, Rogues got to see a a new and interesting weapon in their arsenal. That being, the corrosive Toxins. The Toxins are 5 1-Mana cards that are available to the player via different methods, thus far, only Xaril, Poisoned Mind. Gaze at these 1 Mana Monstrosities!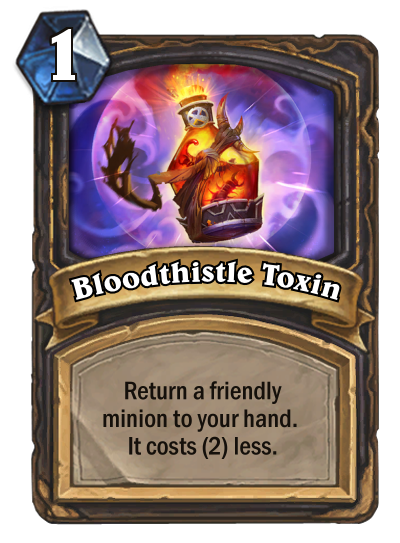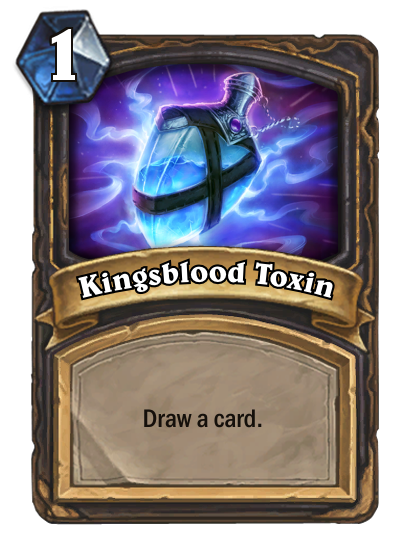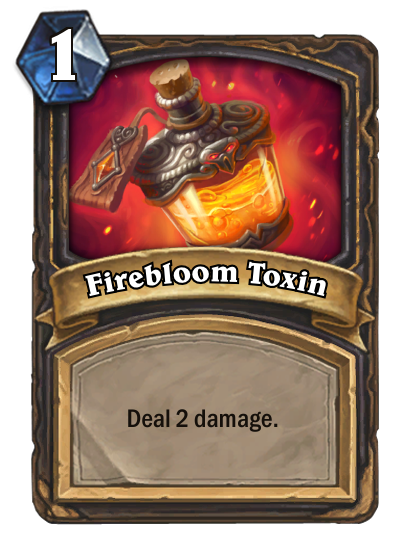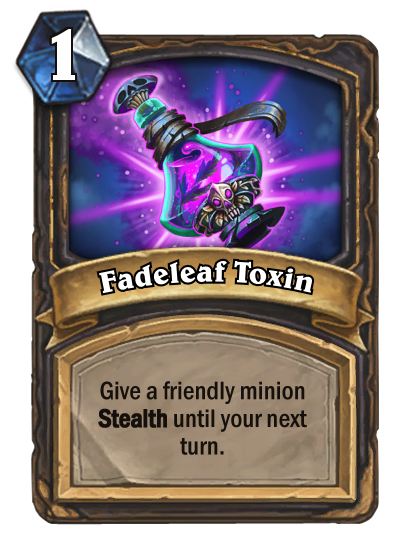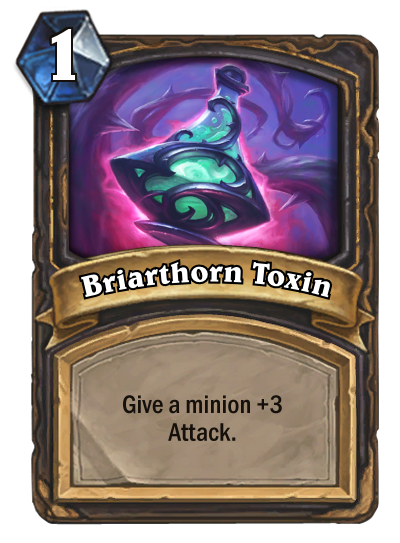 Similar to Spare Parts, these Toxins all of different effects. While some are used for helping our own selves, others can be used for inflicted damage and causing problems for the enemy. The theme that I decided to choose while making cards was to use these as "Chemicals" created in Pandaria, by the Klaxxi, namely, Xaril, Poisoned Mind. These are then shipped all round the world, causing some people to become addicted to them, while others smuggle them to sell them for profitable prices.
One thing to keep in mind is that these Toxins are more or less used to add flavor to existing decks, rather than creating decks of their own. Being just 1-Mana spells, the Toxins themselves will not be able to create a Toxin-archetype, however combo'd with cards like Gadgetzan Auctioneerr and Malygos, these Toxins can cause the enemy player to become... well... toxic.
Something else that might tickle your fancy is some good ole' Cursing. No, not the swearing type, the evil long lost hexes type. Also, there's Dragons. Yeah. ... Just bear with me please.
---
| | Batch # 1: Toxinated Treachery | |
| --- | --- | --- |
Zehn'Gen's Bucko

Your generic 2-drop to help you gain those Toxins early on. Though unlikely, it can attack multiple times, thus giving you a lot of Toxins. The stealth does allow you to get at least one. The drawback from this is that you don't get the Toxin immediately. You get it the next turn, assuming you attack with it. All in all, a pretty alright 2-drop for a Toxic deck.

Change: Stealth removed for Balance. Stats inverted.
| | | |
| --- | --- | --- |
| Toxin Addict | | Likely with the mass of production of Toxins, there's bound to be people who use them a bit too much. This card can help you gain strong tempo even on Turn 3 by playing a single Toxin, thus this going to 0 Mana, and then you playing something else with the remaining 2 mana. |
Chemical Factory

Xaril alone, won't be able to handle all that much work load, considering how nuts people are over these Toxins, thus creating a Chemical Factory, doesn't sound too bad of an idea, eh? This makes it so your Toxins have more of an impact when played, however it's a 2 Mana Tempo loss when played with nothing else.

Change: Costs just 1 mana.
| | | |
| --- | --- | --- |
| Recipe for Disaster | | For those days, when you just don't feel like there's enough Toxins in your deck. Could be used in some sort of rush-Rogue deck, that aims to draw as many cards as possible. The chances of most of your spells becoming Kingsblood Toxin or Briarthorn Toxin is there, so this could be played. The 4 Mana is a hurdle however, that most Aggro decks don't dare pass. |
| | | |
| --- | --- | --- |
| Black Market Vendor | | The Black Market of Pandaria strikes again! Can help you get a few more Toxins in the mid-game. Will almost always give at least 1 Toxin, as even if your opponent gets the Coin, this triggers, if they played it. Gets more and more value as you play more coins. |
| | | |
| --- | --- | --- |
| Overdosed Zombie | | The ultimate late-game Toxin card. Incredibly weak card as it comes to stats, however it rewards you with 5 Toxins, one of each. If you look at it as 5 cards drawn from Auctioneer it doesn't sound too bad. Could even be good to make sure you get a certain kind of Toxin, if you happen to not be getting that one. |
| | | |
| --- | --- | --- |
| Toxic Rings | | An interesting thing to note is that, the Toxins, by themselves do not have any synergy with weapons or the Rogue Hero Power. That being said, something like this, could be useful to ensure you have a good flow of Toxins throughout the game. |
Batch # 2: Curses, Secrets 'n' Sentries!
Gathering Intel

Could be interesting. There's a bit of RNG here, since you could be given a Paladin

secret

, with 2 other Mage Secrets, but for 1 Mana, you can't really complain.
Curse of the Silithid

Could help

Deathrattle

Rogue make some good trades. Your 1/1s from Haunted Creeper aren't too strong, but using this could have them turn into Mini-Maexxnas. For 3 mana, it is quite expensive, though, as it requires the Rogue to already have board presence.
Under-King Anub'et'kan

The

Deathrattle

Rogue legendary that we deserve. 7 Mana allows it to be

combo

'd with Unearthed Raptor, however finding activators for all these eggs might prove to be difficult. Rogue decks might start running Raid Leader or Stormwind Champion... who knows.
| | | |
| --- | --- | --- |
| Curse of Blindness | | Yet another Curse card for Rogues. Like the previous one, this interacts with minions, however unlike friendly, this time it makes it difficult for enemy minions to attack correctly. Quite a niche, however may force aggro decks to make some unwanted trades. |
Blend

A simple, yet effective one. It's an Ice Block-ish effect for 2 mana. It's weaker than Ice Block in the sense that even though your hero has

stealth

, it doesn't make them Immune. They can die still to random effects or stuff like Sinister Strike that doesn't require targeting. Plus, you can't pre-play this, it needs to be played exactly before the turn you need protection.
| | | |
| --- | --- | --- |
| Elite Sentry Poe | | Alright, here's another Pandarean for all those Panda-lovers out there. He's the main guard, and the most elite sentry at the Black Market. Poe's strength comes from the fact that he's has almost on curve stats, thus, by using your Hero Power, he effectively becomes Spell Damage +2. Furthermore, if you use bigger, badder weapons, then Poe's value sky-rockets! Rogue's could definitely find a use for him, I feel. |
Batch # 3: Dragonz Shenaniganz
Recently the Old Gods dropped by our not-so-little corrupted friend the Scaled Nightmare. While neutral this card screams Rogue to me, because in order to truly reap the benefits of its insane effect, the

Stealth

mechanic needs to be included in someway or the other. Alone, I feel the card will range from weak to mediocre, but using cards like Conceal and Cold Blood will make the card possibly be great or insanely strong (wishful thinking, but yeah). Rogue's one of the classes that got absolutely no dragon support from the start, let's change that shall we?
| | | |
| --- | --- | --- |
| Lil' Hatcher | | Pretty basic card, weak stats for the cost but it's effect is quite The Mistcaller-ish. It probably won't stick for more than one turn, but if it does then you'll be miles ahead when you play on curve. |
| | | |
| --- | --- | --- |
| Crimson Drake | | This is the last card I made, from the 6 original cards made in this batch. While it doesn't follow the theme of the "Scaled-Buff Rogue" I want to make with these Dragons, it's the kind of card this deck could really use to survive. Sitting beside a Twilight Drake will certainly cause your opponent to go into a fit. |
| | | |
| --- | --- | --- |
| Drakonid Spellbreaker | | This effect can go in a lot of general Rogue decks, even those that have nothing to do with Dragons. The effect is slow, I'd say, but it's a 5 mana 5/5, so you have all the time in the world. (Counting in Rogue-timings, of course!) |
Sinestra, Prime Consort

Sinestra is the mate of Deathwing, mother to Nefarian and Onyxia. This is her in her human form. She's a very strong sorceress and thus I decided to relate her with spells. In the past we've seen cards like Baron Rivendare and Brann Bronzebeard double up our Deathrattles and Battlecries, but how about a minion that triggers our spells twice? I created this card with the Scaled Nightmare and Cold Blood

Combo

in mind, but this card has the possibility to be insane in ANY Rogue deck. Imagine playing just a single Oil, but gaining the value of two? (Blade Flurry, won't work because the weapon will be already destroyed the second time, so hold on you OTK-complainers.) Honestly, this card might be my favorite in the batch, if not the entire thread, simply because of the possibilities, man. Imagine 6 Nerubians with Beneath the Grounds, or 6 copies with Gang Up. Ughghgh. *Theorycrafting flux*
Sinestra, the Brood Mother

She doubles spells, and doubles herself! Yup, there's two Sinestra cards. This time, she's graced her presence with her Dragon form. Again, following the theme of magic and spell-slinging, Sinestra once again comes to the board with an epic impact. She triggers the effects of 5 spells you've cast this game on your enemies. The spells can be damage-based, from Sinister Strike to Eviscerate, to a Headcrack or a simple Shiv. Since the card especially mentions "enemies" the spells must either be Damage-doing or ones that interact with minions such as Sabotage or Assassinate. Your spells like Beneath the Grounds will not work, something like Gang Up, will however. Obviously, you won't be using Gang Up or Assassinate on enemy heroes, thus you also won't be using Sinister Strike on enemy minions. If a certain spell mentions that it can only be used on heroes or minion, Sinestra, will also only trigger them on a hero or a minion. If a minion does not exist, that certain spell will simply not trigger, in which case among the 5, only the ones that can function without a minion on board, like Sabotage (breaking your opponent's weapon) will trigger. Also just to have things cleared, the this works like Anyfin Can Happen in the sense that the 5 spells need to be 5 different spells, and much like Anyfin, if you casted multiple copies of a single spell, you will once again trigger multiple effects of that one spell. As far as balance is concerned, it lines up with the other insane 9/10 mana Dragons/Old Gods. It has a pre-requisite and a strong board impact, which however, has RNG required. Requires a deck to be made for it before hand with focus on certain minion-targeting spells. It becomes nuts with Spell Damage, which I believe to be the center-point in Dragon Rogue.

Effect has been changed. I'll add a new description soon TM.
Batch # 4: Flippin' Coins
Lockbox of the Ancients

Edit: Previously called Heads or Tails.

Discovering a Legendary is pretty strong, so I think something of an RNG-aspect should be attached to it. The "Coin" in this is not the legit Rogue "Coin" we're used to. It's just used to indicate that there's 50% chance either of these effects take place.
| | | |
| --- | --- | --- |
| Pit Lurker | | Pretty cool card on curve. Like other Flip a Coin cards, this definitely has RNG-attached. Thing is, it's good on its own. The RNG extra effect makes it better or not, depending on luck. |
| | | |
| --- | --- | --- |
| Elusive Assassin | | This minion is actually inspired from Genji from Overwatch! Genji has an ability which allows him to repulse any incoming damage, and this minion does something similar. When it takes damage, there will be a coin flip. If you win, then it will deal that much damage to a random enemy. Can prove to be great in some situations but a tad bit too much RNG for my own personal tastes. |
| | | |
| --- | --- | --- |
| Sneak Attack | | A board clear for Rogues. You kind of need to win the Coin Flip here otherwise it ends up being a kind of worse Fan of Knives. Follows the Rogue aethetic of attacking first or "sneak attacking" because of the undamaged characters part. |
| | | |
| --- | --- | --- |
| Dr. Ten Tickles | | The Coin Flipping Legendary! A 1 Mana 3/3 that lives if you win the Coin Flip but dies immediately if you lose, making it a gamble. You have a 50% chance of this being an awesome start, or a bad one. Making it a Legendary is essential here, because more than one of this annoying guy shouldn't be allowed in any deck! This is also last card from the Second Season! |
... AND that concludes Season 2. With a total of 25 23 cards, this Season got to see a lot of variety, ranging from Toxins, to Curses to Dragons! Alas, with the Old Gods gone, it needs to come to an end. Thanks for all the support guys, it's been a blast to make this season. See ya'll, next time.
Season 3
"Immediately after the war against the Old Gods, the armies of the world failed to repay what they owned the Rogues for their heroic victory. Instead, Rogues were forced to give up all their power, and become weak shells of their former selves. As they attempt to reclaim their once high position, and seek revenge from those that betrayed them, will you play a part in this once in a lifetime hostile reclamation of power?"
Attempts to improve upon the themes introduced and elaborated in
.
Card Name

Image

Description

Looming Onlooker

This card is really cool. It allows you to have a possible way of infinitely getting Burgled cards into your hand.

How this works is, when it dies, you get a random card from your opponent's hand. So, like Mind Vision. Now, whenever your opponent plays the card that you got, you summon another copy of this minion.

There's a lot of strategy that goes into this, since your opponent won't really know which card you got, so they won't be sure of which will summon another Looming Onlooker. Aside from that you can keep the card hidden, so they remain confused, or choose to reveal it by playing it if the situation is good, thus telling your opponent which card will summon a Looming Onlooker upon playing. Really, really cool in my opinion.

Possibly a bit overpowered, since you keep getting a 1/1 body with the added benefit of free cards, but your opponent can just choose to not play that one card, plus, it can actually RNG onto a high costing card, so your fun combo won't proc of too easily.
| | | |
| --- | --- | --- |
| Shakia the Spy | | Burgle big time. |