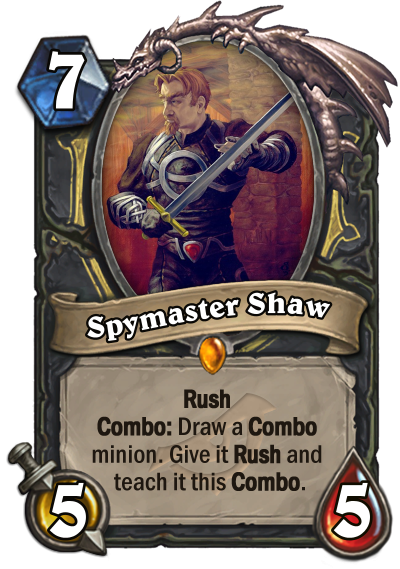 Play: "We fight in the shadows."
Attack: " Target acquired."
Death: "Sleep with one eye open."
Spymaster Shaw uses a unique Teach mechanic introduced by Swampqueen Hagatha. An example of how the card is intended to work:
Shaw draws Vilespine Slayer. Vilespine Slayer, in addition to its original text, also has: 'Rush. Combo: Draw a Combo minion. Give it Rush and teach it this Combo.' Vilespine Slayer draws Edwin VanCleef. Edwin now has Rush and the aforementioned Combo. And so on.
What results is an infinite value engine that hinges on running a significant number of Combo minions, possibly including minions that currently see no play, like Defias Ringleader and Kidnapper.
EDIT: Clarifying text