PupleMD
Tastes Like Purple
Location:

Vancouver

Join Date:

8/29/2014

Posts:

707

BattleTag:

1654

Member Details

---
GREETINGS AND CONGRAGULATIONS, MORTALS!
To all our competitors who successfully navigated the horrors of Phase I to emerge victorious! Below are the 48 people who made it to the next round. Thank you to everyone and participated!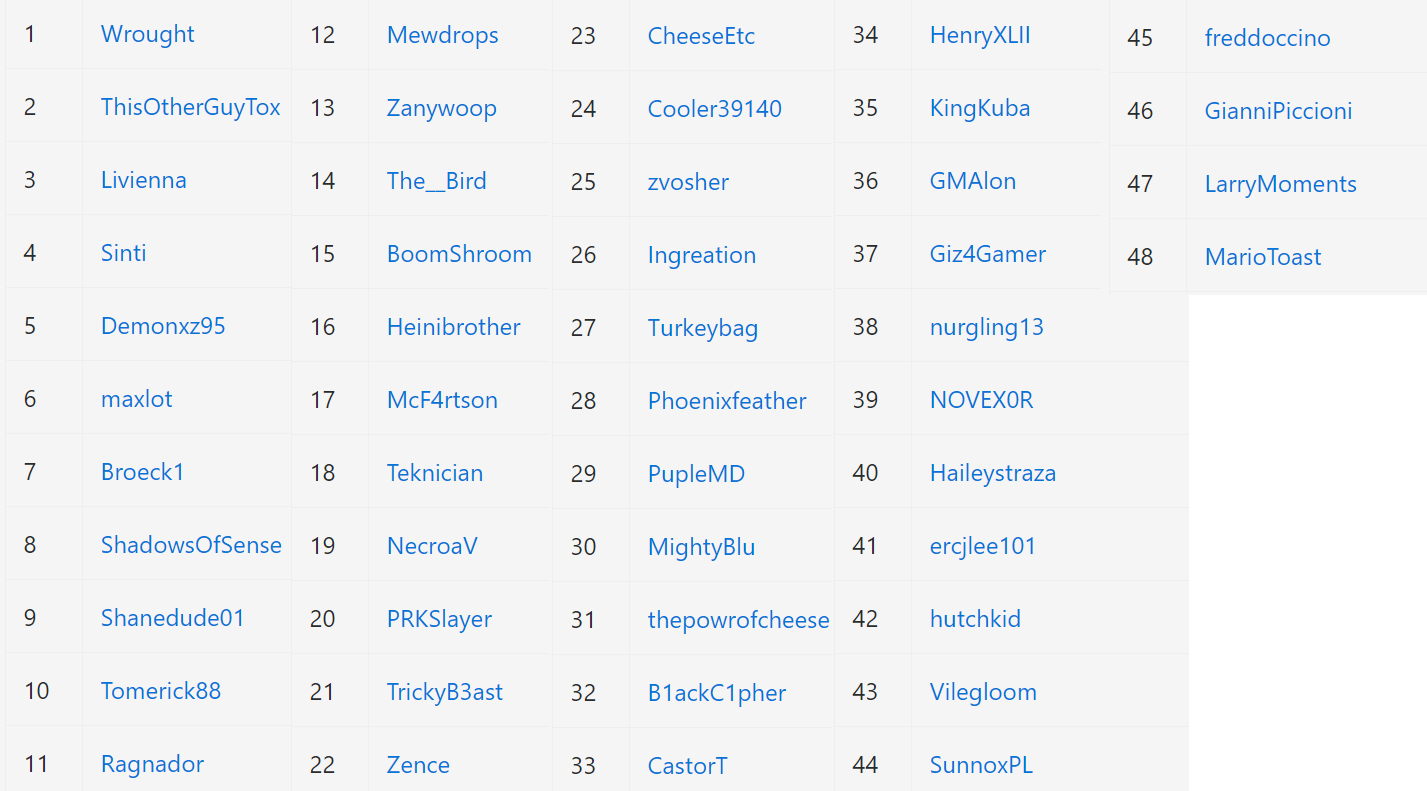 Deathwing has handed out Wild Cards to: NiRaSt and Opal736
Alexstrasza returns as our lovely host-slash-Deathwing keeper for the brilliant new gameshow, "Deathwing Needs a Friendwing". Joining her is a literally captive audience and her glamorous assistant and expert wheel spinner, Cogito! On Cogito's big fancy stereotypical gameshow wheel are six more criteria that a friend for Deathwing must meet in Phase II of the competition, but don't you worry, we've rigged the game in your favour, and it's audience participation all the way - you'll be voting for which three of these six criteria your class must meet in Phase II. What are the six criteria? Check out the spoiler below!
Here's glamorous assistant Cogito with the Challenges!
Challenge #1

Challenge #2

Challenge #3

Challenge #4

Challenge #5

Challenge #6

---
We recognise that not all of our competitors will know what Phase II of a class creation competition will require of you, so in the spoiler below you'll find a rundown of the other rules for Phase II, to which the three highest voted challenges will be added.
(Note that some of these rules will have to be tweaked slightly depending on which challenges are chosen, but these are the basic idea).
PHASE II: The Basics

In this Phase, you will each construct your class's Basic Set. Here are the requirements for your Class Creation Competition Phase II Entry:

CLASS, HERO, AND HERO POWER
There are just a few elements of your class that you will repeat from your Phase I entry to remind us who and what we're dealing with. If you'd like to repeat anything from your class's introductory explanation, including its flavor or whatever you believe makes it interesting or unique mechanically, that's fine, but try to keep it brief.

Note that it is okay if you've decided to make some minor alteration to your Hero Power since Phase I, but it does of course still need to meet the Phase I hero power challenge.

EXAMPLE BASIC CARDS
We do not want to see your Class's entire Basic Set out in the open.

You are allowed up to three (3) example Basic cards out in the open. You may, below these cards, give brief explanations of them, why you decided to showcase them, how they exemplify what makes your class unique, and so on.
As these are Basic cards, they should have no expansion watermark and no rarity gem.
If your example cards produce any unique token cards, those must be put behind a spoiler (Inserting a Spoiler can be done by clicking the ! symbol on the top bar of the text editor.).
There are many keywords that do not appear on any existing Basic Card, and they may not appear on any of your Basic Cards either: Counter, Deathrattle, Discover, Enrage, Immune, Inspire, Secret, Silence, Spare Parts, and Stealth. In addition, there are many general mechanics that did not appear either, so you must avoid expansion-specific mechanics like Joust and C'Thun synergy, and so on. Other such mechanics like Mech and Dragon synergy aren't disallowed per se shouldn't be used unless your class is specifically themed around Mechs or Dragons.
Just as Choose One, Combo, and Overload do not appear on any Basic cards, neither may any of your class's unique keywords appear on any of its Basic cards.

REMAINING BASIC SET
The remaining seven (7) cards of your class's Basic Set must be presented behind a Spoiler Block (Inserting a Spoiler can be done by clicking the ! symbol on the top bar of the text editor.). These cards must obey the same rules are your examples cards with regards to expansion watermarks, rarity gems, and what keywords you may not use.