THE FIST FIGHTER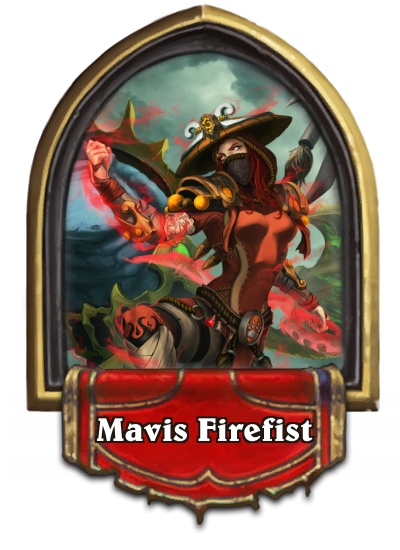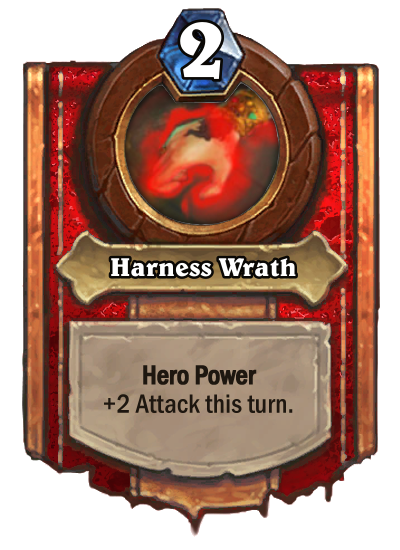 Mavis is back in Un'Goro and Frozen Throne with heavy control and tokens to crush any aggro or zoo in it's path!
---
Example Cards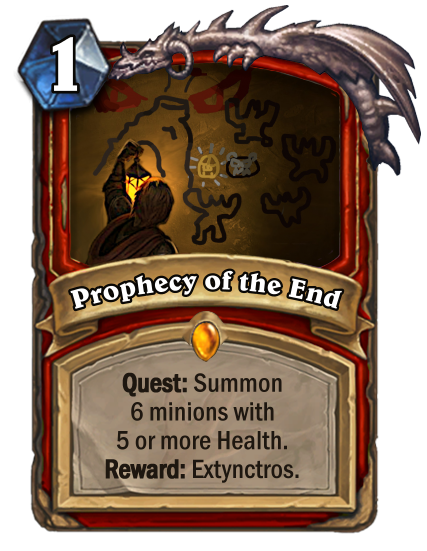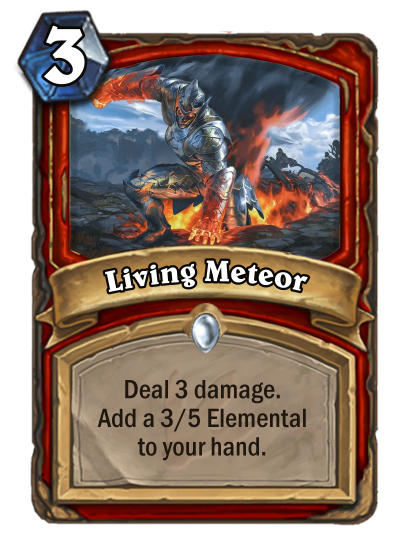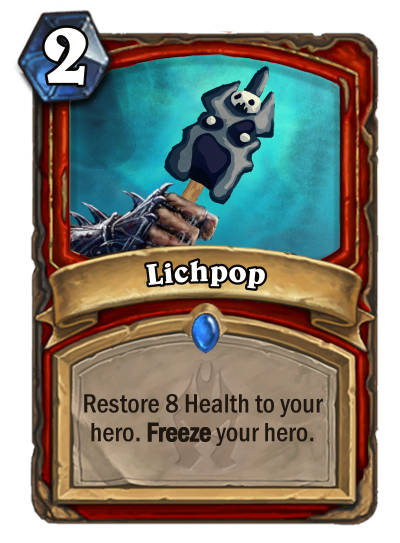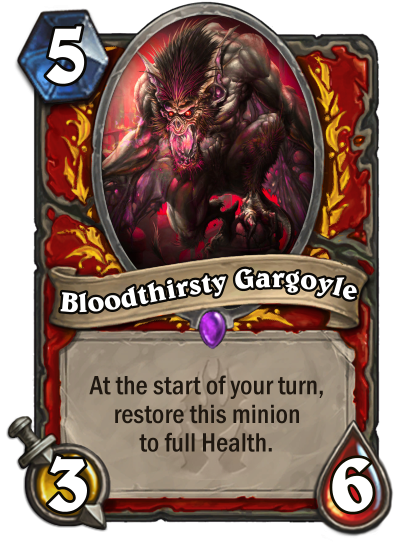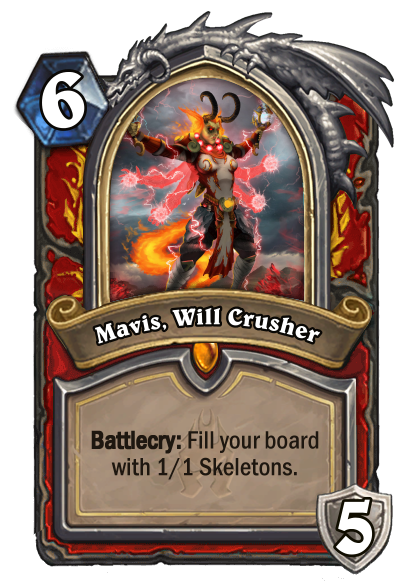 Prophecy of the End : This card sets up the key theme and story connection to Un'Goro for my class. For Un'Goro, Mavis will be utilizing big boys to survive longer than their opponent and out control them in a war of attrition. The quest reward, Extynctros, is the epitome for this by widdling away your foe's deck quickly as you survive behind your big minions. The quest ties most of the cards in my Un'Goro set together and I will go through this in the Un'Goro spoiler below.
Living Meteor: A flavorful damage card that also supports my quest with cheap tokens. The art of the token and the spell mirror each other very closely, tying into good card cohesion.
Lichpop : A fun little card that I made art for. This card is a lot like Naturalize in that it capitalizes on my classes weakness, little to no healing, by including a big draw back, freezing Mavis and disallowing her to attack next turn. I got inspired by those ice cream pops that ice cream trucks sell of popular characters like ninja turtles or looney tunes and yet they look like they are made from incredibly simple blobs.
Bloodthirsty Gargoyle: This minion fulfills Challenge #3 by being a large health centered minion that sticks to the board, thus being a great control tool just like Un'Goro was trying to exemplify. You can see in the card Jungle Forager in my Un'Goro set below and how they are designed to heal big minions, Gargoyle is just a big minion who heals themselves.
Mavis, Will Crusher: This hero card goes back to the old Fist Fighter token archetype, encompassing both generating a massive amount of tokens and being able to buff those tokens via hero power. The hero power itself ties back to the "randomly give x or y" mechanic I have used on different cards in my class. Great card for any token centered deck.
Tokens
Prophecy of the End Token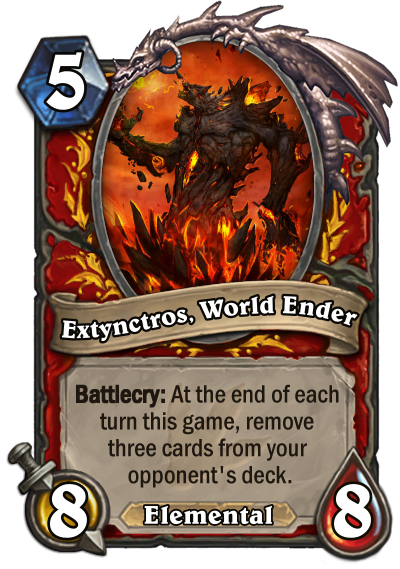 Mavis, Will Crusher Tokens: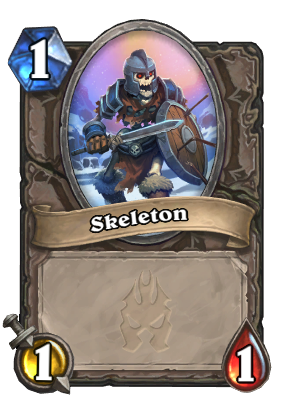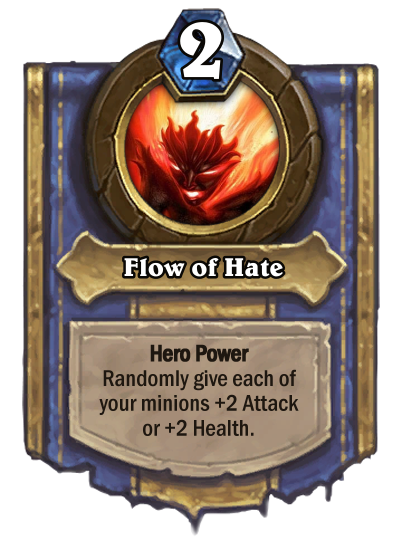 Note: The skeleton token is not matched to my classes color because the skeleton is already a token used by many other cards in the expansion and it does not change color when generated by other classes.
Living Meteor Token: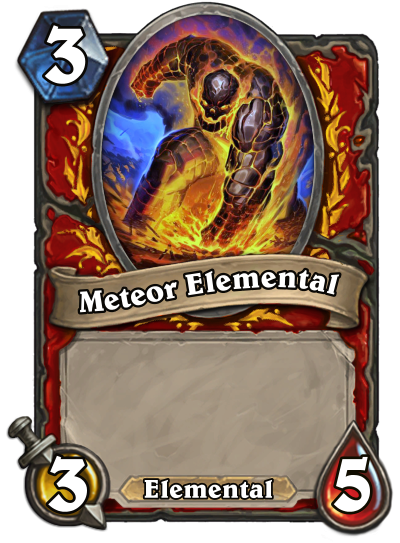 ---
The Lich King Fight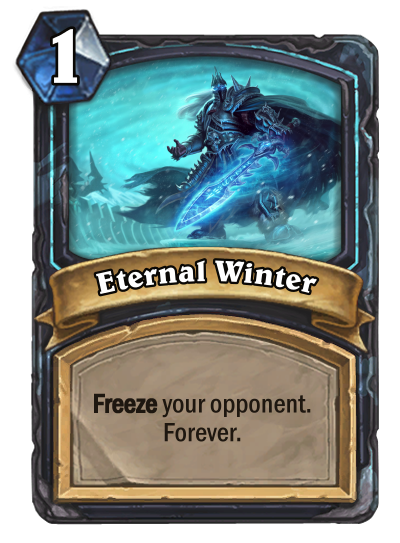 With the Fist Fighter class focused on well, fist fighting, Mavis is going to find it impossible to use her greatest strength to defeat the Lich King as he chills her to the very core. All attack synergy cards will have to be dropped, including useful board clears like Outburst, Implode, or Relentless Rampage and whoever tries to defeat the Lich King will have to look at other strategies to win, such as tokens or attrition.
---
Remaining Cards
Journey to Un'Goro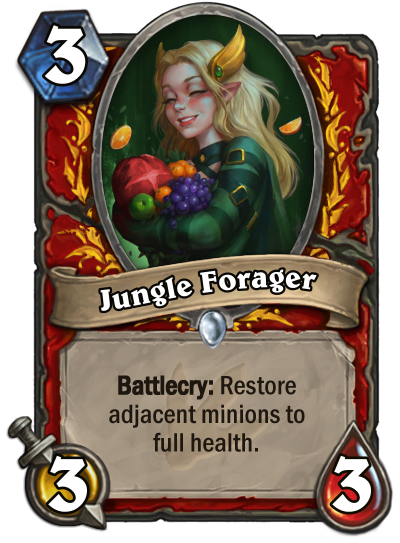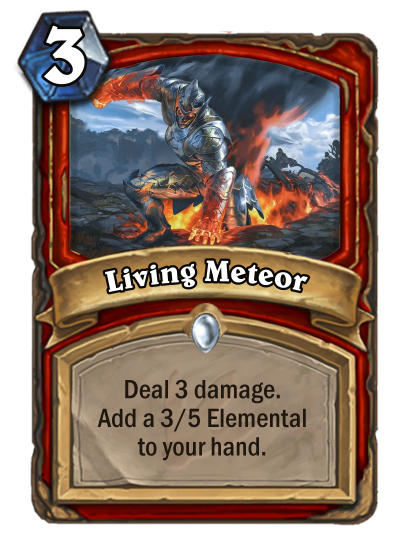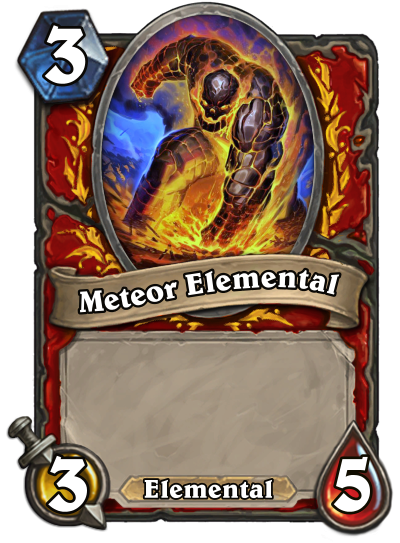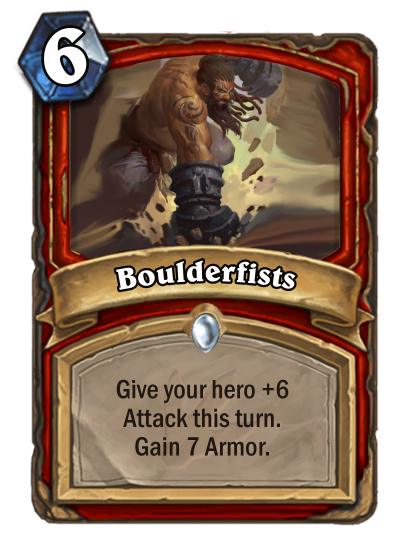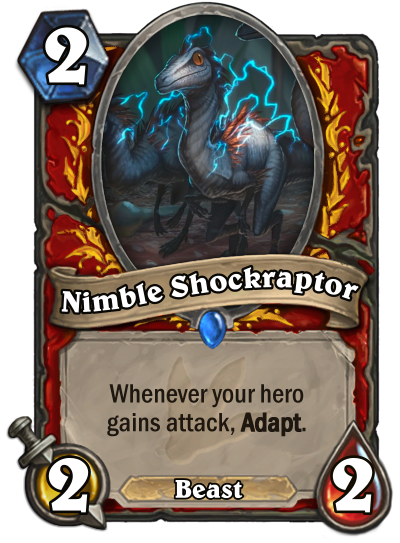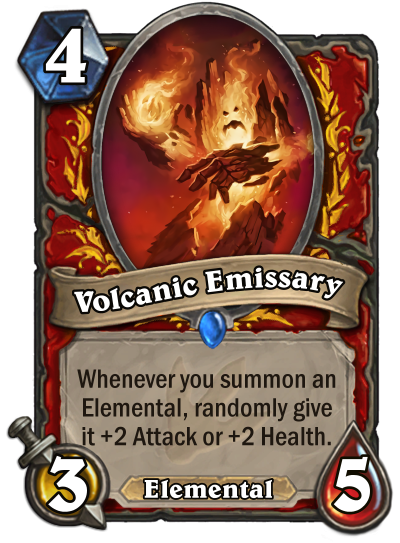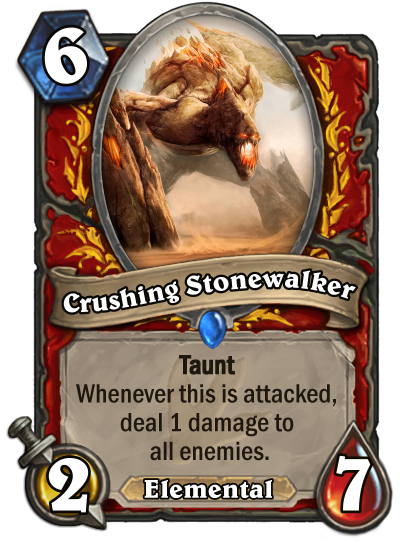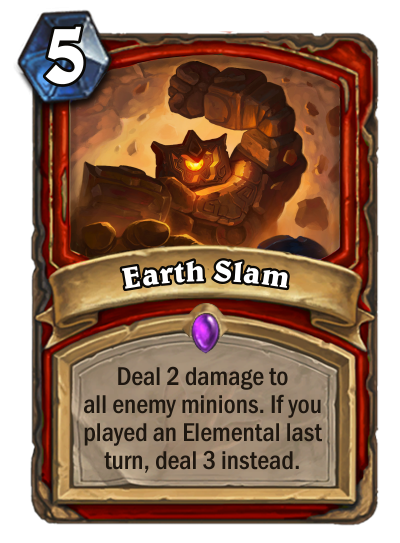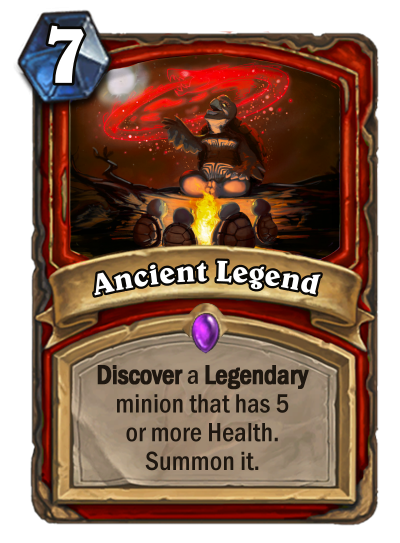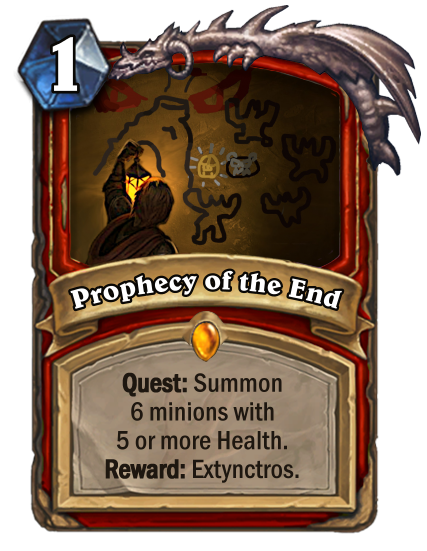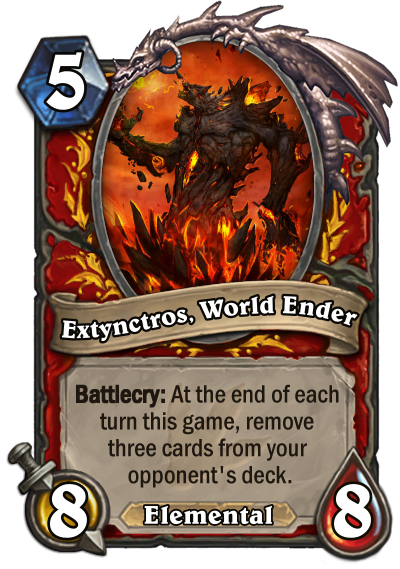 Story Line: The quest is foretelling the end of the world by some giant volcanic monstrosity in its cave art. From the art, we can also see that some panda is taking some golden object and being surrounded by large stoney figures. This ties into all my cards, with Lo Lo snatching an idol and setting in motion the end of the world as giant stone elementals are awoken because of it. This causes the volcano to become active and release meteors and emissaries onto the Un'Goro crater. If only Lo Lo listened to the warning from the locals about the ancient legend. However, she had to bring something back after fighting raptors and being kept alive by foraging, but in the end, was it all worth it?
Jungle Forager: An essential minion to keep big control minions or taunt minions alive on the board. They will not only protect your face, but also they will destroy any aggro in their path.
Boulderfists: Hmmm, this one seems very familiar... I wonder if any Boulderfist Ogre s taught that guy how to fight.
Nimble Shockraptor: Helpful little guy that benefits off Mavis's core power of attacking with your hero. I suppose he must adapt based on how strong your hero gets. Who knew little things could pack such a punch?
Volcanic Emissary: Well rounded card that suffices the quest, but also focuses more on tokens. This card has great synergy with cards like Fire Fly or one of the classes own cards like Rock Block or Distraction .
Crushing Stonewalker : A card that serves well against aggro and not to mention Paladin. However, if you are faced against a warrior you may be in for some trouble with their minions.
Earth Slam: A slightly overcosted Consecration ? Or a cheaper Seismic Slam ? Interesting...
Ancient Legend: A fun little card that works with legendaries. It is similar to Free From Amber but it comes with a wide range of minions to choose from. While not necessarily working with the quest, it similarly flavored for it. This card also may be foreshadowing a future expansion... hmmmmmmm.
Lo Lo, Idol Snatcher: Another card that uses a useful class mechanic, this minion is fantastic to keep your hero ready with attack gaining spells. I am also fond of battlecry and deathrattle minions, which is another reason why I made it.
Knights of the Frozen Throne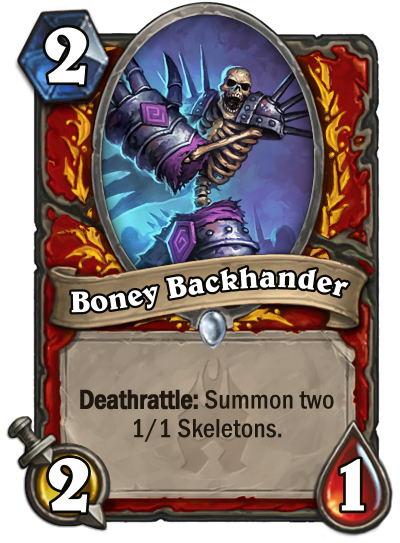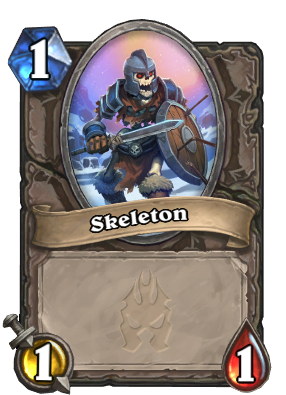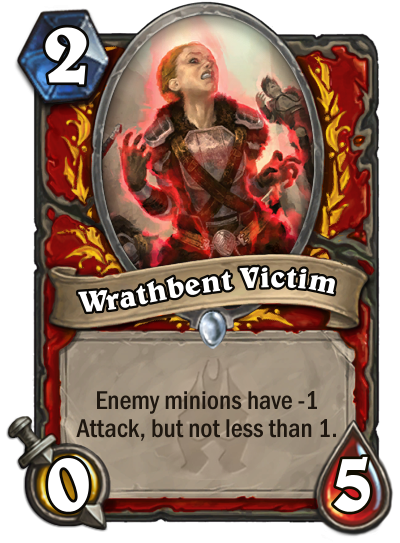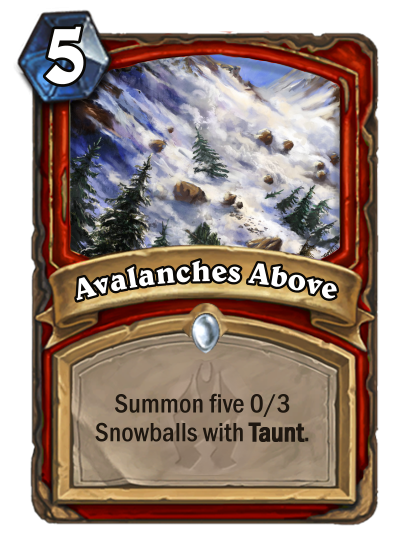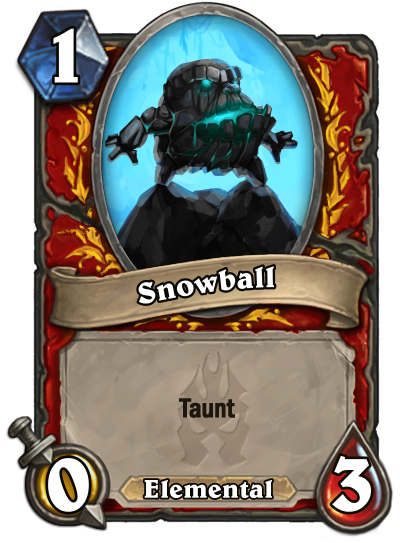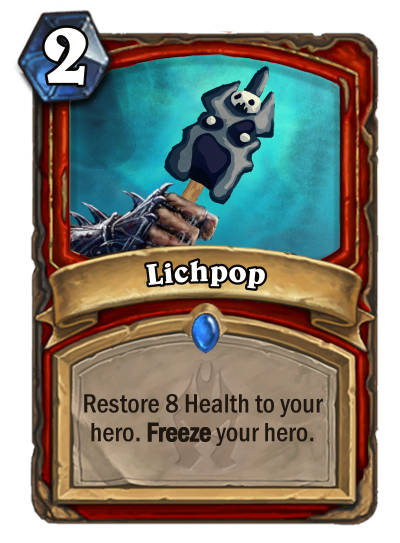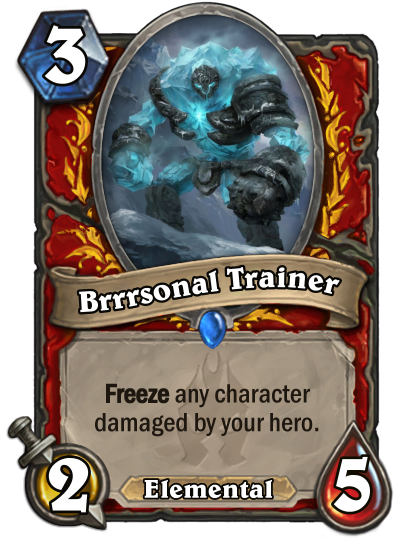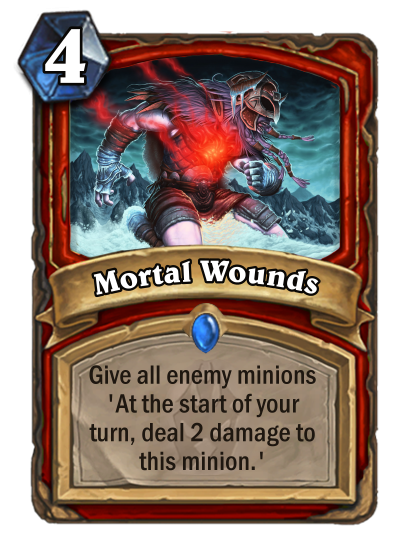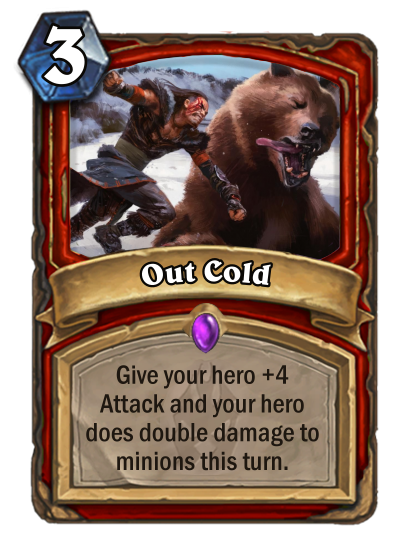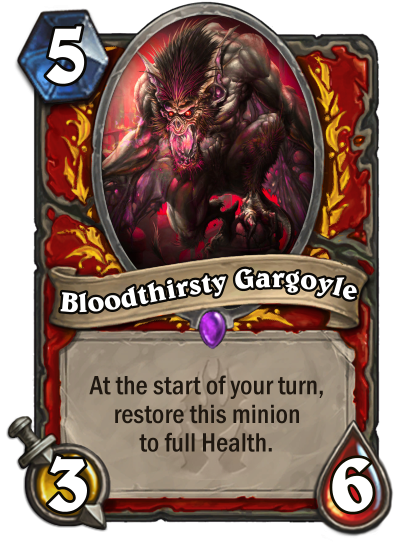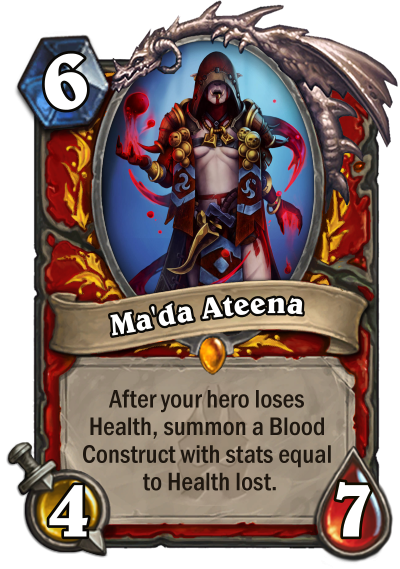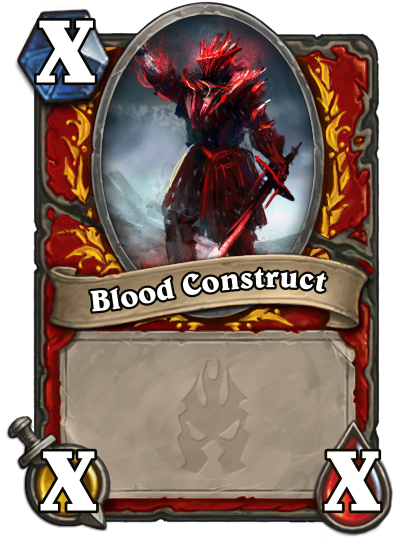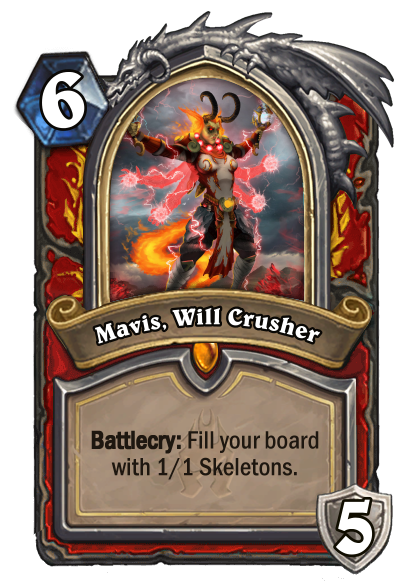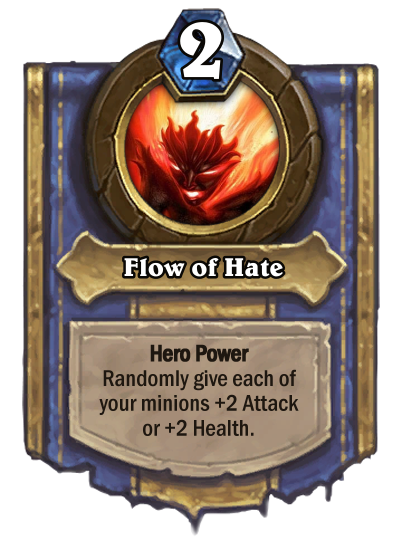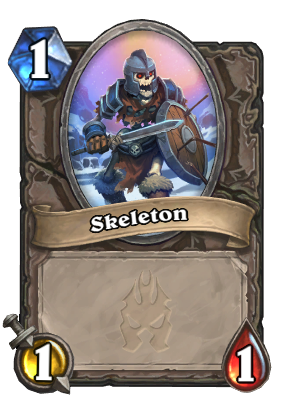 Story Line: This expansion is all about giving Mavis the ultimate power she's always had deep within her. Now she cam bend the will of whatever foe crosses her path as she leads an undead army. With tons of cards to help you in your bloody journey, is there anything that can stop this rageful Lich Queen of will?
Boney Backhander: A strong deathrattle card that generates with tokens. I compare this very closely to Haunted Creeper .
Wrathbent Victim: This card is great for anti control and serves well with control centered decks. Note how it doesn't make the enemy minions completely useless and never lets them be 0 attack.
Avalanches Above: This card is Rock Block on steroids. Looking back at Un'Goro, this card also synergizes with Volcanic Emissary . How neat!
Brrrsonal Trainer : Speaking of elementals, this punny guy utilizes your hero attacking one more but with a cold and interesting twist. Use this in conjunction with spells like Relentless Rampage and you might be able to get yourself a stronger or similar Blizzard .
Mortal Wounds: A board clear card that acts as a delayed Consecration but has the chance of damaging your opponent's board for longer.
Out Cold: Make sure your enemy's minions stay down for the count. No survivors for this Lich Queen!
Ma'da Ateena: This blood witch serves the rightful queen of the throne by creating an endless army derived from your own wounds. Be careful, summoning a high attack minion also means you have to be the one that also takes a lot of damage to your face. Be weary.
---
Previous Phases