Asylum_Rhapsody
Card Design Champion
Mistress of Pain
Join Date:

3/29/2015

Posts:

3,259

BattleTag:

Asylum#1663

Member Details

---
Greetings, Hearthpwn! Welcome to the Semi-Finals!
If you're just joining us, this is the Fan Creation Forum's third Class Creation Competition. We've reached the end of Phase V, and it's now time for you to help us determine which four of these fan-created classes will qualify for the grand finale!
Five phases into the competition, competitors have proven their classes worthy by having their Basic and Classic sets approved by voters, as well as their Blackrock Mountain and Grand Tournament sets. For the Phase V Semi-Finals, they've added their League of Explorers and Whispers of the Old Gods sets. Check out the new classes below, represented by their Hero, Hero Power, any class-exclusive keywords, and four example cards from their LoE and WotOG sets, as well as one additional example card from an earlier competition phase.
If what you see here piques your interest, click on any class's name to be directed to their post in the Phase V Submission Topic, where you can see their full Basic, Classic, BRM, TGT, LoE, and WotOG sets, as well as deeper explanations of their classes. Also, remember to check out the spoilers below each entry for any relevant tokens.
---
THE WORGEN by nurgling13 (post #6)
---
THE CHRONOMANCER by thepowrofcheese (post #7)
---
THE ALCHEMIST by nobravery (post #5)
---
THE ALCHEMIST by Turkeybag (post #4)
---
---
THE CULT LEADER by OBoily (post #9)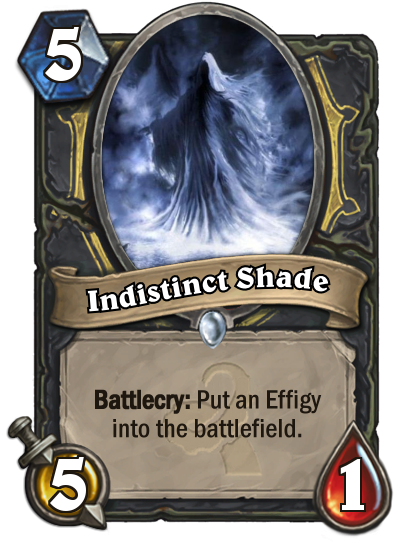 ---
THE FLAME WIELDER by SanderNightsite (post #2)
---
THE DRYAD by Broeck1 (post #8)
---
THE RACER by The_Odinson (post #3)

The Coin
Y'Shaarj, Rage Unbound
(Droplet of Y'Shaarj is generated by God's Speed when you don't have a 10-Drop left in your deck.)
---