Tyrande Now Available In Southeast Asia By Buying 40 Packs
Blizzard has launched a new promotion available to players in the Southeast Asia region to obtain Tyrande Whisperwind. By purchasing any 40-pack deal from the in-game store or Battle.net store, these players will now be granted the new Priest hero as well.
Your Battle.net country of residence must be set to Singapore, Malaysia, Thailand, Indonesia, Vietnam or the Philippines to qualify for this promotion.
The 40-pack item must be a single purchase from Classic or Expansion sets. Cumulative purchases do not qualify for this promotion.
The Tyrande-skin will be granted to your account by February 28th 2017.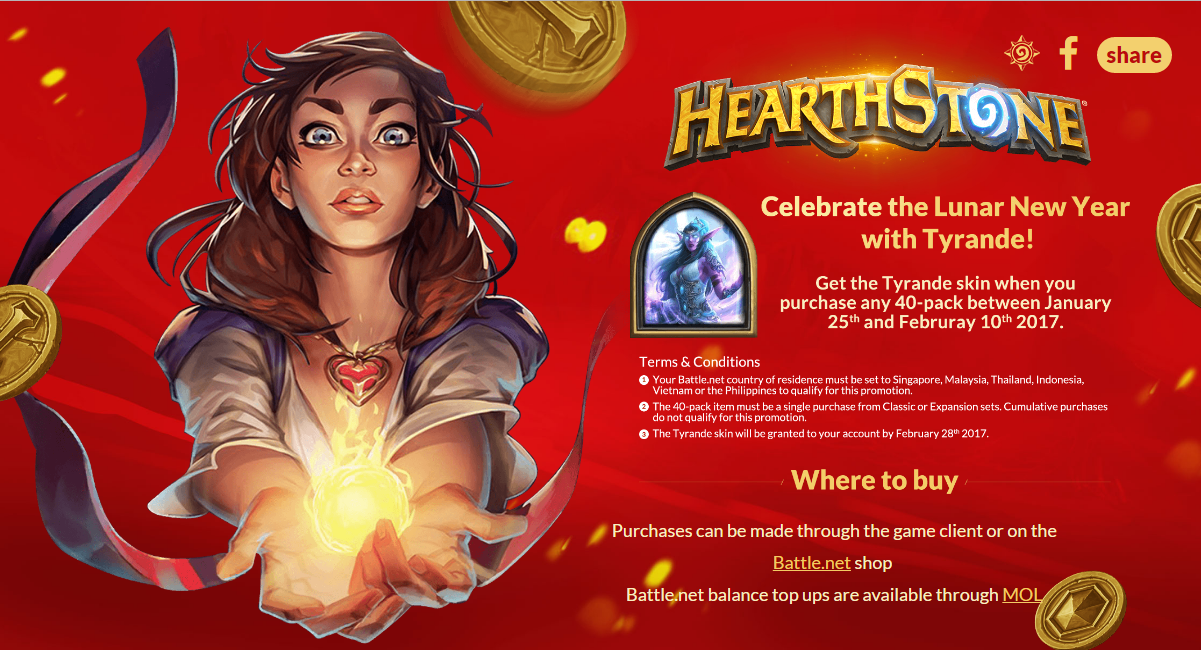 ---
A while back Blizzard had hinted on Twitter at an alternative way to obtain her for people in countries or regions where Twitch Prime is not available. Yong Woo also posted on the Hearthstone forums that they are still looking into it just a couple days ago.
I am a big fan of Priest as well, and I totally get why you'd be bummed that you can't unlock Tyrande.

When we do special promotions, we want the people who participate to feel really special for being involved. At the same time, we totally acknowledge that people who can't participate can feel really left out – especially if the reason for not being able to participate is out of their control (regional access restriction, or maybe they weren't around when the event was happening, etc).

Given this, we are actively looking into ways to grant access to new Heroes and card backs that some players may have missed out on. We'll make an announcement once our plans are solidified!
We're not sure if this is the type of deal people were hoping for, but it's there if you want to make use of it. The promotion ends on February 10th.
---