Beta Gold Refund Clarification
At some point during the Beta, the progression of everyone will be reset and those who have made real money purchases will be reimbursed for those purchases with an equivalent amount of gold.
Originally posted by Blizzard (Blue Tracker / Official Forums)

Many of the posters in this thread are correct. For each pack purchased with real money, you'll get back 100 gold. Each Arena entry will get you back 150 gold.

Here are a couple examples:

Zeriyah bought the $2.99 bundle for 2 packs during the beta. After the wipe, she will receive 200 gold. (100 gold per pack x 2 packs)
Aratil bought the $49.99 bundle for 40 packs during the beta. He also bought 3 Arena entries. Aratil will receive 4450 gold (100 gold x 40 packs + 150 gold x 3 Arena runs) after the wipe has been completed.

Will the spend money be credited back for release too? I mean if I spend money now in closed beta, i will get some gold after the wipe. Is there a guarantee i will still get gold when the game will be released if i dont spend any more money once the first wipe is complete and open beta starts?

Rest assured you're not going to lose any money spent in Hearthstone. We don't anticipate resetting collections again after the wipe has finished. We'll have more information on this soon.
---
Open Beta: "
the game isn't quite ready for it yet"
Originally posted by Blizzard (Blue Tracker / Official Forums)

We totally understand that the community wants open beta, but the simple truth of the matter is that the game isn't quite ready for it yet. As you may have read in an earlier blog, we anticipated that we're going to have to rebalance some cards based on feedback in the closed beta, and that's certainly true. We still have the wipe ahead of us as well. So, there will still be some time between now and open beta.

Open beta will happen once we are ready for it so we can ensure the transition between closed to open beta will go as smoothly as possible for everyone.

Open beta at this point is the most sane thing blizzard can do. Sadly I think its not coming before right before release, it will be very short.

Are we capable of open beta? Capable isn't quite the word that is appropriate here. Are we ready for the open beta right now? The answer to that question is no. We have balance changes and other features to implement before going into open beta, as well as other things on the back end to ensure a smooth transition between beta phases.

It doesn't make a lot of sense to assume that we are not releasing open beta simply because we don't want to. We want to! And we will, when it is ready - When we are happy with balance, when we are happy with features and functionality, when the bugs have been shooed off and the medals have ample place to be hung.
---
Matchmaking
Originally posted by Blizzard (Blue Tracker / Official Forums)

We're still fleshing out the matchmaking system for Play mode. There are some improvements to be made here and there, so when we've made those changes we'll discuss it a bit more in depth.
---
Community Showcase: Throne of Thunder Mock Raid Deck
Note: This is not content that is available in Hearthstone and Blizzard has no plans of currently implementing "raiding" content.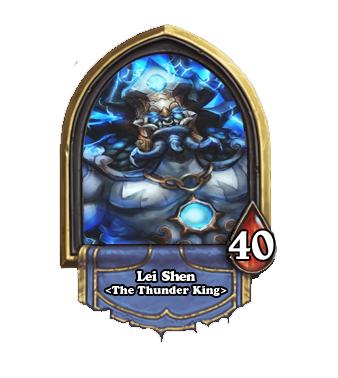 You might remember Titanscreed for his previous mock Hearthstone creations, the Deathknight and Monk character classes! This time though, things are quite different and instead of a new class for Hearthstone, he has theorycrafted a possible raid deck for the game, which puts players in the Throne of Thunder! If you are not familiar with raid decks, this is a feature that is taken straight from the World of Warcraft Trading Card Game. In WoWTCG, raid decks enabled three to five players to fight against a specially crafted deck that is controlled by another player. In theory, raid decks could be added to Hearthstone which would add another form of PVE content for players aside from fighting the AI one on one. There are currently no plans by the Hearthstone development team to support such a thing, but that could always change! Onto the show!
You will be fighting Lei Shen and his minions alongside a couple of your closest battletag friends. Check out some of the card images below and be sure to check out the full write up here! Titanscreed would love to hear your feedback, so be sure to respond with any comments you may have.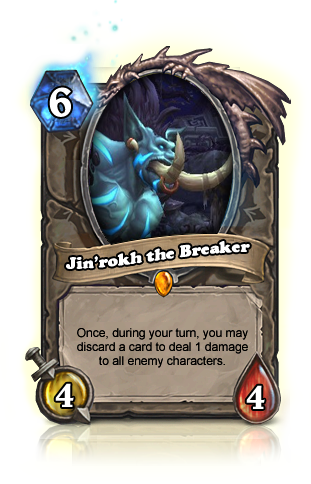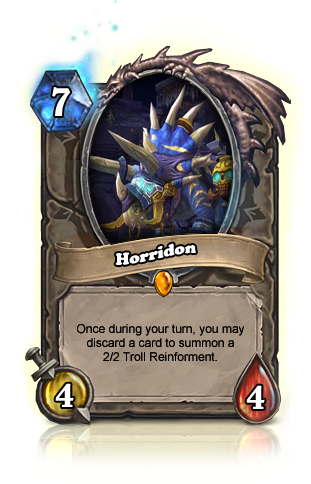 Thanks for another great idea to help expand Hearthstone, Titanscreed. We can't wait to see what you'll be showing us next time! Don't forget, there's much more than just these couple of bosses, more information is available by clicking this huge graphic with Lei Shen's ugly mug!