Patch 2.2.1 and Crafting, Infernal Machine Farming, Seasonal Items Expiration

Kael'Thas Confirmed, Upcoming Heroes Patch Preview - Hero Reworks, Balance Changes


Patch 6.2 PTR - Build 19973
Hearthstone Reaches 30 Million Players
It's getting a bit crowded here in the inn! Hearthstone's registered user base is up 5 million players from February when it was announced that there were 25 million players during the Blizzard Q4 2015 Earnings Report.
The news was shared this morning on the @PlayHearthstone Twitter.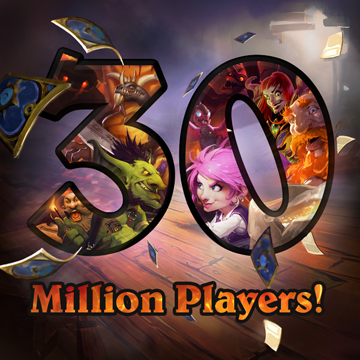 ---
When did you Start Playing Hearthstone?
Now that there's 30 million players out there, we want to know when you started playing the game. Have you been around since the early days of closed beta, or are you a newer member of the community joining in during Blackrock Mountain?
For the comments: Why did you start playing Hearthstone?
---
Deck Spotlight: Dragons & Demons
In tonight's deck spotlight we're checking out Emogirly's Dragons & Demons Warlock deck. The deck works on the principal of aggression, with some viable late game options should you need them. It should also be noted that this deck is not heavy on dragons, but it does make use of Volcanic Drake, which can be played quite cheaply thanks to all the tokens you can summon through cards such as Imp Gang Boss and Imp-losion.
In does have some issues against Handlock, Mage, and Grim Patron Warriors, so if you're fighting a lot of that, this deck may not be for you.
You can start crafting this deck by checking out the card list below, or head on over to the deck guide to learn more about how to play this deck, how to mulligan efficiently, and potential card replacements.