For all the Cards Revealed today, check out the other Live Post!
Fall Reveal Stream - Today
Today, Thursday October 22nd, is the Fall Reveal Stream at which you can expect Blizzard to reveal and discuss the next expansion, the upcoming system revamp and the also upcoming new game mode. Start time of the stream will be 8:00am PT/ 11:00am ET/ 16:00 BST/ 17:00 CEST.
Twitch Drops Will Be Active!
You can get 2x Scholomance Academy packs by watching! The initial pack for just 15 min! Look for the details at the bottom of this article!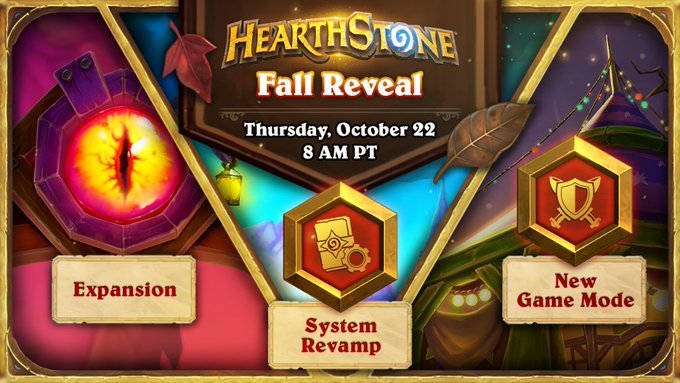 ---
The Stream - Transcribed
The Intro
The New Expansion: Madness at the Darkmoon Faire!
The Systems Revamp
All new Game Mode: Duels!
---
Scholomance Academy Twitch Drops

On October 22, watch 15 minutes of the Hearthstone Fall Reveal on Twitch.tv/PlayHearthstone between 7:30 a.m. PT - 9:00 a.m. PT to get 1 Scholomance Academy card pack. Watch for at least 30 minutes total to get another one! Before you can receive awards, you'll need to link your Twitch.tv and Battle.net accounts. Here's how:

Log in or create an account on Twitch.tv.
Navigate to the Settings menu by clicking your account name in the top-right corner of the home screen.
Navigate to the Connections tab of the Settings menu.
Find the Battle.net section, then follow the instructions after selecting a region and clicking Connect.
When connecting accounts, be sure that you're currently logged into the Battle.net account on which you'd like to receive your rewards.

The official rules for Twitch Drops can be found here.

Tune in and be the first to know what's coming in the final phase of the Year of the Phoenix!