---
The road to the 2020 Global Finals continues this weekend! Approximately 360 players were invited to compete for their portion of the more than $250,000 prize pool*. The event runs March 20-22, kicking off each day at 9:00AM PT/12:00PM ET/4:00PM GMT/5:00PM CET and was going to be the second event aired on the PlayHearthstone YouTube channel until just before the event Blizzard, due to local rules on COVID-19, canceled the broadcast. See the full message below: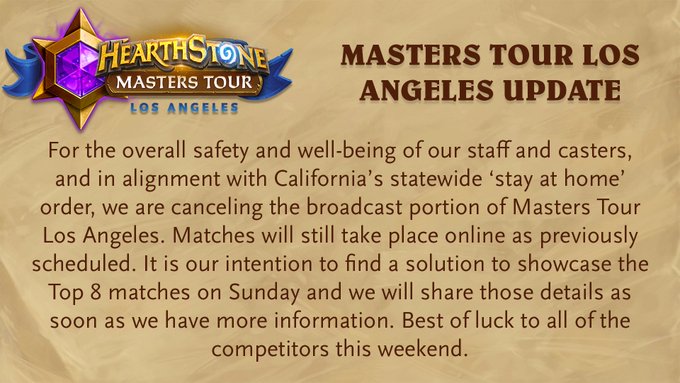 This event was originally scheduled to take place in Bali, Indonesia and was then moved to Los Angeles, CA. Blizzard later decided to hold the entire event online due to ongoing concerns over the Covid-19 Pandemic.
The player base will consist of winners from official Masters Tour qualifying events, current Hearthstone Grandmasters, and previous top finishers in Masters Tour events. Below is a breakdown of Masters Tour stop invites.

Blizzard has doubled both the number of Masters Tour events and the number of Grandmasters being relegated -- making the stakes higher than ever. Top earners from the first 3 Masters Tour events earn the right to replace one of the 6 relegated Grandmasters at the end of Season 1.
*The official prize pool is listed at "more than $250,000 of the $3,000,000 total prize purse for 2020". Originally set at $250,000 per event, the prize money increased after community purchases of the Dragon Masters Bundle.
---
Quick Facts
Venue: This will be the first Masters Tour event held entirely online.
Dates: March 20-22
Casters: Dan "Frodan" Chou, TJ "Azumo" Sanders, Simon "Sottle" Welch, Erik "DoA" Lonnquist
Prize Pool: More than $250,000 of the 2020 prize pool of $3,000,000
Format: 4 Decks, Best-of-5 Conquest w/ a Ban
---
Tournament Format
Each match will be played with a 4-deck, best-of-five Conquest Format with a ban. Any participants ending with a record of 7-2 or better are automatically qualified for Masters Tour: Jönköping and Masters Tour: Montreal.
Day 1: Five rounds of Swiss pairings. Any players collecting 3 losses will be removed from the field.
Day 2: Players with at least 3 wins on the first day will advance to Day 2. This will feature four more rounds of Swiss.
Day 3: The top 8 players head to Day 3 and compete in a single elimination tournament to crown a champion.
---
Notable Invites
| | | |
| --- | --- | --- |
| tom60229 | Bunnyhoppor | Fenomeno |
| hunterace | BoarControl | muzzy |
| Kolento | Casie | Surrender |
| SamuelTsao | Thijs | Firebat |
| HotMEOWTH | Cydonia | VKLiooon |
| Viper | Felkeine | Orange |
---
What's Next?
The 2020 Season of Grandmasters will be in April. 48 of your favorite players will battle it out weekly in an effort to earn their spot at the Global Finals. The next Masters Tour event will be held June 12-14 and is currently scheduled to take place in Jönköping, Sweden at the Elmia Exhibition and Convention Centre.
---
---
Ashes of Outland Card List & Expansion Details
Learn more and see all the cards in our dedicated Card List.