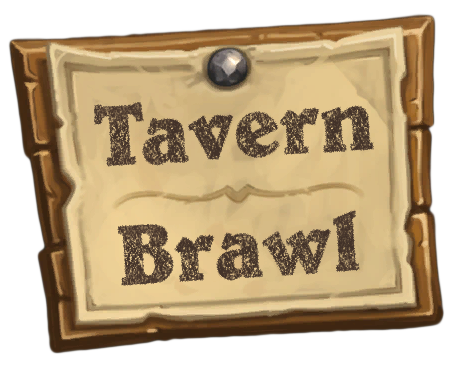 This week's brawl is Blackrock Crash! Kicking off the Fire Fest-E.V.I.L., this is the first of 3 Brawls with this theme, though each week has different rules and reward!
Rules
Dalaran Crashed into Blackrock Mountain! Take control of an E.V.I.L. boss and dungeon crawl your way out! How fast can you beat Blackrock Mountain?!
Further info
It's a party-sized solo adventure! Play as different members of the League of E.V.I.L. and battle against Blackrock bosses to get Dalaran back on track to Uldum. The league is prepared to reward you handsomely for your efforts, of course: you can earn Saviors of Uldum card packs to be opened once our new expansion is live!
Rewards:

Earn 1 Saviors of Uldum Card Pack the first time you defeat 4 bosses
Beat all 8 bosses to earn the Ragnaros Card Back
All completed runs will be timed with rewards based on how quickly you make it to the top of the mountain. How fast can you best the bosses of Blackrock Mountain?

Beat all 8 bosses in under 1 hour to earn a Golden Bronze Herald card
Beat all 8 bosses in under 40 minutes to earn a Golden Recurring Villain card




Community Challenge


For the first two weeks of the Fire Fest-E.V.I.L. the power to reveal upcoming Saviors of Uldum cards is in your capable hands. Work together to progress towards defeating 25 MILLION bosses in the Blackrock Tavern Brawls and unearth new cards along the way.

25%: Card Reveal 1
50%: Card Reveal 2
75%: Card Reveal 3
100%: Legendary Card Reveal


Discuss this brawl on the forums!