2.1 PTR Patch datamined - 2H Weapon Changes!

Incoming Progression System and Reward Changes


Warlords of Draenor Beta - Build 18566
Naxxramas Card Reveal: Loatheb
Earlier today, the PlayHearthstone twitter account tweeted a picture of a new legendary Naxxramas card, Loatheb. This brings the total number of confirmed Naxxramas cards to 15. For more information on the Curse of Naxxramas, head on over to our overview.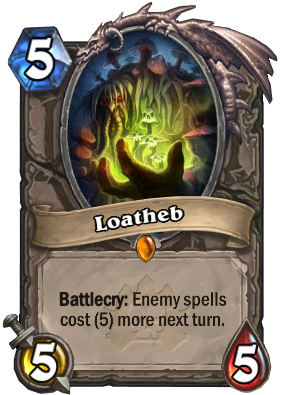 ---
Loatheb Clarifications
Questions from the community have given us some clarifications on Loatheb. See below.
Getting a lot of questions about Millhouse Manastorm / Loatheb interaction. Millhouse then Loatheb = 5 cost spells. Loatheb then Millhouse = 0 cost. - Ben Brode (Source)

If you Shadowstep [Loatheb] and play again, will spells cost 10 or still 5 more next turn?
10 - Ben Brode (Source)


What about far sight [and a] 2 mana spell?
So they play Loatheb and on your turn you play Far Sight and get Windfury? Windfury costs 4. 2+5-3.
But [what] if Windfury had been drawn earlier, would it remember that it technically costs -1?
Yes, if it's far sight first, Loatheb makes it cost 4. - Ben Brode (Source)

---
Deck Spotlight: Crispy's Kitty
In tonight's Deck Spotlight, we're taking a look at Crispy's Kitty, a deck from Acebreaker's Crispy. The deck was featured earlier today on TheChiv's Deck Talk, where TheChiv and Jotto (a teammate of Crispy) discussed the deck in detail. If you've seen Stranglethorn Druid by Xzirez, you'll probably notice the two decks have some similarities, most notably the key element, Stranglethorn Tiger. Crispy's Kitty gets rid of the Azure Drakes in favor of better large minion removal (Big Game Hunter) and an easily accessible spell damage boost for taking out hordes of aggro (Bloodmage Thalnos).
The deck has a slightly steeper crafting cost than the Stranglethorn Druid clocking in at 6620 arcane dust, but you'll be happy you tried it! See below for the decklist and a video where Chiv and Jotto discuss Crispy's deck. Be sure to also check out the write-up on the deck to learn more about it if watching videos isn't your thing.
---
IEM Shenzhen Videos
If you missed the action at IEM Shenzhen this week, VoDs of some games have been made available on the ESLTV Youtube channel. All VoDs that are currently available can be found linked below, grouped by the round of the tournament in which they were played. The winner of the tournament has been put into the spoiler below, click if you wish!
Games from the group stages have been listed instead of embedded to prevent spoilers on the decider matches.

Congratulations to Amaz who won the tournament 3-0 against Azeri!