Hearthstone's Tournament Mode Will Be A True Beta
When it was first announced that Hearthstone was going to get a tournament mode at the start of this year, it was stated we'd initially see it as a beta. Dean Ayala has further confirmed that we should expect this to be a true beta. Here's what we know about the tournament mode so far:
Tournament Mode Beta is to launch "around the middle of the year".
Everything will be handled in the client.
You can play in the tournaments anywhere whether you're at home or out at a Fireside Gathering.
Initial functionality will include matchmaking and deck checking with more features coming over time.
Bans will not be included at the start. They're looking forward to community feedback to direct the mode.
The mode will be a "true beta". Expect bugs. Expect missing features.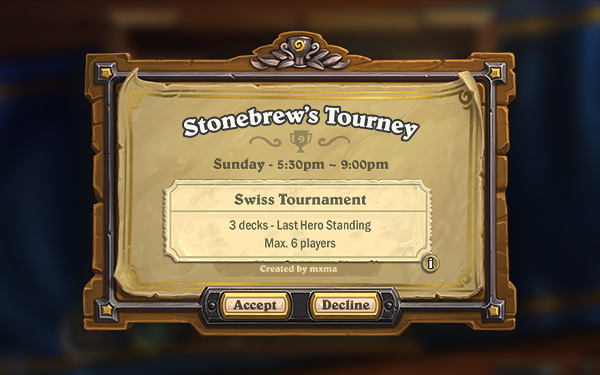 A screenshot of the accept / decline interface.
It boggles my mind why they insist on keeping everything as barebones as possible. Constantly pretending they are a team of 5 with a game that barely keeps them afloat.

Features take time. Tournaments are a long requested game mode and we want to put something in the hands of the community as soon as possible. When we first announced tournaments as a beta, we meant that as a true beta. There might be some bugs, and there might be some features missing from it you thought were really important. We still think it will be really cool. Because tournaments mean so many different things to different people, it made sense to get together the pieces of a tournament that are absolutely necessary, then build on it one piece at a time as we gathered community feedback.