San Diego Comic-Con Merchandise, Legendary Effects and +% Bonus Damage, Kasadya Cosplay, Greater Rifts Info and Tips


Cross-Faction Auction House in Warlords of Draenor
Season 4 is now Live! Good luck!
There will be scheduled maintenance in the Americas region starting at 10 AM PDT on July 1st. (Source)
Season 4 Reward Card Back
Season 4, The Dread Necropolis, will be bringing us an awesome Naxxramas themed card back to celebrate the release of Naxxramas this month. See the blue post and card below.
The fourth official Hearthstone Ranked Play Season is now live! Best of all, we're unveiling a new card back you can add to your collection!

Protect yourself against the swarms of undead by shambling your way up the Ranked Play ladder and earn the mildly cursed Naxxramas card back! You will only be able to earn this card during the month of July.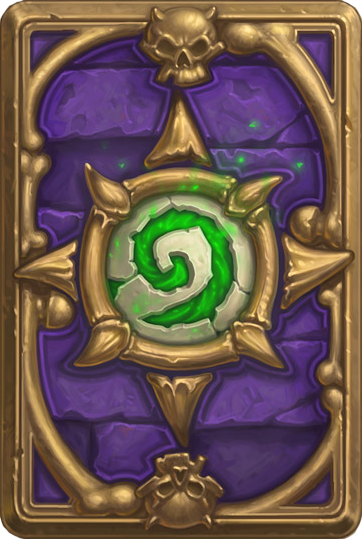 ---
Naxxramas Blue Posts
It's been a while since the blues have come out to play. Tonight Aratil offered some clarifications on Hearthstone's first adventure.
Will the Naxxramas cards be craftable?
Curse of Naxxramas cards must be earned through playing through the Adventure Mode. They cannot be made through crafting. - Aratil (Source)

How will we earn golden cards for Naxxramas?
We are still working on how golden cards will work in Curse of Naxxramas and will announce that when it is implemented. - Aratil (Source)

I wouldn't be surprised if Naxx is done at this very moment, and the only thing holding it up is debating how much it should cost.
As much as I want to believe you, I just checked, and Curse of Naxxramas is unfortunately not done yet. =( - Aratil (Source)

Can I play through a wing multiple times?
Once a wing is unlocked, it can be played through as many times as you like. - Aratil (Source)

Gaining the Naxx cards means they will be Soulbound. Soulbound cards can NEVER be disenchanted.
This is correct. - Aratil (Source)

Will Nax be a permanent add on for people to complete if they miss their chance here?
The Curse of Naxxramas Adventure Mode will be a permanent addition to the game. - Aratil (Source)


On Transparency:
We can certainly be better with transparency, and it is something that we are working on. In regards to the original post, I posted the information that I had, and provided an update when it changed. Unfortunately, this can happen when there is more transparency. - Aratil (Source)

---
New Blizzard Merch & ComicCon Exclusives
Blizzard announced today over the Warcraft blog a bunch of new items which will be hitting the Blizzard Store, including a Light and sound Hearthstone plush toy. In addition to these new toys for the Blizzard Store, they will be selling some limited edition items available only at San Diego ComicCon. If you're interested, go check out all the details.