AH Closure Reminder, PTR Likely This Month, More Information on Leaderboards, Devs not "Done" with Monks

Hero Rotation Update - June 17, Alpha Opt-Ins: Large Australia Wave as Early as Next Week


Alpha Patch Notes - June 18 Update, Blue Posts, Blue Tweets, The Voice of Gazlowe
Update 1:37 PM EDT: Added tweets from Ben Brode confirming the Deathrattle doesn't pull cards from your deck but rather all beasts.
Curse of Naxxramas - Hunter Minion Card Revealed - Webspinner
A new card from the Curse of Naxxramas Adventure has appeared on the PlayHearthstone Twitter account and it's a Hunter Minion! You can find more information about Curse of Naxxramas here. The release of the Hunter card marks the last class card for the Naxxramas adventure. Do you like where things are going?
If you'd like to discuss this card, head on over to the thread on the card discussion forums! Also, vote in the what is your favourite class card poll!
"Let the hunt begin!" Weave a wicked web of your own with the Hunter's Webspinner in Curse of Naxxramas!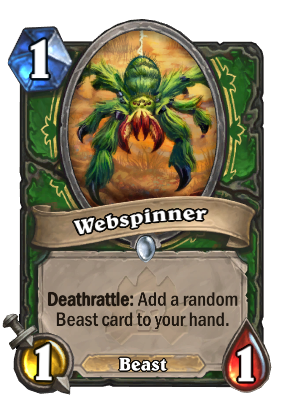 ---
Naxxramas Card Recap
With the addition of today's card, Webspinner, we're now up to a total of 14 known cards from Naxxramas, including all of the class cards. Check out the previously announced cards below.
---
DreamHack Summer 2014 Decklists
We've posted decklists for the ViaGame DreamHack Summer 2014 Hearthstone tournament which happened last weekend. If you'd like to check them out, head on over to this thread, and if you're interested it watching some videos of the event, head on over to ViaGame's DreamHack channel.

---
Blizzard at gamescom 2014
Once again, Blizzard will be in Cologne, Germany at gamescom 2014. No schedule has been announced yet but they promise we will see it in the coming weeks. Hopefully there's some fun Hearthstone stuff planned! Are you going to be going?
Blizzard Entertainment will once again be at the world's biggest games convention this summer – gamescom 2014, which takes place August 13-17 in Cologne, Germany. We'd love to see you there to join in all the fun!

We've got our biggest ever booth, all sorts of entertainment throughout the four public days of the event, and four great games for you to come and play. You can try out World of Warcraft: Warlords of Draenor, Heroes of the Storm, Diablo III: Reaper of Souls – Ultimate Evil Edition on PS4, and Hearthstone: Heroes of Warcraft.

On our stage we'll have live music, our world-famous dance and costume contests, regular quizzes and other competitions with awesome prizes, and more. We'll have more information on how to participate in the costume contest very soon, but for now, you can already start designing, crafting, and sewing your magnificent Blizzard-inspired outfit!

We're also planning a glorious gallery on our booth bringing you both official and fan-created artwork in this, the year of World of Warcraft's tenth anniversary, so get ready to submit your own creations.

In the coming weeks, we'll bring you a complete schedule of all the fun and games that will take place on the Blizzard booth during gamescom. You can find out more about the convention itself here.