Celebrating 20 Years of StarCraft - Upcoming Tavern Brawl to Reward 3 Kobolds Packs
All of Blizzard's titles are celebrating the 20th anniversary of the StarCraft franchise throughout the month by giving away goodies.
Hearthstone is included in the celebration through a special Tavern Brawl though unlike the Diablo 20th Anniversary Brawl that we saw last year, there will not be a card back reward and instead, players who participate will receive 3 Kobolds card packs. The Tavern Brawl will run near the end of the month from March 21 until March 25.
Do you have any idea what the brawl could be?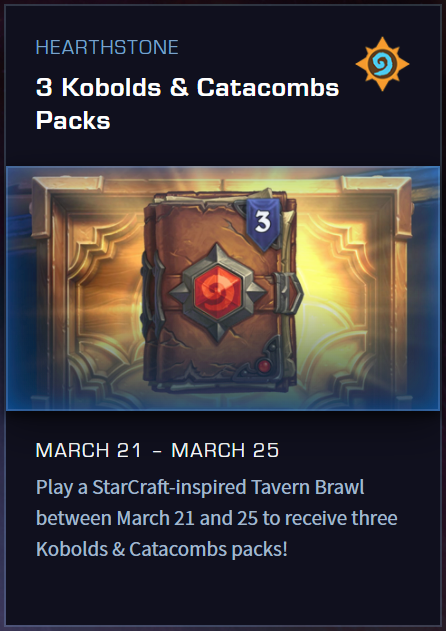 ---
Other Goodies
All of Blizzard's games will be getting something for the anniversary. Here's the breakdown!
Brood War - 20th Anniversary UI Skin for Remastered.
StarCraft II - 20th Anniversary UI Skins, Portraits, and Decal.
Diablo III - Battlecruiser Pet.
Overwatch - Widowmaker Skin ft. Sarah Kerrigan as the Ghost.
World of Warcraft - Salute to StarCraft Feat of Strength if you /salute an in-game StarCraft pet.
Heroes of the Storm - 20th Anniversary StarCraft portraits.