Could Hearthstone Players on iOS Soon be Buying Dust Instead of Card Packs?
Note: Blizzard has not yet made an official statement on the change.
Back in June, Hearthstone players in China were no longer able to buy card packs but instead were purchasing a small amount of Arcane Dust with their money. As a bonus for their purchase, card packs were thrown into the mix as a "gift" for their dust purchase.
Why did Blizzard make this change? This is because of a change to laws in China regarding loot boxes in video games where it was required for video games to publish the odds of their drop rates.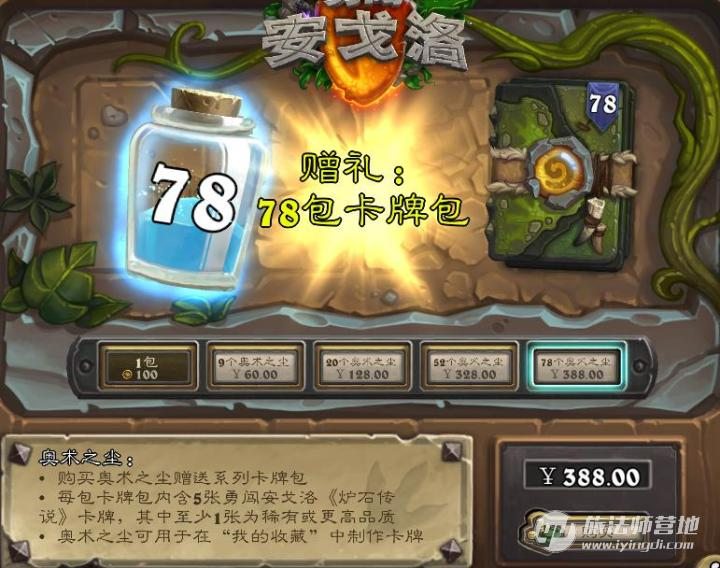 The shop interface for Hearthstone in China.
So then, why on Azeroth are iOS players potentially buying dust soon? That's thanks to a policy change in Apple's App Store.
---
The Apple App Store Update on Loot Boxes
In the Apple App Store guidelines, a document which details the rules app devs must follow to get through the app approval process, there is now a section which states apps need to make note of the odds of receiving each type of item to customers.
Apps offering "loot boxes" or other mechanisms that provide randomized virtual items for purchase must disclose the odds of receiving each type of item to customers prior to purchase.
With this addition, it looks like Hearthstone will need to go the same way as it did in China to prevent disclosure of the drop rates which would be accomplished through giving players another object and tack on card packs as a gift. The alternative would be to cut the crap and officially state card drop rates which have been well known for years at this point. On the plus side if they do try to get around it by using arcane dust and not disclosing the odds, it's a little bit more dust in everyone's pockets which will help craft the powerhouses we need for our decks.
---
Rarity Distribution in Card Packs Today
Card rarity distribution hasn't changed since Hearthstone launched, though players will see slightly more Legendaries now thanks to a guaranteed Legendary in your first 10 packs for each set. The following rarity distribution is from our TGT community card pack opening and is still inline with other documented, more recent pack openings.
Rarity
Normal
Golden
Total
Legendary
696
0.94%
56
0.08%
752
1.01%
Epic
3029
4.09%
143
0.19%
3172
4.28%
Rare
16017
21.61%
934
1.26%
16951
22.87%
Common
52153
70.36%
1097
1.48%
53250
71.84%
Total
71895
96.99%
2230
3.01%
74125
100.00%
We've also got some totally new information from Blizzard China from in May which was posted with loot box regulations in mind.
You'll get at least 1 rare, or better, in each pack.
An epic will be received, on average, in 1 of every 5 packs.
Legendaries, on average, will be received in 1 of every 20 packs.
As players open more packs, the actual probability of opening cards with higher quality increases.
It's possible we could see the above being enough for the Apple App Store and it wouldn't require Blizzard to provide the actual drop rates which means they won't need to move forward with giving users dust for their money instead.
According to the relevant national laws and regulations, "slag legend" is now the probability of taking cards to publish, as follows:

Note: "slag legend" card package a total of five cards, including four different quality.

Rare cards

Each slag card package, at least to get a rare or higher quality card.

Epic card

An average of 5 slag card card package, you can get an epic quality card.

Legend card

An average of 20 slag card card package, you can get a legendary quality card.

In addition, it should be noted that: with the number of cards to increase the number of packages, players actually get high-quality card card probability will also increase.
---
Loot Boxes: How Do You Feel?
It's been a very popular topic in gaming communities over the past few weeks thanks to EA and their garbage with Star Wars: Battlefront II having absurd lengths of time being required for character unlocks unless you buy loot boxes and I'd like to know how everyone else feels about loot boxes both specifically with Hearthstone and then with other titles.
And before you comment, remember that developers in large companies usually aren't the people deciding how much stuff sells for and the drop rates for these; There's a whole different team of people to thank for this. Don't be a dick to game developers and call them out personally. Attacking developers, especially when they aren't even to blame for the fiasco, pushes them away from interacting with the community and then everyone gets upset no one comes out to talk with us anymore.