Yellow-Brick Brawl is This Week's Brawl!
Each player is given Dorothee, which grants Charge to minions on one side and Taunt to the other. Build a 10 card STANDARD deck and we'll give you three copies of each!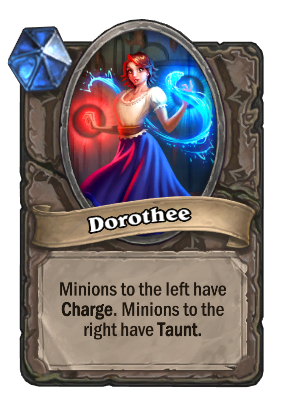 ---
Trivia
This is the second time we've seen this brawl.
Originally debuted on Nov 2, 2016 as a Wild brawl.
This version of the brawl is Standard cards only.
The brawl references The Crone fight in One Night in Karazhan's adventure.
---
How it Works
You'll make a deck using 10 standard cards. You may play any class.
Any minions on the left side of Dorothee will gain

Charge

.
Any minions on the right side of Dorothee will gain

Taunt

.
Dorothee cannot be killed, buffed, or interacted with at all.
---
Historically Awesome Decks
Although you may not be able to play these decks this time around due to the wild nature of them, it's always fun to see what has been popular in the past.
---
Discuss the Brawl
Head on over to our dedicated discussion thread for this week's Brawl!