New Legendary Card Reveal: King Togwaggle
A new card has been revealed by Dave Kosak on the Hearthstone Blog!
Discuss this Card
Discuss this Card
Follow us on Twitter to get notified of new cards immediately!
---
New Card Back
Dave also showcased the card back you get for completing the dungeon run mode with all 9 classes.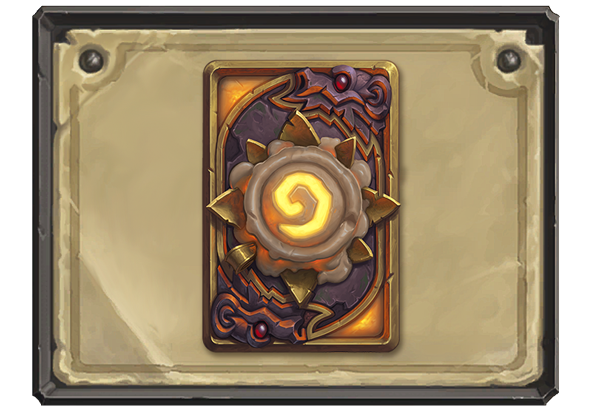 ---
Reveal Blog and Video
Join Hearthstone Mission Designer Dave Kosak as he reveals more about the development process that went into the creation of the new Dungeon Run single-player game mode coming in Kobolds & Catacombs.

What's a Dungeon Run?

Dungeon Run is a new insanely fun, single-player "rogue-like" mode where you'll face deadly encounters and collect incredible Treasures to build a deck worthy of a hero!

When your Dungeon Run starts, you'll choose a Hero and receive a starting deck consisting of 10 cards. You'll use it to overcome eight encounters of increasing difficulty (chosen randomly from a huge pool of 48 possible encounters!) to clear the run.

That initial deck might be enough to help you squeak by your first opponent, but you'll need to get stronger if you hope to clear the whole run. Each time you defeat a Dungeon Run encounter, you'll be given an opportunity to "level up" your Dungeon Run deck with themed sets of three cards appropriate to your class. Occasionally, you'll also be able to pick from a selection of three incredibly powerful Treasure cards—non-collectible cards and abilities made just for this mode that are too blatantly overpowered to see normal play.

You'll need all that power—as well as your wits—because these encounters can be fiendishly difficult. Victory is not assured, and each encounter has its own unique perils. If one of them gets the better of you, defeat is permanent, so you'll have to start a different run with a whole new deck!

If you manage to complete a full Dungeon Run with each of the nine Classes—no mean feat!—you'll add the Candle King card back to your collection.

Follow us on Twitter for the latest dungeon recon. Visit KoboldsAndCatacombs.com and Facebook for a gallery of cards revealed thus far.
---
Learn more about Kobolds and Catacombs!
Visit our expansion guide to look at all the new cards that have been revealed so far, as well as anything else you want to know about the new expansion!

---
Kobolds and Catacombs Deckbuilder
Play around with all the newly revealed cards in our deckbuilder!

---
Get Cheaper Packs!
This section contains affiliate links. They help the site!
If you want to save money when buying Hearthstone packs, you should check out Amazon Coins! It's an easy way to save up to 25% off Hearthstone packs so you can get into the new expansion without worrying about your wallet too much. We've got a detailed guide on how to Get Started with Amazon Coins, but if you've already dealt with them in the past, you can buy some more by clicking right here.
The best part though? You don't even need an Android device because we've got a guide to show you how to setup an emulator if you're on PC!