Note: Coverage of the Hearthstone Expansion will continue in our "What's Next" Live Panel Recap.
Kobolds & Catacombs is the Next Hearthstone Expansion
The newest Hearthstone expansion is Kobolds and Catacombs!
You can pre-order the new expansion already on Battle.net.
Dungeon Runs are a new single player content being added to Hearthstone.

When your Dungeon Run starts, you'll choose a Hero and receive a starting deck consisting of 10 cards. You'll use it to overcome eight encounters of increasing difficulty (chosen randomly from a huge pool of 48 possible encounters!) to clear the run.
Completing a dungeon run with each of the nine classes gives you the Candle King card back.

Recruit: Cards with the Recruit keyword immediately summon minions from your deck and put them into play. Some cards recruit minions that match certain conditions; others recruit randomly chosen minions.
Every class is getting a Legendary Weapon in the new set!
UNIDENTIFIED MAGIC ITEMS – These mysterious cards gain new powers when they enter your hand. (Awaiting more information!)
SPELLSTONES – Play your Spellstone immediately, or empower it by fulfilling specific actions for a greater effect. (Awaiting more information!)
Marin the Fox is being given out to all players for free starting on Monday.
BlizzCon attendees and Virtual Ticket holders will be getting Marin's golden version for free.
---
New Card Reveals
Blizzard oops'd hardcore. Marin the Fox has been revealed already via a promotional email.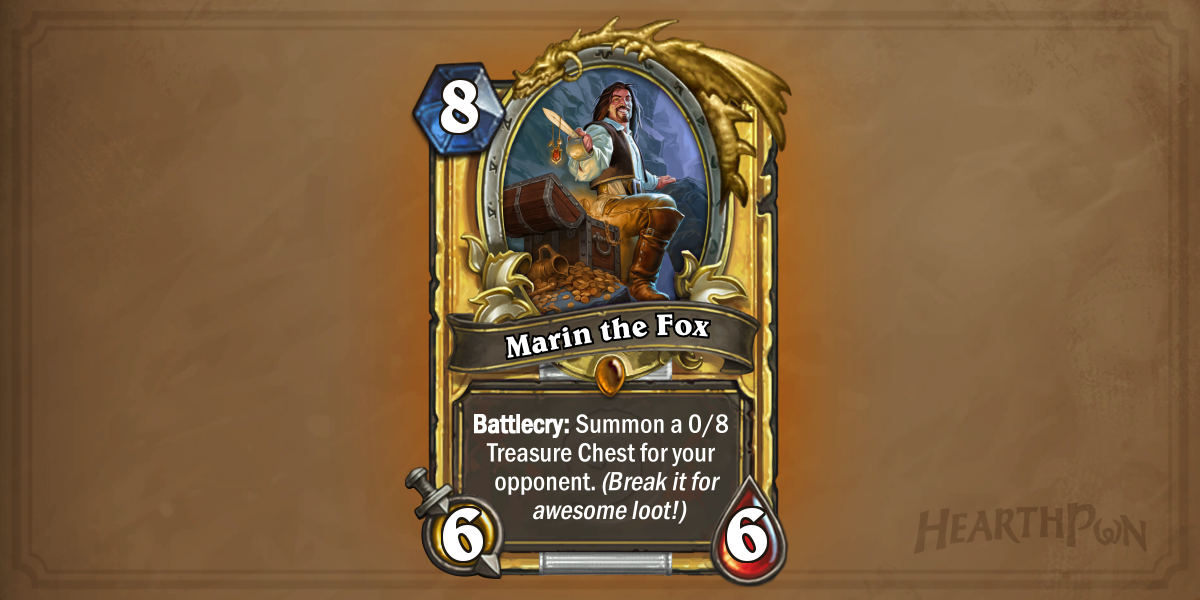 ---
Opening Ceremony Live Recap
Below are our notes from the opening ceremony.
Hearthstone

Ben Brode is on the Hearthstone Stage!
"This is going to be the best BlizzCon yet!" - Ben Brode 2017
"This has been an awesome year for Hearthstone"
The new set comes out in December.
We're being taken back to the roots of classic fantasy. Dungeon crawling vibe.
There's a song!
The new expansion is "Kobolds and Catacombs"
Everyone who logs into Hearthstone starting Monday gets Marin the Fox for free.
BlizzCon attendees (And virtual ticket holders) will receive a golden version of Marin the Fox.
Recruit: Cards with the Recruit keyword immediately summon minions from your deck and put them into play. Some cards recruit minions that match certain conditions; others recruit randomly chosen minions.
All classes are getting a Legendary Weapon! Everyone gets a free weapon at launch.
A brand new single player mode is being added called the Dungeon Run.
You will collect loot and level up your heroes.
The most replayable single player content ever.
Dungeon Runs are completely free - you don't need any cards to play!

Blizzard

Mike Morhaime is doing his usual greetings to everyone.
An Esports video played showcasing the past year of Blizzard Esports.

World of Warcraft

J. Allen Brack is on stage to talk about World of Warcraft.
World of Warcraft Classic is coming back.
They are committed to bringing back the game.
Shadow plushie is coming to the store. Proceeds going to world disaster relief.
Over the years, 15 million dollars has been donated to charitable causes.
World of Warcraft: Battle for Azeroth

Overwatch

Jeff Kaplan is on stage from the Overwatch Arena to talk about Overwatch.
Blizzard World is a new theme-park themed map.
The new map is coming out next year. It's part assault and part payload.
Moira is a new hero coming to Overwatch.
A new Reinhardt Cinematic!

Starcraft II

Starcraft II is FREE TO PLAY starting November 14.
You will get the Wings of Liberty Campaign for free.
Competitive ladder will be free.

Heroes of the Storm

Kaeo Milker is on stage to talk about Heroes of the Storm.
They've doubled the amount of Heroes since last BlizzCon. It's been a busy year.
Alexstrasza is being added to the game. She is a ranged support that can manipulate life energy to heal her allies.
Hanzo is being added to the game. He is a ranges assassin who can serve as a scout for his team.
New Features Coming:

Peformance Based Matchmaking - Rethinking matchmaking based on how you do in the game vs your entire team.
Voice Chat
Rework to Stealth.
Evolved Battleground Mechanics.

The new heroes and changes are playable on the show floor.
---
Panel Screenshots
---
Watch Live
The Opening Ceremony is available for free to those without a Virtual Ticket. If you want to watch the panels though, you'll want to buy a Virtual Ticket.
---
Get More out of BlizzCon and HearthPwn
Join us on our Twitch Server to chat in real-time, follow us on Twitter and Facebook for updates, and find all our BlizzCon 2017 content.