This Giveaway Has Ended. Winners Have Been Messaged
BlizzCon's Golden Legendary is Marin the Fox! Bonus: Virtual Ticket Giveaway
Hearthstone players with a BlizzCon 2017 Virtual Ticket will be receiving a Golden Legendary Hearthstone card! Although we don't know his stats, yet, we do know he is Marin the Fox!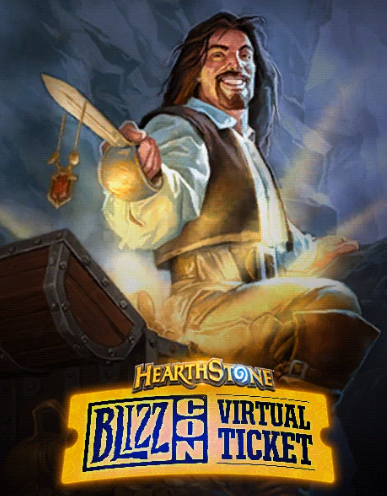 Adventure! Danger! Derring-do! TREASURE! Meet Marin the Fox! Get a golden Marin with a BlizzCon 2017 Virtual Ticket http://blizzcon.com
---
BlizzCon 2017 Virtual Ticket Giveaway
Blizzard has given us five (5) BlizzCon Virtual Tickets to give out to the community here on HearthPwn, so we're holding a giveaway!
---
How to Enter our Giveaway
We're going to make this super easy for you to enter our Virtual Ticket giveaway.
Down in the comments below, tell us what you think the next Hearthstone expansion is going to be.
We'll randomly pick five winners next week on Monday at Noon EDT (GMT -4), and message them through the private message system.
Make sure you come back on Monday to check your private messages.
If you don't respond within 24 hours, your ticket will go to someone else.
Optionally, and this doesn't improve your chances at winning, tell us about your favourite past BlizzCon moments and what else you're looking forward to with this year's BlizzCon - we'd love to hear about it!

---
The Virtual Ticket
The Virtual Ticket gives you an all-access pass to BlizzCon 2017 allowing you to:
Watch all the panels live (and VOD!) through BlizzCon.com. Regular viewers only get Esports streams and the Opening Ceremony.
View special videos leading up to BlizzCon.
Obtain exclusive in-game loot across all of Blizzard's titles.
Purchase a BlizzCon Goody Bag on the Blizzard Gear Store with a $10 discount.
You can purchase a Virtual Ticket over on the Blizzard Shop.

---
Virtual Ticket Digital Goodies
Blizzard's other titles are also getting in-game goodies!
World of Warcraft: Stormwind Skychaser and Orgrimmar Interceptor
Overwatch: BlizzCon 2017 Winston Skin
StarCraft II: Junker SCV, Probe, and Drone Skins
Heroes of the Storm: Nexus Razorback Mount…and More!
Diablo III: Murkromancer Pet