Get a Free Frozen Throne Pack Today? You Were Bugged!
If you logged in to Hearthstone today and received a free card pack from outside the game, this was due to you not receiving a Legendary within your first ten packs of the set but instead received it on your eleventh. This offering should bring your pity timer back to the correct place it should be.
Did you receive a free pack? What'd you open up?
Here's the email they sent out to players found with the issue courtesy of /u/Gravyboat9505.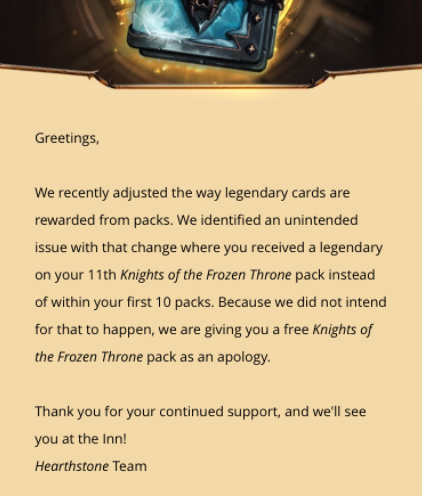 Greetings,

We recently adjusted the way legendary cards are rewarded from packs. We identified an unintended issue with that change where you received a legendary on your 11th Knights of the Frozen Throne pack instead of within your first 10 packs. Because we did not intend for that to happen, we are giving you a free Knights of the Frozen Throne pack as an apology.

Thanks for your continued support, and we'll see you at the Inn!

Hearthstone Team.