We're looking for writers! Learn more about the opportunity and submit an application here.
Notice: Innkeeper has been updated for the new patch!
Notice 2.0: We've deployed a site update that now allows you to enter the full copy from the Hearthstone game when importing decks onto HearthPwn. You no longer need to only enter the deckstring itself. Faster sharing \o/
Mobile Notice: Issue with pasting decks on mobile? Yong Woo says the team is aware of the issue and a workaround requires that you first copy a deck within the game, then copy the deck you want from outside of the game, and finally, you can now paste the deck you want!
New Hearthstone Patch
A new patch has been deployed to the Blizzard servers! Highlights of today's patch include:
A new feature that allows you to easily export and import decks; It works with HearthPwn!
Golden cards now stack with non-goldens on deck lists.
You can now Quest With Friends!
Ranked wins for each hero will now tally beyond 500.
Golden borders for alternate heroes!
---
Deck Imports & Exports
A new feature has been added to the game for deck importing and exporting. This is accomplished through copying and pasting of deck data! We've baked in support into HearthPwn for the new feature, so go ahead and go crazy! Share decks like you've never shared before.
Deck Imports on Deckbuilder
Quickly convert your in-game list to a HearthPwn deck on our Deckbuilder!

Deck Exports on Deck Pages
Just look below the Mana Curve or the Deck List! Play the greatest decks, easier than ever before.

In-Game Deck Exporting
Your Collection -> Your Deck -> Deck Heading -> Copy!

---
Questing With Friends
You're now able to complete most of your quests by fighting your friends! If you just don't feel like slamming your head against ranked with a Warlock deck but don't want to reroll that 60 gold, now you can play a fun game against your friends.
Just issue a Friendly Challenge to someone on your Friends list and rack up credit for nearly any quest you can receive.

Last year, the Friendly Feud allowed players to complete quests when they played with a friend. You gave us a ton of positive feedback about that event, and a lot of you asked us to have Friendly Feuds more often. We thought that was a good idea, so we took it a step further!

There are some minor caveats. For example, any quests that can't be completed as part of a Friendly Challenge aren't eligible, such as those that require you to play vs The Innkeeper or watch a match. Most everything else is fair game though, so now you'll have a reason to make friends with a recent opponent that isn't just to send them a compliment.
---
Golden Card Stacking
Hearthstone will now automatically combine cards in deck lists when you have a golden and non-golden version of a particular card. Check out the screenshot below to look at this revolutionary change that will forever clean up deck lists. I cannot thank you enough Blizzard.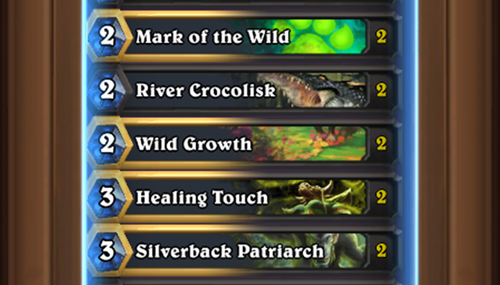 ---
New Card Backs
One new card back has been added; The June Seasonal reward, Might of Dalaran.

Might of Dalaran
---
Fire Festival Tavern Brawl
Some strings point towards a new special event!
GAMEPLAY_EMOTE_HERO_01_EVENT_FIRE_FESTIVAL
GAMEPLAY_EMOTE_LABEL_FIREWORKS Wow
VO_BRM_027h_CELEBRATE_24 REJOICE!
VO_FIRE_FESTIVAL_RAGNAROS_FESTIVAL IT'S THE FESTIVAL OF ME!
VO_BRM_027h_PARTY_22 PARTY LIKE IT'S MIDSUMMER!
VO_BRM_027h_HAPPY_EVENT_41 LIGHT THE FIRES OF CELEBRATION!
VO_BRM_027h_FIRE_FESTIVAL_44 IT'S THE FESTIVAL OF ME!
TB_FIREFEST_FIRST Mini-Rag gains attack when he incinerates a minion!
TB_FIREFEST_SECOND Well done! Incinerate as many as you can for a special reward!
fire_festival_quest_congrats_1 - double_gold_quest_granted
fire_festival_quest_congrats_2 - double_gold_quest_granted
---
Spot the Lethal Tavern Brawl
A new brawl has been spotted which appears to be solo puzzles!
Puzzle 1 - Seems simple enough.
Puzzle 2 - Survival percentage is 32.33 repeating of course.
Puzzle 3 - BY PUZZLE BE PURGED!
Puzzle 4 - Beasts, Beasts and more Beasts!
Puzzle 5 - Go Go Malygos!
Puzzle 6 - Heal em to death!
Puzzle 7 - An inspiration to totems everywhere!
Puzzle 8 - A chilly challenge!
Puzzle 9 - What!? This again?
---
Tag Team Brawl
Each class deck has a description.
Druid - Fierce Forest: Fast and fierce, this deck hates weapons!
Hunter - Spy Stalker: The grandmaster of secrets.
Mage - Secret Magus: Kabal, and the master of secrets.
Paladin - Mysterious e-SCALE-ation: Fast secrets, and dragons.
Priest - Unbreakable: Slow, but lots of Inspire minions.
Rogue - The Saint: Fast spell deck. Loves weapons, and Yogg-Saron.
Shaman - Totems Hate Secrets: Blast away your opponent's secrets!
Warlock - Death Becomes Your Foes: You love death and hate weapons.
Warrior - The Rock: Use weapons to slowly pick apart your foe.
At some point, you get to discover a new class and that hero takes position.
Discover Next Class
New Hero! - A new Hero takes position.
There's also a special spell.
Your Next Victim Comes - Destroy all minions. Drain all Mana. Gain 5 Health.
---
New Brawl Chalkboards
---
Golden Hero Trays
New golden borders for all the alternate heroes!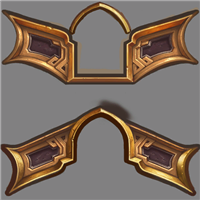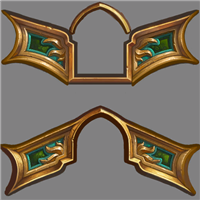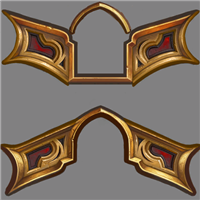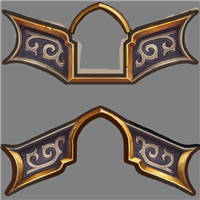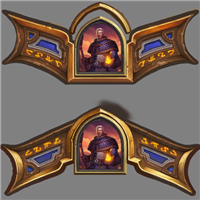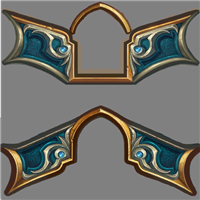 ---
New Art
Here's some new art that was in the client.
---
Official Notes
In this Hearthstone update we're adding some nifty features like Deck Importing, golden card stacking in decklists, allowing you to complete quests with friends all the time, and more. We're also fixing a few bugs and making small improvements to the user interface.

This patch is now live on Desktop.

Read on for details!

---

Deck Importing – It's now possible to copy and import Hearthstone decklists! It's fast and easy to share your decklist with friends, or try the latest decklist from your favorite streamer, pro, or fansite.

Copy a deck by selecting the hero portrait at the top in your collection and pressing the copy button.
Hearthstone knows when a valid decklist is copied, and you'll be asked if you want to use it when you create a new deck.

Quest with friends – Most quests can now be completed during Friendly Challenges with players on your Friends list.
We've added the following card back: The Magic of Dalaran – Acquired by achieving Rank 20 in Ranked Play in June.

When viewing "Pick a Replacement" from a deck recipe or imported decklist, the ghosted card on the left now takes you directly to Crafting mode.
It is now possible to refine searches in the Collection Manager with the 'Type:' and 'Rarity:' search tags.
Error messages received when searching the Collection Manager are now more helpful.
Golden cards and non-golden cards will now share the same slot in a decklist.

Ranked wins for each hero will now tally beyond 500.
Alternate Heroes, such as Maiev, will now have golden borders once 500 wins have been achieved for a Class.
You can now drag a golden card out of your Arena deck to "de-goldenize" it.
Deathwing and Bloodmage Thalnos have finally learned how to make an entrance.
Some game boards will become exclusive to Wild, and recently released boards will become more common in Wild matches.
[Mobile] It is now clearer and easier to cancel casting a spell in mobile user interfaces. No more Fireballs to the face!
Bug Fixes
Alarm-o-bots drawn by Far Sight no longer maintain their cost reduction when returned to your hand.
Sherazin Corpse Flower no longer counts transform minions, such as Shellshifter, twice when dormant.
Pyros now interacts correctly with effects like Spirit Echo and Getaway Kodo.
Fixed an issue where Sergeant Sally would only deal 1 damage to enemies when interacting with Crystal Core and Spiritsinger Umbra is in play.
Resolved several visual issues that could occur during play.
Resolved an issue where players could become stuck spectating.