Best Un'Goro Standard Decks for End of Season Ladder Climbing
So it's the end of the season and you're wanting to increase that rank to flex at your friends and better the contents in that loot chest. We're going to give you some of the best Un'Goro decks to play right now so you don't have to idle at Rank 18.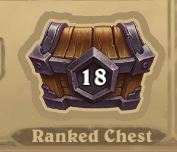 So let's jump right into things. Below are our top 5 decks that you should be playing right now on the Standard ladder.
---
Pirate Warrior
We know. You're as disappointed as we are that Pirate Warrior continues to go on a ladder rampage but if you just want some easy aggro wins, this is your calling. Bonus points for making people angry and for not really requiring much out of Un'Goro.
For you non-pirates out there, if you are encountering a lot of Pirate Warrior, tech in Golakka Crawler into your deck and eat them pirates for breakfast. Omnomnom.
Find other versions of Pirate Warrior in our deck database.
---
Aggro Murlocadin
Cheap? Nope. Awesome? Yes.
I felt a little dirty playing this deck on ladder but it really does help gain ranks quick early on when people simply don't expect the onslaught of Murlocs, and even later if you can pilot it well. Definitely check out the guide within the deck if you're new to the archetype, it's invaluable!
Find other versions of Murlocadin in our deck database.
---
Midrange Hunter
Some may disagree with the pick as there are a few really good Hunter variants out there right now, but this one specifically is cheap on dust and will take you places. You're likely going to want tech in at least a Golakka Crawler into the deck if you're encountering Pirates; You could safely ditch a Hunter's Mark.
Find other versions of Midrange Hunter in our deck database.
---
Quest Rogue
There's been many variations of this deck over the past few weeks and overall it's been doing pretty well on the ladder winning games super fast if the cards are in your favor. If you've cracked open The Caverns Below, and have a little extra dust to spare, you should give the deck a shot.
Find other versions of Quest Rogue in our deck database.
---
Aggro Druid
Read the guide, it's awesome and goes into great, mind-blowing depth to help you pilot the deck. Oh and as the deck author has said, if you're fighting Taunt Warriors a lot, this might not be the deck for you.
Find other versions of Aggro Druid in our deck database.
---
Bonus: What Rank Are You Currently?
We're wondering whereabouts you're at on the Hearthstone ladder right now. Let us know with this super scientific poll.