Journey to Un'Goro is Hearthstone's Next Expansion
The new expansion will be named Journey to Un'Goro!
The expansion releases Early April.
We will see more card reveals starting on March 17th.
135 New Cards will be added to the game.

Each class will be receiving two legendaries; One quest spell and one minion.
There will be five neutral legendaries in the set.

There is a new tribe called Elemental. Some olders cards will gain this tribe.
There are new Quest cards which are Legendary Spells.

You can have only one in your deck and they're always in your opening hand. (Discuss Quests)
Quest spells are unable to be obtained through random effects like Babbling Book or Discover.

A new keyword called Adapt has been added.

They work like the Discover mechanic and let you choose 1 option of 3 (pool of 10) to add to your minion. (Discuss Adapt)

A pre-order is available for $49.99 USD which gives you 50 packs and a special card back.
---
New Cards
Four new cards have been revealed! You can use them in our deckbuilder and view them in our card database.

Discuss this Card

Discuss this Card

Discuss this Card

Discuss this Card
---
Tokens
Blizzard has revealed several token cards, including a Plant that is a contender for Cutest Art of the Year.

Discuss Pyros

Discuss Pyros

Discuss Awaken The Makers

Discuss Adapt Mechanic
---
New Reveals [Updated 3:40 am EST]
---
The Adapt Mechanic
The new Adapt Mechanic works like Discover in that you get to choose from 3 random options. The total pool of options is 10 of which 6 were revealed with the announcement and the other 4 confirmed by Mike Donais on reddit.
---
Pre-Order Card Back
The pre-order card back returns! If you pre-order 50 packs for $49.99 USD, you get this awesome back.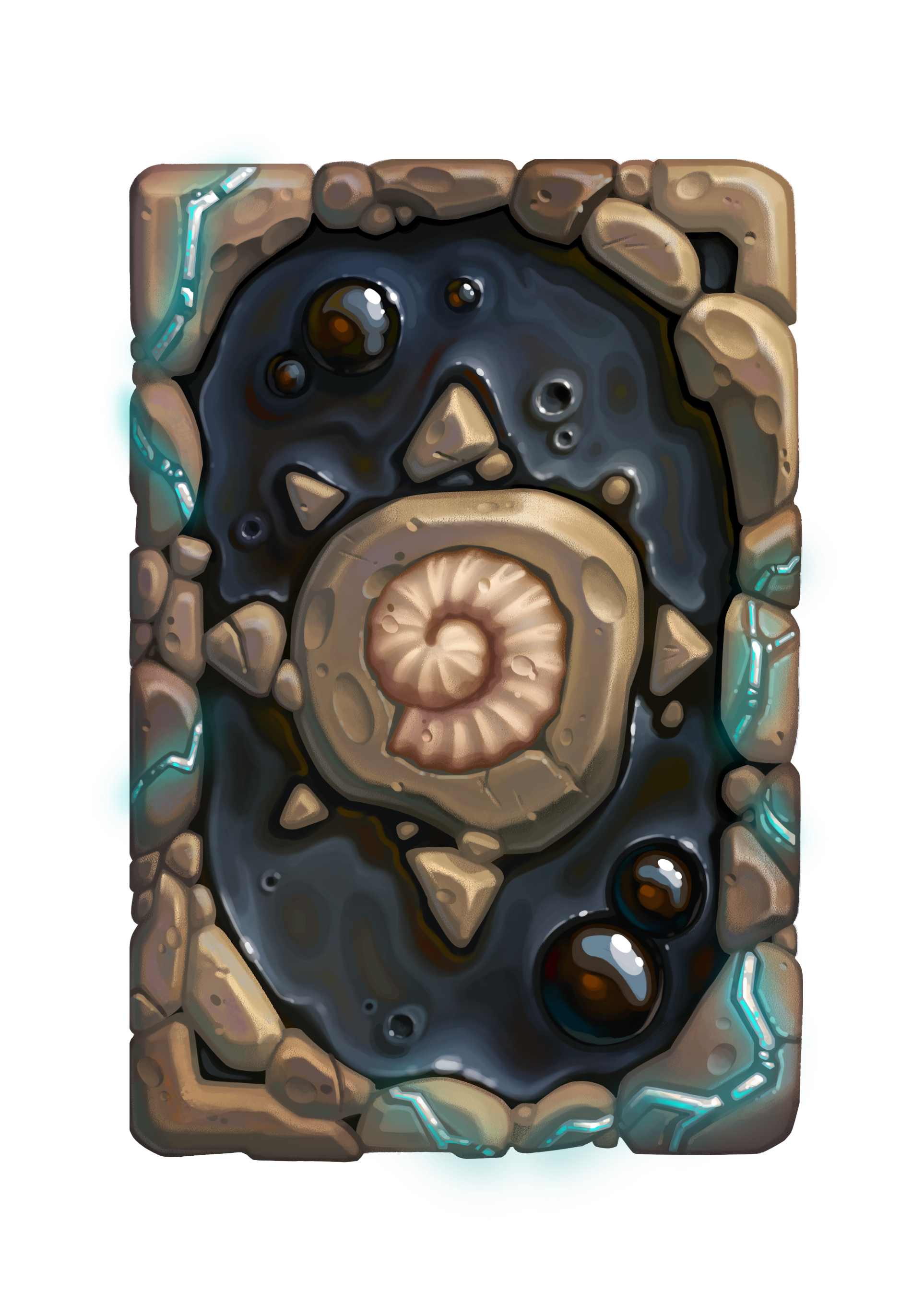 ---
Possible Season Card Back
A card back was shown on the official Journey to Un'Goro website which has an unknown origin. We're assuming it's a seasonal card back for April.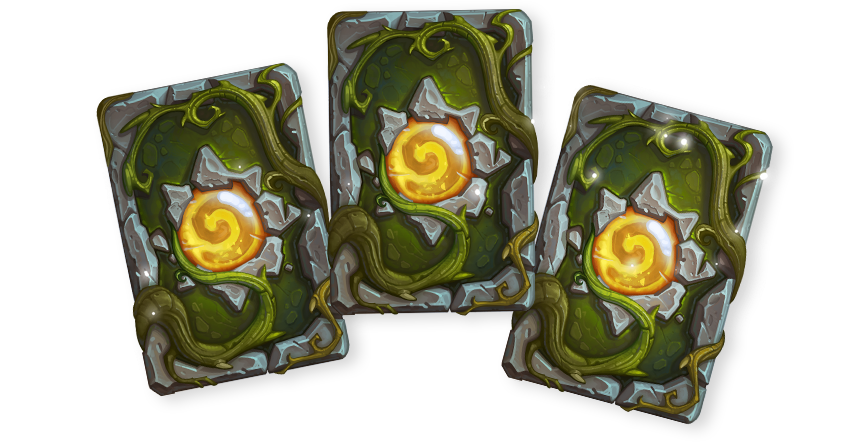 ---
New Gameboard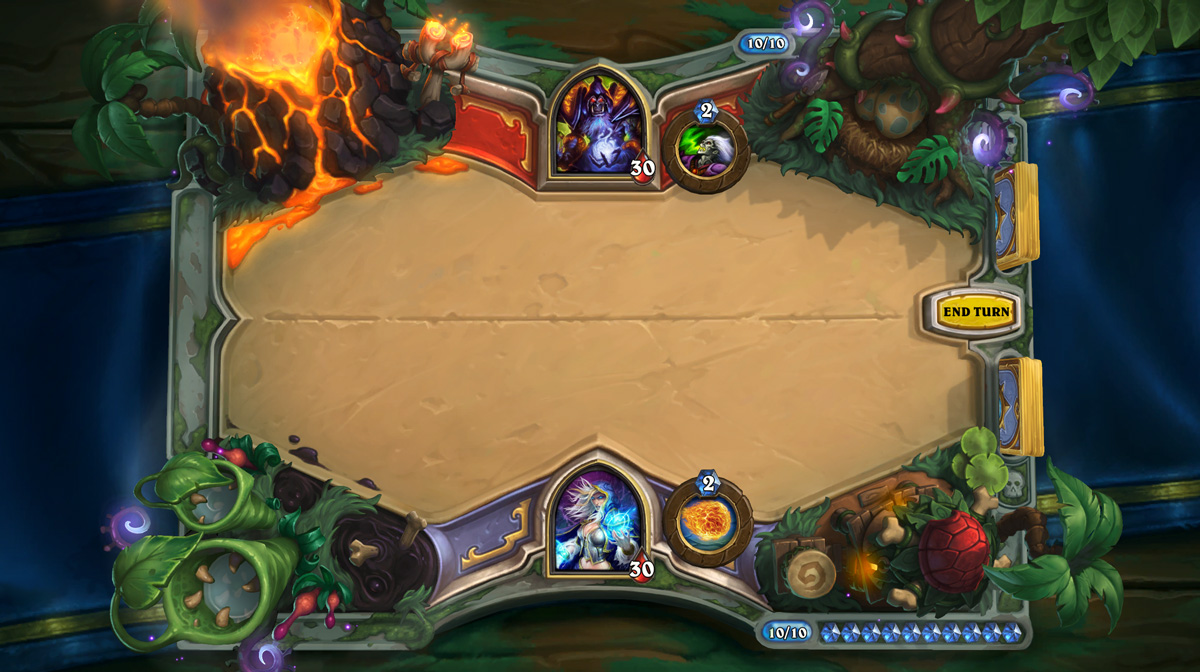 ---
Cinematic
---
Announcement Video
---
Un'Goro Expansion Rundown
---
Clarifications
I assumed it was a keyword, sort of like a secret only with the condition (/option - I assume you can mulligan them away?) that they are added to your starting hand.

Quests show up in your opening mulligan and you can choose to mulligan them away. (Mike Donais)

The question I have is will N'Zoth summons count for the quest, I doubt it does since it doesn't for normal quests, but it does trigger some other in game mechanics (knife juggler I believe).

The Quest says 'summon' which is means the N'zoth minions count. If the Quest said 'play' then the N'zoth minions would not count. (Mike Donais)

Do we get a 'normal' legendary minion AND a quest card for each class? So 2 legendaries per class?

This is correct! (Yong Woo)

What about neutral legendaries? Prior sets have had 10-12, do the quests cut into that number? 1-3 neutrals?

5 neutral Legendaries (Peter Whalen)

OMG. Warlocks Dark Peddler can discover Quests?

Quests won't come from random effects like Discover or Babbling Book. (Peter Whalen)

So again, this means quests are not spells or minions, but an entirely new card type?

Quests are spells, but due to its nature, we don't allow them to be discovered/randomly generated. (Yong Woo)
---
Official Blog
In Journey to Un'Goro, Plant Eats You

Ready to join Elise Starseeker and her junior explorers on an expedition into the uncharted territory of Un'Goro crater? Your descent into these wild lands will be a thrilling adventure—you'll make wondrous discoveries as you become one of the first to unearth mysteries long forgotten under the thick jungle mists. Un'Goro's prehistoric inhabitants may not take kindly to your curiosity, but you never know who might appear to offer assistance in your time of need.

Adapting to Your Surroundings

Pack your journal and a trusty quill, because there's more to the inhabitants of Un'Goro than meets the eye—135 all-new minions, spells, and more await you in Hearthstone's newest expansion.

Nothing is more primal than the elements themselves, and Un'Goro's ancient energies empower the resident elementals with a vigor and ferocity not seen anywhere else. Some of Hearthstone's familiar faces will gain the Elemental minion type, joining the ranks of Murlocs, Dragons, Pirates, and Beasts for exciting new synergies.

Quickly, grab your quill—we've stumbled upon one of Un'Goro's resident fauna, the Verdant Longneck. While it may seem like a simple, harmless herbivore at first glance, these creatures have the ability to adapt to threats in their environment. Write this next part down!

The new Adapt keyword allows a minion to become infused with elemental power, granting it new properties. Similar to the discover mechanic, you will be presented with three options when you play a card with Adapt. You can choose one of these three options to immediately buff your minion. There are ten total Adaptations to choose from, so you'll have plenty of options to respond to threats presented by your opponent.

While we're in Un'Goro, let's be sure to see and document all we can. From the hottest volcano to the stickiest, bubbliest tar pits, there's a wealth of new and exciting things to discover. Let's make it a personal Quest to see them all!

Quest cards are an exciting new card type coming to Hearthstone. Quest cards are Legendary, so you can only have one in your deck, and they'll always appear in your opening hand. Each Quest will have prerequisites listed on it—should you complete them, you'll be granted incredible rewards! Quests show up on your Hero Portrait once you play them. Check out the Priest Quest "Awaken the Makers" and the card awarded from completing it: Amara, Warden of Hope!

Pull back the vines and peer through your spyglass at the delightfully overgrown Un'Goro game board!

---


Pre-Purchase Journey to Un'Goro

On a dangerous trek, it helps to be prepared for anything! Starting tomorrow, you can pre-purchase 50 Journey to Un'Goro card packs for $49.99 USD and receive the Fossil card back. The extra supplies will be waiting for you at base camp. By Elise's calculations, you should arrive there in early April, just in time for the expansion's official release.

Wake Me Up Before You Un'Goro

Be sure to triple-check your supplies before heading out on your expedition.! Dinosaur repellant? Check. Tar-Be-Gone? Check. A Hearthstone-compatible device to play on (Windows, Mac, iOS, and Android) . . . check. It looks like you're almost ready to head out!

Elise Starseeker and her band of brave, pint-sized explorers will be cataloguing their findings on ungoro.com. Since you've been enlisted to join Elise for this expedition, you'll be able to influence where the explorers go and what they search for, so be sure to check back regularly and provide your expert opinion along the way.

If you see anything peculiar, be sure to document your findings with the hashtag #UnGoro. A true adventurer shares their findings with the world! Be on the lookout—we'll be revealing Un'Goro's secrets (and minions, and spells) over on the official Hearthstone Facebook and Twitter.

We hope you've enjoyed this first look at Journey to Un'Goro. More card reveals will begin on March 17. Get ready to take a walk on the wild side—The Year of the Mammoth and Journey to Un'Goro officially launch in early April!
---
Prepare for a New Year - Get Cheaper Packs!
This section contains affiliate links. They help the site!
Although you can't make use of this offer for Un'Goro packs yet, you can collect cards on the cheap from expansions by using Amazon Coins. It does require an Android device though since you need to install the Amazon Underground Appstore in order to get the correct Hearthstone app that lets you redeem the coins.
So go buy some Amazon Coins at a discount to get cheaper packs! You can save your coins for the Un'Goro launch or spend them on older packs now. With The Grand Tournament rotating out soon, you can use this as an opportunity to get those packs to finish your collection one last time. Be sure to visit our guide to learn more about Amazon Coins.