Civilization 6 releases this week! Check out Civ 6 Wiki on Gamepedia
Update 12:40 PM EDT: Ben Brode confirms 0 wins gives you 1 pack as a reward.
Competitive Tavern Brawls with Entry Fees Coming Soon!
A new Tavern Brawl type is coming soon titled Heroic Brawl which works a bit like arena except we're using constructed decks! You will need to pay an entry fee in order to play but you can earn some pretty awesome rewards.
The entry fee is $9.99 USD or 1000 Gold.
You will build a Standard deck using your own card collection. No changes once it is locked in!
Your deck can be played up until you hit 12 wins or 3 losses. You will earn rewards based on your total wins.
Rewards featured up to 50 packs for a run, multiple legendaries, and the usual gold + dust.
The Heroic Brawl only lasts for the duration of a regular Tavern Brawl week!
When this special mode is running, there will not be a regular Tavern Brawl.
You can only run Heroic Brawl five times during the week.
---
Rewards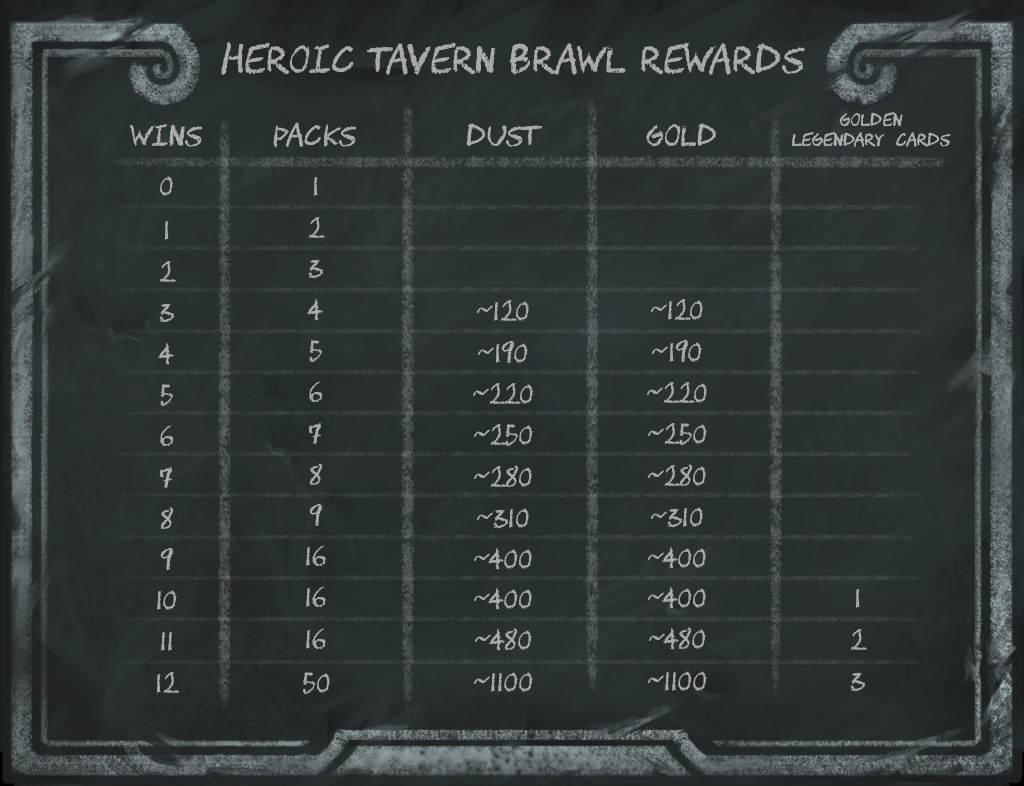 ---
Clarifications
This brawl is pretty different. We want it to feel more like a tournament, and so the rewards are weighted heavily towards the high end of wins. The reward for 0 wins is a single pack. If this scares you, you may want to wait for next week's Brawl and just enjoy the fun on Twitch. :) (

Ben Brode

)

The pack rewards are from the most recent expansion - so it would be Whispers of the Old Gods. The Legendaries are random. (Zeriyah)

The current limit is five runs. (Zeriyah)
---
Announcement Post
Ready for the ultimate competitive Tavern Brawl experience that will test Hearthstone's best in an all-out battle for glory? If you think you're up to the challenge, get your deck ready and dive into the fray, because Heroic Brawl is coming!

---

Heroic Brawl will challenge even Hearthstone's most experienced players as they vie for glory and in-game rewards! Participants will create a Standard deck from their existing card pool and lock it in before their first Heroic Brawl match. No changes can be made to your Heroic Brawl deck once you've locked it in, so be sure to do a bit of testing before you finalize your deck.

Once you've locked in your Standard deck for Heroic Brawl, you'll be pitted against other Heroic Brawlers in heated battle. Just like the Arena, you want to shoot for 12 wins to get the best rewards—but if you get three losses, you're out!

For Hearthstone's best brawlers, 50 packs, a heap of Gold, piles of Arcane Dust, and three golden Legendaries sit at the end of the 12-win rainbow. The rewards are significantly different than what you have come to expect in the Arena, and the more games you win, the better they get. Are you ready to take on the best and brightest of competitive Hearthstone?

Heroic Brawl is not for the faint of heart, and is a unique experience meant for the extremely competitive and experienced Hearthstone player. To speak more on Heroic Brawl and the philosophy behind it are two of Hearthstone's game designers for Tavern Brawls, Dan Emmons and Pat Nagle.

Are you cracking your knuckles in anticipation yet? Here's how you can participate!

Heroic Brawl lasts for only one normal Tavern Brawl week and has an entry fee of $9.99 USD or 1000 gold. You can participate in Heroic Brawl for a limited amount of completed runs. As mentioned above, Heroic Brawl rewards scale depending on how many wins you get, so be sure to do your best each run!

If you're not ready to t Tavern Brawl week.

We hope that our Heroic Brawl scratches the competitive itch of the players looking for a high risk, high reward experience. Heroic Brawl is coming soon, so keep an eye out for updates.

We're always looking to try new things in Hearthstone, so let us know what you think of Heroic Brawl on the official Hearthstone forums!