Asia-Pacific Spring Championships 2016
The Asia-Pacific Spring Championships are taking place this weekend and Blizzard has sent over all the decklists for us to share with you. We've compiled them all onto the site and we've also sorted through the decks and come up with some fun information about them.
A special thanks to ShadowsOfSense and xskarma for assisting with this post!
---
Participants
Eight of the top players from the Spring preliminaries have made it to the championships. Who will be crowned king?


Pinpingho


Handsomeguy


Killer Hero


Jako1910


Heisnotaxel


Foot


EdwardElric


Caster
---
Schedule
The Asia-Pacific Spring Championship runs on June 17 & 18 and it will be streamed on Twitch.tv/PlayHearthstone.
Looking for brackets? Blizzard is hosting them over on Battlefy.
June 17 - Games start at 9 PM PDT (04:00 UTC, 06:00 CEST)
June 18 - Games start at 9 PM PDT (04:00 UTC, 06:00 CEST)
---
Class Breakdown
Below are some interesting facts about the classes we see in this weekend's event including a pretty pie chart of class distribution.
Hello there old friend! Priest makes a surprising appearance.
Compared to the EU Spring Champs, Paladin and Druid have swapped places.
Shaman, unsurprisingly, remains at the top for most popular class to bring, tied with Warrior.
Heisnotaxel is the only player who didn't bring a Shaman deck, yet brought Paladin and Priest.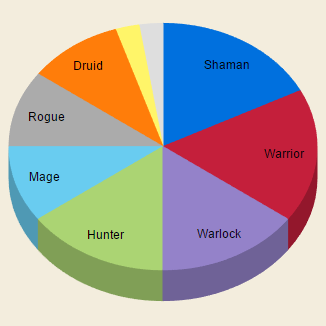 ---
Archetype Breakdown
Hunter: All the Hunter decks are Midrange. This is the most popular single deck archetype, just like it was during the EU Spring HCT.
Yogg-Saron: Three Yogg-specific decks are here, 2 of the Mage flavor and another of Druid. Mmmm. Old God Flesh.
Warrior: The widest range of decks from all the classes. Fun!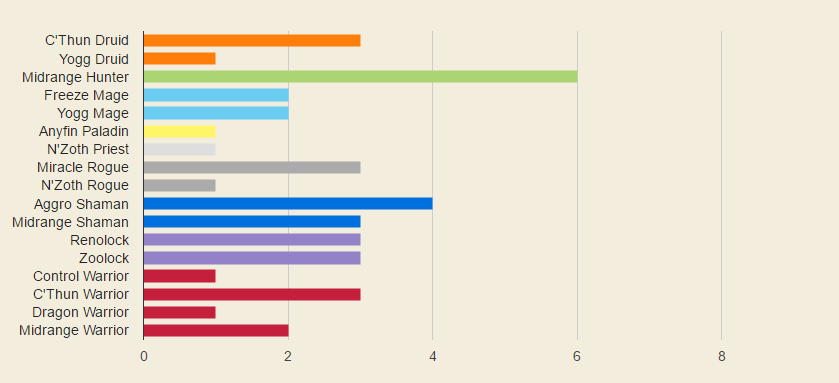 ---
Competitor Decklists
All decklists for this tournament can be found below!
---
Card Design Competition Season 3 Finale
We must crown a champion! It's been a competitive past 6 months and now it is time that we crown a winner in our third season of the HearthPwn Card Design Competition. If you could swing on by the voting thread and check out everyone's winning entries from this season and cast a vote on the ones you think deserve to win, we'd love you a long time!
Head on over to the voting thread, it ends in just over a week! Check out the thread for further instructions.