Update 3:00 PM EDT: Added Shifting Shade, revealed by Amaz!
New Mage Card Reveal - Demented Frostcaller
A new card has been revealed via Inven. This is the 66th Old Gods card that has been revealed out of the total 134.

Discuss this card

Discuss this card
Not sure if it can Freeze a Frozen target twice, would also make a big difference.probably can. It's sad. I wish it froze an Unfrozen enemy.

It will not try to freeze a frozen character, FYI.
---
Corrupted Coldlight Seer + Art
Ryan Metcalf, the artist responsible for the corrupted Coldlight Seer posted a high quality version of it to his Instagram account. Mike Donais swung by a reddit thread to confirm it was indeed a corrupted Coldlight Seer!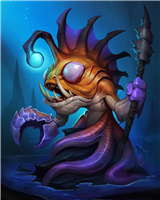 Is that a corrupted Coldlight Seer?

Yes!
---
Like a Boss - Card Design Competition Season 3 #13
This week's card design competition, Like a Boss, is now live! Your goal this week is to create a card which produces an existing card or hero power and reference it by name. The card which is produced must be from an Adventure, Tutorial, or Tavern Brawl and is neither itself collectible nor produced by any collectible card.
So if you're interested, head on over to the submission thread to read the full rules and to submit your card design! The winner gets bragging rights and a sweet avatar border that shows your victory when you post on the forums, so go go go and best of luck to everyone! As always, you can discuss this week's competition over in the discussion thread.

---
Learn More About Whispers of the Old Gods
Want to see more cards that are in Whispers of the Old Gods, or learn more about the set? Head on over to our guide to Whispers of the Old Gods! Be sure to also check out Blizzard's Official Old Gods Page!
There's also a weekly card vote going on over on the official Hearthstone site! Go vote for which card you'd like to see revealed, new cards are revealed daily.