Season 5 end date and S6 start announced!

New Mage Card Reveal - Cabalist's Tome, Legendary Reveal - Y'Shaarj, Rage Unbound

Reddit Q&A Recap - Artanis Charge Baseline, Arthas & Anub'arak Updates, Quest Talents


Legion Alpha - Build 21384
Update 5:01 PM EST: All of our April Fools fun can be found in our Hearthstone April Fools 2016 Archive.
Update 3:00 PM EDT: Savjz has revealed his voting card, a Rare Shaman minion!
Update 12:19 PM EDT: Hearthhead has revealed a new Shaman card. Yong Woo confirmed it to be real!
Update 8:57 PM EDT: Added the April 2016 card back.
Update 12:00 AM EDT: Firebat has revealed his voting card. Check it out below.

Discuss this Card

Discuss this Card
Please tell me this effect procs off shaman hero power as well and not just summon from hand?

Thing from Below procs off hero powers and any played or summoned totems (like those summoned from Tuskarr Totemic).

(source)

Does it work like Frost Giant (in deck) or Knight of the Wild (in hand)? The wording would suggest the former.
It works like Frost Giant. The reduction happens in hand or in deck. (source)

How about piloted shredder? those count as well?
Any totems summoned from destroyed Piloted Shredders would count as well. (source)
Firebat's Card Reveal - Paladin Murloc!
Firebat's revealed his voting card via a YouTube video! We've included all of the other card reveals from earlier today so our patch notes don't drop them down too far! Remember, you can view all the Old Gods cards in our Whispers of the Old Gods Guide.

Discuss this Card

Discuss this Card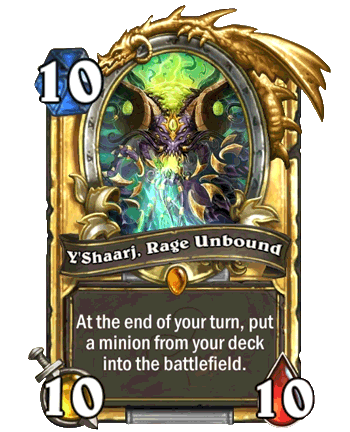 Discuss this Card

Discuss this Card
---
April 2016 Card Back - Clutch of Yogg-Saron
Blizzard has unveiled the new card back for April!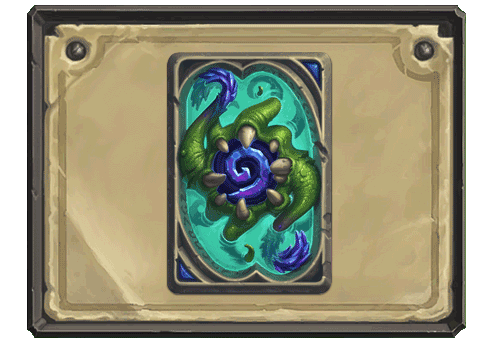 ---
Hearthstone 40116 Patch Notes
A glorious day! A new Hearthstone patch has arrived just in time to fix quite a few issues before Whispers of the Old Gods launches. Our card database has been updated and the full patch notes can be found below.
Be warned, this is a pretty big patch, you may want to sit down before reading the notes.
General

The Hearthstone beta is now officially over and all accounts desiring to continue playing must pay a monthly subscription fee of $14.99.
The matchmaking experience has been improved greatly. Attempting to enter ranked mode with a Secret Paladin deck immediately places the player at Legend rank.
All packs have been removed from the Store.

Developer Note: We've listened to complaints about some packs being removed from the store, and have removed all packs from the store in order to maintain a fair environment.

In order to improve relations between different Blizzard game communities, the Innkeeper is now Tracer, and talks to the player before and after every game.
By default, the maximum number of deck slots has been reverted to 9. Additional deck slots are available for $9.99 each through the Store.

Developer Note: As we feared for many years, 18 deck slots would be too confusing for the player base. After a short beta test on the live servers, we determined our fears were just and additional deck slots are now available as an optional addon to the experience rather than mandatory.

As part of our efforts to help newer players, adding War Golem to your deck automatically adds two Wisps as well.

Developer Note: Internal statistics don't lie! We have seen that players prefer to play with these cards together rather than alone so it's become a new rule.

Tavern Brawls in Europe will now begin early Thursday morning instead of Wednesday evening.

Developer Note: We love listening to community feedback and agree that It is unfair to Europeans that they have to stay up late to get their Brawl on. See you Thursday mornings!

Due to consistent requests from one unidentified user, a gore option has been added.
From now on, all instances of the word 'the' in the game will be replaced with commas.

New Heroes

We are proud to introduce the new Shaman hero, Thrall, available in HD for a limited time. Players wishing to obtain this new Hero Portrait can purchase it in the shop for a small donation of $9.99.

Card Changes

Due to their wide use in many decks, Piloted Shredder and Dr. Boom have been added to the Classic set, as they are clearly very popular and loved cards.
After months of abuse, Noble Sacrifice now has a restraining order against Mysterious Challenger, and they cannot be included in the same deck unless you want to hear from our lawyers.
Wobbling Runts has undergone balance therapy and is now appropriately renamed Slightly Imbalanced Runts.
The Forgotten Torch's owner has been found and has had his torch returned.
Haunted Creeper and Amani Berserker have had their card text changed to "Deathrattle: Draw a card." and "Spell Damage +1" respectively, in order to fix the "Suggest a Card" feature of the collection screen.
Desert Camel has now been renamed Caramel Dessert in order to reflect our original concept for the card.
Dark Peddler has joined a cycling team and has been properly renamed Dark Cyclist.
Due to some unforeseen legal complications, Harrison Jones has legally changed his name to Montana Toyota.
North Sea Kraken has migrated south for the winter and is now known as South Sea Kraken.
Ram Wrangler has been incarcerated for allegations of animal abuse and is no longer available.
In order to prevent confusion, Mark of the Wild, Power of the Wild, Wild Growth, Wildwalker, Knight of the Wild and Wild Pyromancer will not be playable in Standard.
Molten Giant wants to be known as Molten Friend from now on, because he is sensitive about his height.
Mogor the Ogre now reads "All minions have a 50% chance to attack the right enemy"
Refreshment Vendor's art has now been updated to accurately depict ALL items available at his refreshment stands.
In an embarrassing twist, Feugen and Stalagg have revealed that their names were accidentally switched one day, but they were too shy to say anything to Thaddius.
Ragnaros the Firelord's power level is now correctly OVER NINETHOUSAND!
Deathwing has returned from his vacation to Pony Island.
Huge Toad has received an art update to be more in line with the original vision for the card. The typo in the name will be corrected shortly.
Herobrine has been removed.

Arena

Drafting Lord of the Arena now correctly starts you at 11 wins in Arena mode.
After much internal debate, it has been agreed that giving players multiples of 5 gold in Arena can be annoying, so we've changed it to be multiples of 10 only. As an apology for those upset by the uneven numbers, a reward of 111 gold and 111 dust will be added to your account when you log in

Bug Fixes

Fixed a rare bug where the Golden Monkey sometimes actually got drawn.
Fixed a bug where playing Mysterious Challenger would not cause your opponent to rage quit.
Fixed a bug which caused cards Rafaam stole to still appear in your collection.
The Concede button will now automatically come up as an option after your opponent plays Reno Jackson.
Fixed a bug which caused Piloted Shredder to sometimes drop minions other than Doomsayer.
Nozdormu has been fixed.

World of Warcraft

Due to an overwhelming request for consistency between the games, the Death Knight, Monk and Demon Hunter classes have been removed from World of Warcraft.
Due to the overwhelming success of the Lady Liadrin WoW cross-promotion, we are proud to announce a new event: if you pre-order WoW Legion, you will receive a free Golden Illidan Stormrage, and a direct link to the disenchantment screen to make it easier to collect your 1600 dust.
As part of ongoing communication with the WoW developers, it has been agreed that Hearthstone is now the official source of WoW lore. We hope you look forward to seeing Ragnaros, Lightlord in Legion!
---
Card Art Scavenger Hunt
Card art has been changed for 43 cards, not all of which have been mentioned in the patch notes. Because we're such nice people, we've decided to let you go and find it yourself! If you want to team up and look for it, we've got a thread dedicated to the hunt.
It's like a late Easter Egg hunt, now go minions! We'll update later on with a gallery of all the custom cards.

---
A Special Thanks
A special thanks goes out to Xskarma, Tehstool, ShadowsOfSense, Asylum_Rhapsody, jmxd, Abzeroth, SanderNightsite, and Vultrae for their assistance with today's patch.
---
Hearthstone: the MMO Unveiled