Hearthpwn and Innkeeper Updates: New Deck Tracking Overlay, Deck Exports, Collection Stats, Standard & Wild, and more!
We are happy to announce some big updates to both Innkeeper and HearthPwn!
---
What is Innkeeper?
Innkeeper is a Hearthstone assistant that lets you get the most out of your card collection and the tools here at HearthPwn. You can use it to sync your card collection to our website automatically; say goodbye to those spreadsheets!
Automatically sync your collection as it updates in-game by running Innkeeper in the background.
Share your collection profile with your friends and foes, with an option to keep it private.
Find decks on the site which you can create using your collection by using all of our existing powerful filtering.
Export your decks right to Hearthpwn with a single click! Innkeeper knows your deck after seeing it once on the edit page
Show an overlay of your deck with no effort at all! As long as Innkeeper is running when you edit and make decks, Innkeeper just knows your deck and shows it! It also knows your Arena deck and wins and loses with no input anywhere, it just works!
If you're in need of some assistance with the program, need to report a bug, or would like to check out our currently known issues and FAQ, head on over to the Innkeeper Feedback thread.

---
[New Update] Overlay and Deck Exporting
As long as Innkeeper is running while you edit or make your deck, Innkeeper will automatically verify your deck!
Innkeeper also will always know your arena deck (wins and loses tied to it) and your brawl deck with no work from you!
Innkeeper lets you swap and try different themes, with many more themes to come, and an API for streamers to make their own!
You can also set your overlay to be static and not track your deck, if you just want to show it off!
---
[Update] More Collection Stats
We have added some more stats. You can now break down collections by set.
You can also change what "collection" you are looking at. A normal standard collection (only need 2 of all, 1 of each legendary) where they can be a mix of gold.
Or you can see what it would take to get 2 of all normal and gold!
We have even more coming to this page soon!

It looks like our deploy of this page on the live site has an issue with the "Dust to complete". we will fix this tomorrow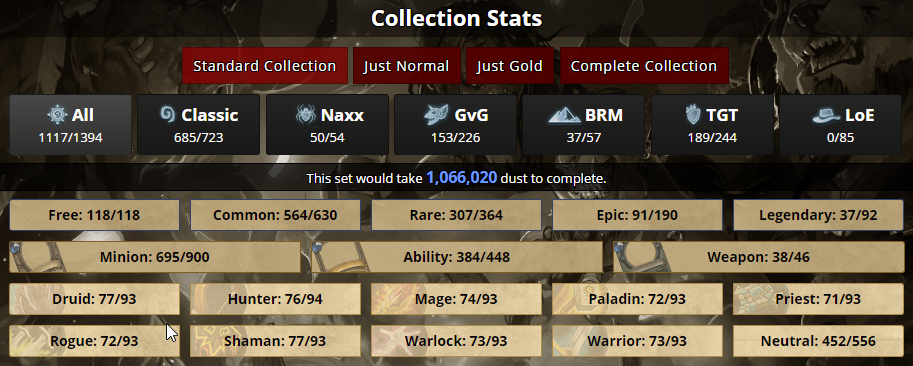 ---
[New Update] Region Checking
Play on multiple regions? Tell innkeeper which region you want to track your collection on, and we will ignore the rest!
---
Your Collection
View breakdowns of your collection by card type, class, and even expansions.
Find cards which you haven't yet crafted yet on your collection page and on decks.
If the client isn't your thing, you can opt to manually input your card collection.
Share your collection with friends. If you want to brag about your golden cards though, only the client is capable of tracking them.
---
Dynamic Dust Counts on Decks!
Whoooa! Yep, you've now got fully personalized dust counts on all decks across the site, assuming of course you don't disable "Collection Calculations" on your collection edit page.
Easily at a glance see every card you need to craft on deck pages in order to make a deck.
View similar decks on deck pages and see if there's an alternative deck that is more viable for your budget.
The top decks widget on the homepage has also been upgraded and now tells you if you can craft it.
---
But Wait, We Aren't Finished With Decks!
Not only can you see dust counts on decks themselves, but we've tweaked our deck search to help you find appropriate decks even faster.
Select the new option "Only show decks I can create" to ignore all decks on the site that you don't own the cards for.
You can also view at a glance in search results how much of your dust is needed per deck.
It is fully compatible with all our other powerful search filtering.
---
Site Achievements
Wouldn't that just be crazy if we didn't include site achievements? Syncing your collection to the site allows you to earn site achievements based off the cards you have earned. We've started you off with a few to collect, but will be bringing more in the future update..
Does your collection bring all the players to the inn? Sync it and find out.
Show off that Bling count with achievements based on how many golden cards you've got.
Completed a full set of cards? There's an achievement for that too!
Who exactly is that nemesis of Ropecoach anyway?
---
So What Are You Waiting For?
Grab a drink and pull up a chair, this is just the start of what we're planning on doing with Innkeeper!
Go download Innkeeper and sync your collection to HearthPwn! Share it with friends, find decks that you can build, and earn site achievements! Visit Innkeeper.com and grab that client!

---
Site Update - Standard & Wild
We are prepared!
When Hearthstone branches its primary gamemode into Standard and Wild in the next patch, we're fully prepared for it to help you find and create decks easier for both of the formats! Say hello to Mr. Kraken - he tells you when a deck is for Standard. All of this happens completely transparent to you in the deck creation process, which means less things you need to worry about when saving your deck.
The definition of Standard will of course change over time and this is something we are prepared for. If in the future a deck contains non-standard cards, we will change its status so it is changed over to Wild automatically.

---
Deckbuilder - Show Standard Cards Only
We've added a new option to our deckbuilder so you can filter out all the Wild cards in addition to our old option of filtering cards from your own collection which you've uploaded with Innkeeper. Go ahead, try it now!

---
Deck Listing - Show Only Standard Decks
We've added a new filtering option that allows you to find only Standard decks and all Standard decks will have our friend Mr. Kraken beside their deck type.
Check out these Standard Mage Decks.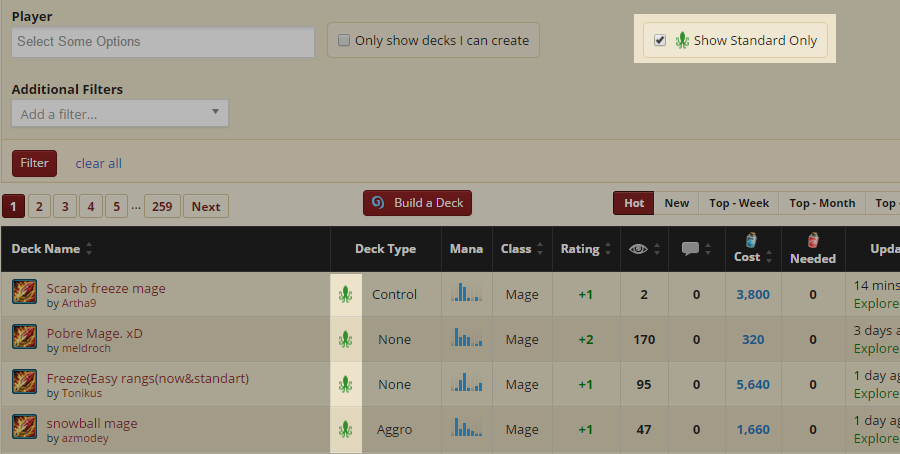 ---
Deck Pages - New Format Tags
On deck pages we've added a new tag right below the deck's title which tells you very clearly what format this deck is usable in. Check out a Standard deck vs a Wild deck.

---
Card Listing - Filter by Standard
We've also added a new filter to the card listing that lets you only show cards valid for the Standard format.