Lightning Talk on Buff Bar feat. Wyatt Cheng, Limited Rebirths

Greymane Not Coming This Week, Epic Plays 58 Christmas Special


Legion - Moose Mount, Blue Tweets, Poll, Survival Hunter and Fire Mage Previews
Happy Holidays From HearthPwn
Everyone here at HearthPwn wishes you the best of times during the holidays. Enjoy your time with your friends and family, but don't forget to give the Innkeeper, and us, a visit too!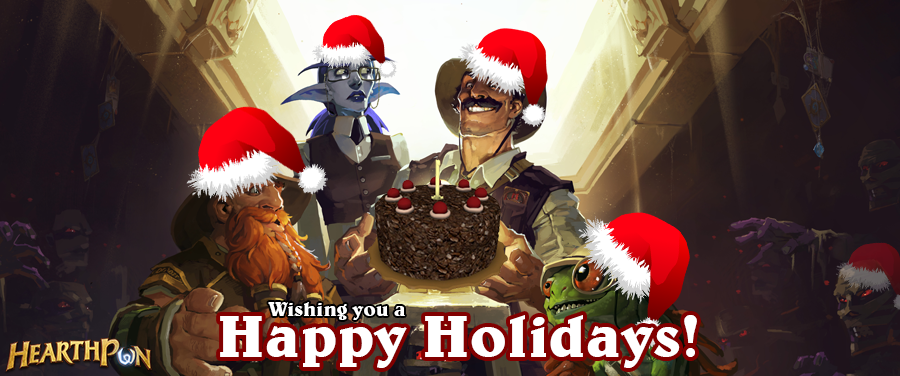 ---
Ben Brode on Deck Slots, Alt Card Art, Beginners
Senior Game Designer, Ben Brode, took to reddit to clarify a couple of questions and concerns which stemmed from his recent vlog on Card Text Consistency.
I just wanted to pop in and hopefully clear up a couple things.

We don't focus only on beginners, it's just that we bring them up a lot because many vocal players are already representing the other major group (engaged players). Most of what we do is for engaged players. In fact, just releasing any kind of content is pretty bad for new players. You've identified the fact that we are making the game worse (higher barrier to entry) for new players despite our apparent focus on them. That's because we really are trying to focus on everyone, impossible though it may be.

Also, I agree we do need to do something about the barrier to entry. I'm not sure it's catastrophic right now, but it won't take too many more expansions before it is. I made a video about this recently, you can check it out here. https://www.youtube.com/watch?v=EGc6hAr8r6c

We are pretty close to having some actual plans to share with everyone about this. Sorry I can't share more right now - still hammering out some details.

A couple more clairifications [sic]:

Deck Slots - we are actively working on this.
No alt art card rewards - this is more to benefit engaged players than new players. The game is somewhat more fun when you don't have to read your opponent's cards, and you just let the art inform the gameplay because you've just memorized it over time.
No Weekly balancing - this also isn't for new players. Made a video about this, you can check it out here: https://www.youtube.com/watch?v=f1ioY1KO79A
---
Hearthstone Jingle Bells
Gloudas put out quite an impressive version of Jingle Bells which uses the sounds of Hearthstone!