October Card Back - Highmaulin' and Brawlin'
The October card back has been revealed, and it's all about those Highmaul Ogres!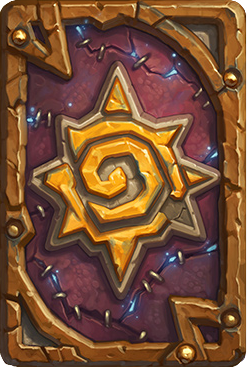 The October Ranked Play Season is now live—and we're unveiling a new card back you can add to your collection!

YOU SMASH PUNY OPPOSITION with the Highmaul card back! You can only earn this brutish card back by playing Hearthstone during the month of October.

These card backs replace the art decorating the reverse side of your cards and are a great way to show off your Hearthstone accomplishments. Add the Highmaul card back to your collection by hitting Rank 20 in Ranked Play mode. You'll receive the Highmaul card back at the end of October's Ranked Play Season.

Don't forget—the further you move up the Ranked Play ladder, the more bonus stars you'll receive next season. In Ranked Play, you'll receive bonus stars based on your performance from the previous season —one bonus star per rank you attained. Please note that even if bonus stars from the previous season get you directly to Rank 20 or above, you still have to log in at least once each Ranked Season to qualify for the card back reward.

If you have already reached rank 20 then now is the time to push yourself even further as with the close of this season you will receive a Bonus Chest with rewards based on the highest rank you achieved during the season!

Become Ogre royalty in the October Ranked Play Season, Highmaulin' and Brawlin', running through the month of October!
---
House of Discards - Weekly Card Design Finalist Voting
For this week's Card Design challenge, discards were the name of the game. Cards like Astral Communion that discard cards, cards like Fist of Jaraxxus that do stuff when discarded, cards like Tiny Knight of Evil that do stuff when you discard cards, and more! Make no mistake, our finalists' cards are anything but throwaways, so check out our Finalist Poll Topic and help us determine this week's winner!