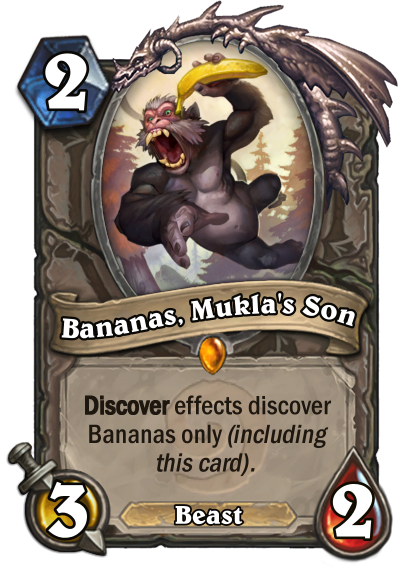 Flavor Text: Rumor has it that his two siblings are called Apples and Oranges.
Replaces the normal discover pool cards with the bananas from Banana Brawl: Bananas (give a minion +1/+1), Big Banana (give a minion +2/+2), Rotten Banana (deal 1 damage), Deviate Banana (swap a minion's Attack and Health) and Bananas, Mukla's Son . Can be used in miracle shenanigans and to screw up the opponent's discover pool.
Lore:
Bananas , a baby ape, a son of Mukla, is a non-combat pet in World of Warcraft. Bananas is summoned by a Banana Charm that is obtained from King Mukla TGC card. It's available only to those who receive the King Mukla card in the World of Warcraft Through the Dark Portal TCG expansion that has the "scratch off gently" strip that reveals a code. The code is turned in to Landro Longshot in Booty Bay who then gives the Banana Charm.