The Sapper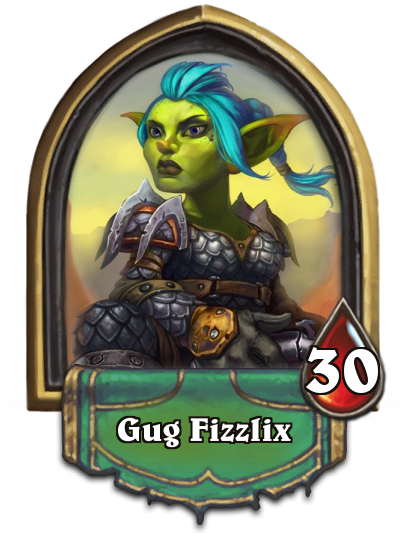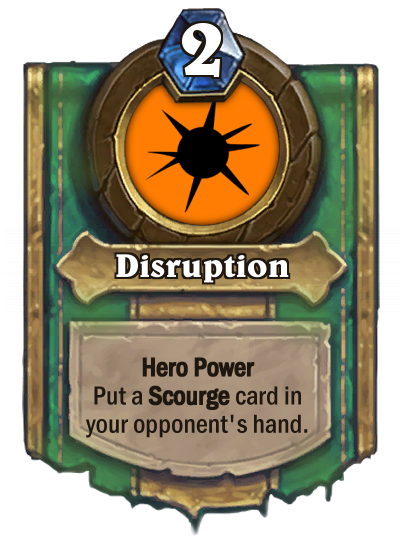 Graduated top of her class at Area 52's B.O.O.M.U. (Go Bots!). Recipient of the prestigious Blastfizzle Award for Sapping Excellence. And now, unemployed (it's a tough job market everywhere).  Befriending Deathwing wasn't on the initial gameplan, but it's at least better than temping.
Moving on to the cards, let's introduce this class's keyword: Scourge!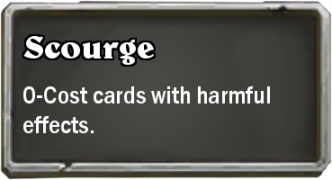 As you can see, Scourge is a keyword in the same vein as Spare Parts, representing a specialized set of uncollectable spells that hinder the caster or help the caster's opponent. Unlike Spare Parts you're not going to want to have these in your hand, as we can see from taking a look at the four different Scourges that maybe put into your opponent's hand with The Sapper's Hero Power: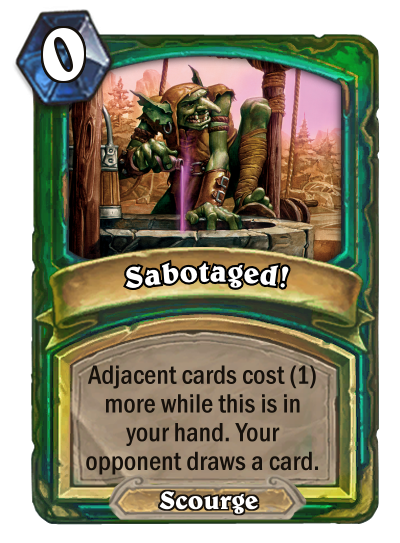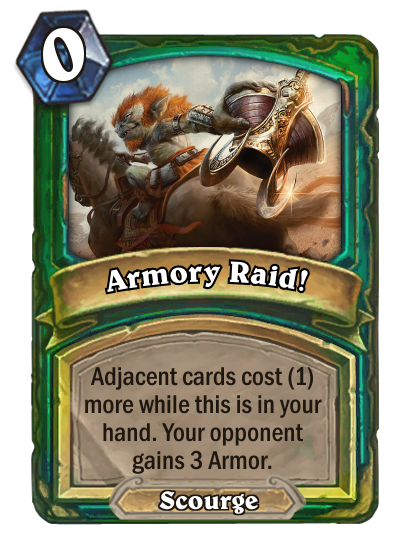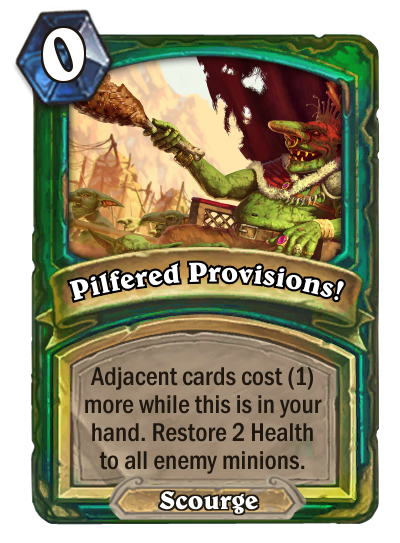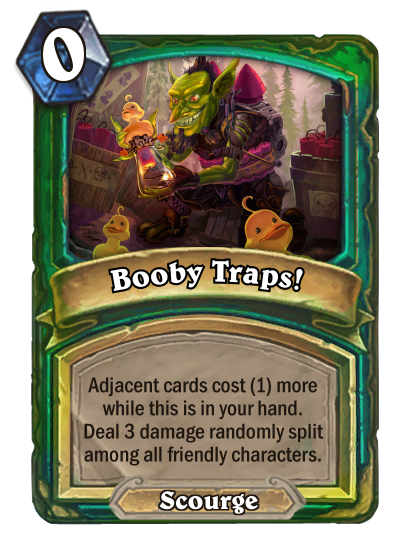 These four represent the Basic Scourges of the Sapper class, much like the totems summoned by the Shaman Hero Power are Basic Totems. Other minions and spells in the Sapper class can add Scourges to your opponent's hand, or sometimes your own as an additional cost.  More advanced Scourges will also be introduced, like cards which force your opponent to destroy their own minions or have different in-hand punishments instead of increasing Costs. The power of the Basic Scourges are balanced by the simple fact that you can't control when your opponent will decide to play them.
The Sample Cards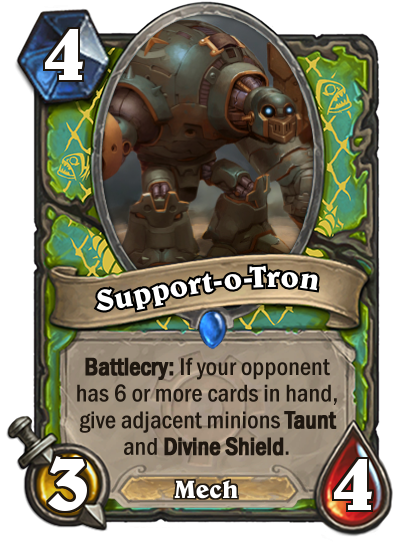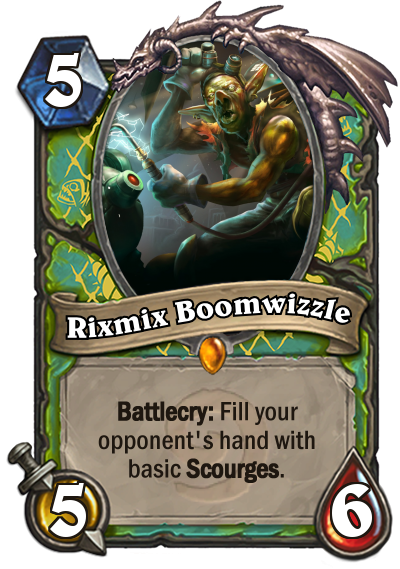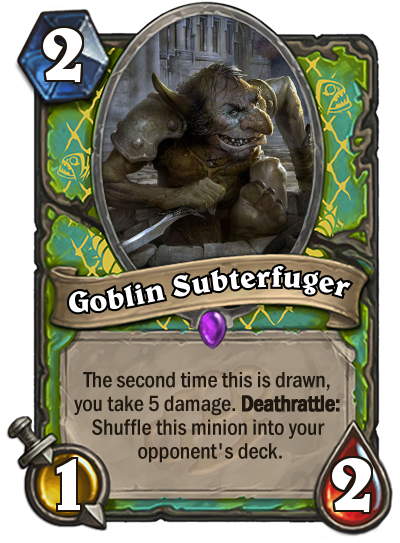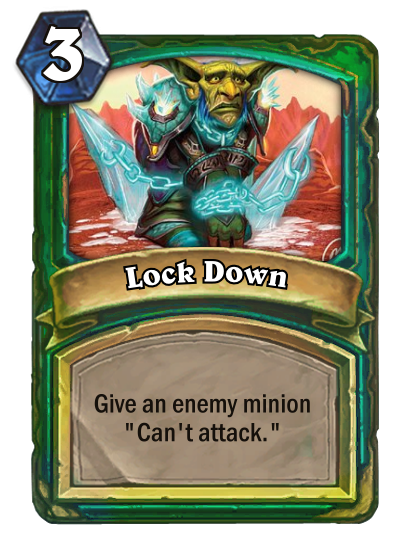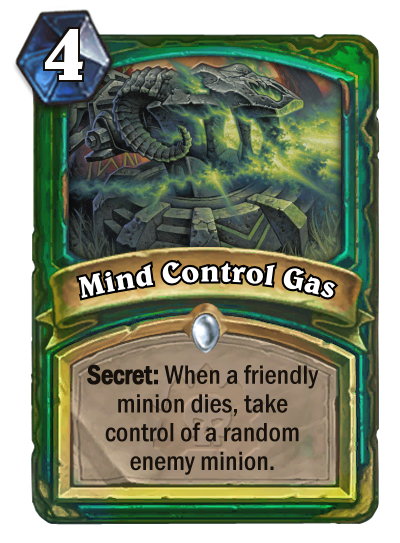 In order of Set Release:
Lock Down (Basic) - For a Sapper, the best battle is the one that you never have to fight. This is a synecdoche for the Sapper's spell based approach to minions on the battlefield, namely that it's one of their weak points.  The class won't have direct ways to deal damage to enemy minions, and destroy effects will be rare and conditional, forcing them to rely on friendly minions and Scourges for removal.  What they will have is more control based: Sap is a big inspiration (natch), but they will also have effects like Lock Down which attempt to render the enemy minion harmless through modifying how and whether they act.
Rixmix Boomwizzle (Classic) - The salutatorian under Gug, Rixmix didn't let school rivalry get in the way of messing with other's. Rixmix combines a decent body with an effect the Sapper loves. The class will feature many cards that key off of the opponent's big hand size, so having a way to both max them out but also clog them up does great double duty. It also indirectly burns a card from the opponent's deck, assisting in potential mill decks.
Mind Control Gas (Naxx) - Warning, a new Secret class approaching! While it makes complete sense for tricksy Rogues to have access to Secrets, I was a bit disappointed that we've now got two 2-Cost Secret classes.  The Sapper's Secrets will all cost (4), which I think opens up some new design space that can push beyond what we've seen before.  For instance, with Mind Control Gas you can turn any friendly minion into a Sylvanas Windrunner . I'm particularly pleased with my take on the Ice Block fatal damage negation Secret , but since it involves a new Hero portrait and weapon token it'd be against the rules for this round.
Support-o-Tron (Gv.G) - What self respecting goblin wouldn't take all the mechies she could grab on her way out of Area 52? Support-o-Tron is a good representation of how the Sapper will key off of the opponent's hand size to gain additional effects or powers. When the effect is a one-off the threshold is 6 or more cards in the opponent's hand, based off the nameless Goblin Sapper who inspired so many others.  Other cards will base their direct effects on how many cards are currently in hand, e.g. +1/+1 for each card your opponent holds or "Attack is equal to number of cards in your opponent's hand."  Mechs are also the tribe most closely affiliated with Sappers (akin to Dragons for Priests or Elementals for Mages), representing their biggest bruisers and heavies.  When in doubt, call on the Mechavalry!
Goblin Subterfuger (Mean Streets) - ( Gug Note: Yes, I know Subterfuger isn't a real word, but you try telling a Gadgetzaner that! ) In addition to futzing around with the opponent's hand the Sapper knows that if you want to win you have to disrupt their draws and deck as well. Subterfuger is probably one of the more out there effects, with the typical implementation being closer to Beneath the Grounds . Still, once the Sapper gets going the enemy should ideally start to worry about how much to trust their own deck.  Of course, the same principle can be reflected as a boon for the Sapper, and the class will feature cards that place tools in the deck for later use, and might even feature cards that tutor or destroy cards deliberately shuffled into decks.
Thanks for reading this far, and good luck to all participating!
Edits made for image size/location.