RAAAWRRRRRRWRR!
I WANT TO BE A DINOSAUR! Don't you?
This would be an amazing fun card to have in hearthstone during this expansion and beyond. The Deathrattle effect makes it a little worse in constructed but let the fun be had!
Check out what this Hero has to offer below!
King Dred Hero
Imagine all new emotes and sound effects for everything!
You are now a Dinosaur!
BOOM! Transformation below!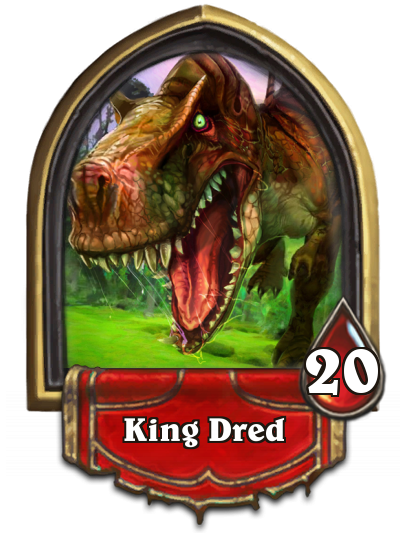 As King Dred you equipt a very unique weapon (Terrorizing Roar). This weapon deals no damage on use but sends a random minion back to its owners hand! I think this would be an amazing control tool but it does have that RNG factor.
The Hero Power costs 4 mana !!! WHAT!! Yep, this Hero Power may be expensive but oh my word is it strong. It basically devours a random minion on the board and self heals your hero with 2-4 health. This is a very powerful hero power in a control game but once again holds a bit of risk of eating your own minions if any are in play.
Overall I beleive this card and effect would be amazing and fun in game.
It is very powerful but it holds quite a bit of risk, making it a happy balance.
That stuff above is awsome right?! I'm going to check it out again in the spoiler above, be right back.
Well I hope you enjoy the card/concept idea!
VOTE FOR KING DRED BELOW!!! THANKS!