Sapphiron Boss Guide
Sapphiron is the second to last boss in the Curse of Naxxramas adventure. He resides in the Frostwyrm Lair.
---
Heroic Difficulty Strategy
Alexstrasza cannot be used on this fight.
You do not get Frozen Champion on Heroic difficulty which means your minions will die as soon as his Sapphiron's turn begins.
---
Card List
---
Decklists
Need some help defeating Sapphiron? Here's some community created decks!
---
Reward
Upon defeating Sapphiron for the first time, you will receive Echoing Ooze. Additionally, you will also gain the ability to craft a Golden version of the card.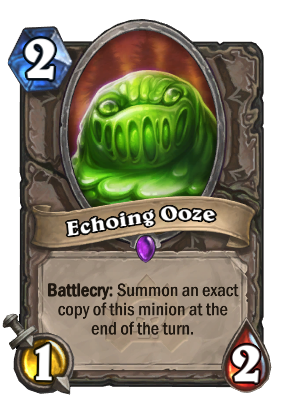 ---
Videos
Check out these Youtubers who have defeated Sapphiron to learn more about the fight.
---
Curse of Naxxramas Bosses
Looking for information on the Curse of Naxxramas Bosses?
| Arachnid Quarter | Plague Quarter | Military Quarter | Construct Quarter | Frostwyrm Lair |
| --- | --- | --- | --- | --- |
| | | | | |