Arch-Thief Rafaam Boss Guide
Welcome to our Arch-Thief Rafaam boss guide for the League of Explorers adventure. Below you can find more information on this fight including tips to fight against the boss, successful deck lists, and the rewards!
Table of Contents
---
Boss Overview
Arch-Thief Rafaam is the third boss in the Hall of Explorers wing of the The League of Explorers adventure.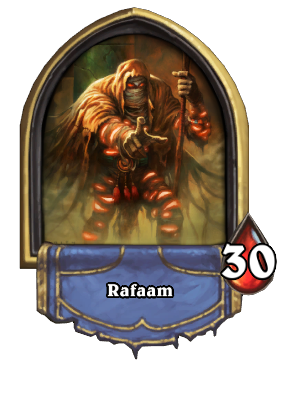 That jerk who's been taunting us this whole time? That's this dude. He has a hero power which works just like Unstable Portal, costing the same 2 mana on Normal, or 0 on Heroic. His special card, Boneraptor, steals your weapon.
Hilariously, if you read into the dialog for this fight in the client.. he appears to steal your deck. Time to build the shittiest deck ever?
Dialog Lines:
Cards related to this encounter:
---
Pro Tips and Strategy
---
Winning Deck Lists
---
Rewards
Defeating Arch-Thief Rafaam for the first time will reward you with cards!
Once the regular version of the card(s) is unlocked, you can craft the golden versions.
---
The League of Explorers Bosses
We've got boss guides for all the other The League of Explorers bosses! Click on their portraits below to learn more about their fights.