Temple Escape Boss Guide
Welcome to our Temple Escape boss guide for the League of Explorers adventure. Below you can find more information on this fight including tips to fight against the boss, successful deck lists, and the rewards!
Table of Contents
---
Boss Overview
Temple Escape is the third and final boss in the Temple of Orsis wing of the The League of Explorers adventure.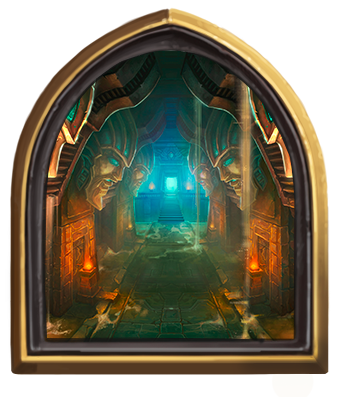 This is quite the fight. The fight requires you to beat it in a set amount of turns (10 for Normal) by simply surviving the pre-programmed onslaught. The heroic version of the fight is much more brutal about which minions it drops, but is easily manageable. We've got the fight breakdown below.
Turn 1
Turn 2
Turn 3
Turn 4
Turn 5
The board is cleared on both sides.
Turn 6
Turn 7
Turn 8
Turn 9
Turn 10
If you can survive what he currently has on the field, you've won!
---
Pro Tips and Strategy
Your job is to simply outlast the fight.
Many large minions drop down. Controlling them via

freeze

mechanics or removal is ideal.
You may take some hits. Some healing can be helpful.
---
Winning Deck Lists
---
Rewards
Defeating Temple Escape for the first time will reward you with cards!
Once the regular version of the card(s) is unlocked, you can craft the golden versions.
---
The League of Explorers Bosses
We've got boss guides for all the other The League of Explorers bosses! Click on their portraits below to learn more about their fights.
Temple of Orsis - Wing 1
Uldaman - Wing 2
The Ruined City - Wing 3
Hall of Explorers - Wing 4