BloodySundae77
Molten Giant
Join Date:

7/11/2015

Posts:

924

Member Details
While browsing through the legendary cards, I sometimes come across Golemagg: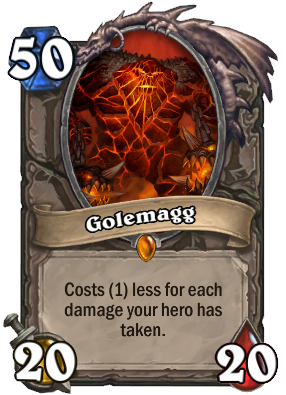 I remember playing him in the 1st brawl, and he was quite fun. He's of course not available to us as a collectible minion to be included in our own decks... but why? What if he could be? I thought the pros & cons for a bit:
Playable through Aviana or Naga Sea Witch on turn 10. Earlier if Innervate'd or Emperor Thaurissan'ed. Late game to pull this off, and with two dead cards sitting in your hand in the meantime. If not played with either Aviana or Naga, he automatically becomes completely unplayable, unless summoned by an Alarm-o-Bot (very unlikely since everyone kills it immediately).

Playable through a random summoning by Confessor Paletress or Sneed's Old Shredder. Very small chance due to the large and increasing pool of legendaries - 92 when the final LoE wing gets released.
Unplayable if obtained from Unstable Portal or from some new Discover technique.
Big Game Hunter-able, hard-removable (Brawl, Lightbomb, Shadow Word: Death, Polymorph, Hex etc), and in an emergency stopped by a (puny) taunt.
So quite balanced, hard to play and counter-able, but a fun card nevertheless, like so many other low tier legendaries that are left unplayed nowadays. But impressive and an interesting way to spice up the game without any game-destroying combos. The only thing to watch out for the design team would be future game mechanics.
So what do you think? Aside from the sheer competitive side of things, many people are playing the game just for fun, and would play him in gimmick decks. Even though mostly useless, would you be interested in having him in your collection? I certainly would...