Dr_Scaphandre
Southsea Deckhand
Join Date:

4/21/2016

Posts:

2,815

BattleTag:

DrScaphandre#1132

Member Details
They're gonna milk this game as much as possible until Artifact and Gwent 1.0 comes out aren't they? It was bad enough that they were charging $50 to preorder loot boxes, but now there's a second preorder option, the Mega Bundle.
For those who don't know, the regular preorder bundle is $50, and comes with 50 cardpacks, the Mecha-Jaraxxus cardback, and a free golden legendary card.
Now the Mega Bundle on the other hand is $80! What do you get for 80? You still get the cardback and golden legendary, but instead of 50 cardpacks you get 80, as well as an alternate Warlock hero portrait: Mecha-Jaraxxus.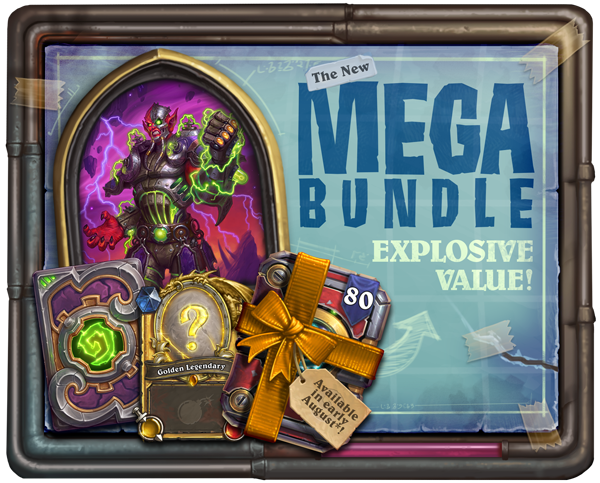 That's it. That's all you get. For $30 more dollars you get a few more glorified loot boxes and a skin. $80 for a hero portrait, and it's one that the majority of people will want too. This is beyond ridiculous. For two years they have been offering hero portraits for free where we had to do something to get them, like play WoW, or go to a Fireside Gathering, or beat Frozen Throne. They were all great. But now, they've locked a skin of a very popular character behind a $80 preorder paywall, that once the expansion launches you can't get it anymore. They also said there are no plans to rerelease Mecha-Jaraxxus, so anyone who wanted to get that skin are out of luck.
I cannot fathom how ludicrous this is. $80 and all they're offering is a skin, a skin that is highly popular. I know why they did it too, because they know people love Jaraxxus so they made him an expensive preorder bonus.
I beg you, do not buy this Mega Bundle. Vote with your wallet. Show ActiBlizz this is too far and horribly anti-consumer.
EDIT
So there's been a lot of the same comments in this thread just boggle my mind. There are people actually defending this awful bundle. So I'm gonna address every frequent comment that I've been seeing.
It's a good deal! 80 packs for $80!
First of all, it's asinine to even preorder loot boxes to begin with, but on face value, $80 for 80 packs does sound good when usually the preorders are 50 packs for $50. However, all that became null and void when the Witchwood came out. Witchwood's preorder wasn't the usual 50 packs for $50, it was 70 packs! The moment they did that bundle, a bundle a lot of people loved might I add, it makes the other preorder bundles look like shit in comparison.
Not only that, but $80 for what is ultimately a preorder for loot boxes is absurd. You know what could be done with $80? You could get a shitload of Steam games, games that are not on sale, right now, and still have money left over. You could get two $40 Nintendo Switch games. Ultimately, $80 for 80 packs is pretty crazy. 100 packs or more would've been better, or maybe include some more Golden Legendaries. Speaking of...
But you get a Golden Legendary in the Mega Bundle, which becomes any Legendary you want!
You also get one in the normal $50 preorder as well, making that part of the bundle ultimately irrelevant.
The hero portrait is ugly anyway!
Okay, what does that have to do with it? That's pretty subjective.
You're not entitled to the hero portrait anyway!
Ah yes, the classic "entitled" argument. The ultimate strawman of any shill when they can't think of any else to say.
Who cares? It's just cosmetic
Then why do Casinowatch loot boxes sell like hotcakes? Why did people make a big deal about Nemsy? Guess it's not "just cosmetic" or else people wouldn't give a shit about them. Cosmetics are fun, they let people look differently, and that's why people like them. But besides, that, is for the past two years we were getting this shit for free. When the $10 hero portraits weren't selling, Actiblizz gave them out for free instead as rewards, and people really liked that. Now we have a hero portrait that is locked behind a limited time $80 preorder paywall, so once the preorder is gone that hero portrait cannot be earned anymore. They know people really want Mecha-Jaraxxus since Jaraxxus is one of the most popular Hearthstone characters, and people want Warlock portraits, so they made him a preorder incentive. GET HIM BEFORE HE'S GONE FOREVER!
The argument ultimately is more about the fact the hero portrait is locked to the $80 preorder. I could make the argument all day that it's a waste to preorder loot boxes and how the Mega Bundle is not so Mega, but the fact of the matter is a hero portrait is locked behind a steep preorder paywall. Why is that a big deal? Because we've been getting them for free for the past two years, and if people buy this (Which most likely they will judging from the comments I'm seeing here and on Reddit) then ActiBlizz will start doing more of these "Mega Bundles." Hero portraits will become locked to preorders and we won't get them for free anymore, for these bundles will make so much money, and because people didn't stop and say "no."
EDIT 2
Here we go again...
But you can buy both the Mega Bundle and regular preorder and get TWO Golden Legendaries!
...do you even understand how absurd your comment is? You're spending $130 to preorder loot boxes twice. What the fuck is wrong with you?
OP stop bitching and get a job! Who can't afford $80?
Money is not an issue I assure you. It's not about who has the money to buy the bundle. It's about a sense of worth. Myself and many others personally don't find the Mega Bundle worth $80, especially since they're locking a hero portrait to it when we used to get them for free.
Well I'm gonna buy it anyway
And these were the comments I were looking for. The comments who support the toxicity of preorder culture without giving it a second thought, then bitch when they get terrible legendaries. These are the true Blizzshills, the ones who are loyal to the brand and will defend it tooth and nail. And the funny thing is they're paying to be shills, trying to make their ludicrous investment worth it. I suggest you watch this video by the late Totalbiscuit on why preordering (even if it offers a slightly better deal) is always a terrible idea.
EDIT 3
Wow. This has been the most divisive thread I have ever made here. There's a shitload of toxic comments (some by me I'll admit) but a lot of positive ones as well. Thanks guys for all the replies.
Now a lot of people have been still calling me "entitled" or saying it's a good deal, or don't understand what the problem is. So I'm gonna post some tl;dr bullet points at the bottom. But first, I wanna address all those who call me entitled.
First of all, I have never preordered. Never. Not for video games, and definitely not for cardpacks. I have always been against preordering, even if you get more packs. Ultimately face value, you don't get much from preordering. What do you get? 10 more packs? That may seem like a good deal, but let's be honest it's highly unlikely you won't get anything good in those ten extra packs anyway, because again, you're preordering loot boxes. Same thing with the Mega Bundle, it's literally just the regular preorder but more expensive. "But you get a golden legendary!" Like I said, you get one in the regular preorder as well. $80 just for one golden legendary when the $50 bundle gives you the same thing is pretty cheap don't you think? Like, they couldn't give you three golden legendaries instead for paying $80?
But besides the fact the Mega Bundle is just an overglorified version of the regular bundle, the main issue ultimately is the fact a new hero portrait is locked to the limited time $80 bundle. Hero portraits for two years have been free rewards, and now suddenly one has gone back to being paid, and it's a steep paywall no less for they know people want Mecha-Jaraxxus. People say it's just cosmetic, but the thing is those cosmetics used to be free, and now we got one that isn't and is most likely not gonna return. (And if it does, it'll most likely be exclusive for China just like Khadgar.)
Look, I may not be able to change your mind about preordering (because it's a terrible business practice and always has been.) But at the very least I wanna tell you the Mega Bundle isn't worth it, mainly because we have a hero locked to it. What if we don't get free heroes as much anymore as they start charging for heroes again in these big bundles? We got free heroes because we told Blizzard charging $10 for heroes was too much and we didn't buy them, so now they're trying to tie them in with expensive preorders instead, making them appear as a bonus when it's just extortion. That's why this is a big deal. That's why we need to say no and not buy the Mega Bundle. We're the only ones who can make Blizzard stop by voting with our wallets.
tl;dr
A new hero portrait is locked to a limited time $80 preorder when we used to get heroes for free
If people buy this bundle it would give ActiBlizz incentive to do more and tie more heroes to them.
I TOLD YOU SO!
"Hallow's End also marks the arrival of a friendly new Paladin Hero who will be available for purchase as a part of a special deal!"