Asylum_Rhapsody
Card Design Champion
Mistress of Pain
Join Date:

3/29/2015

Posts:

3,259

BattleTag:

Asylum#1663

Member Details

---
---

Let's start off by congratulating the top-voted finalists of our "House of Discards" competition. Fantastic work! And we'll be reaching out to our winner to help us determine what's in store for you all next week.
1st Place!

by nobravery
2nd Place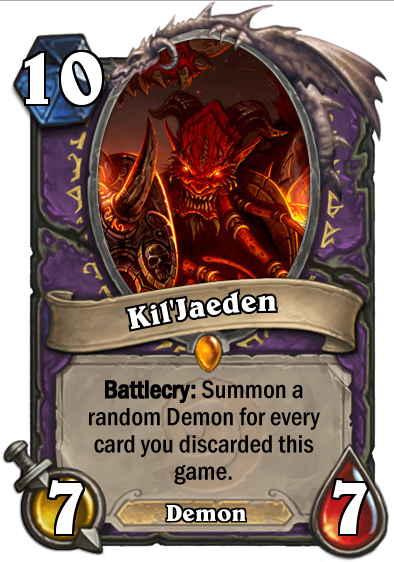 by cheesytwiglets
3rd Place

by Zeppo122
---
Competition #35 - Not-So-Secret

The person who came up with this week's competition theme is going to remain a secret... Okay, I lied, it was me. I got to come up with this week's competition theme. I happen to have a personal taste for things that are kind of wacky and maybe even sometimes test the boundaries of what's realistic, so this week's theme is a little off the wall.
"But Asylum, why are you getting to pick the theme this week rather than the person who won last week's competition?"
Good question! Due to some voting manipulation which we cannot discuss, the person who ended up in second last week should have been first. We tried contacting them, but were unable to get a hold of them in time. They will instead be helping us arrange a future week's theme.
Anyway, onto the restrictions!
Entry Restrictions:

Your card must be a class Secret, but it cannot be a Hunter, Mage, or Paladin card. You should design your card with the idea in mind that it is and will be the only Secret card that its class will have. In other words, your opponent will always know what it is when it gets played, and its main function is as a spell with a delayed trigger, rather than for any deceptive guessing games.
---
Competition Rules

We, the Fan Creation Forum Moderators, may edit and/or disqualify your entry if you neglect the competition's rules, so please read carefully. These measures are designed to ensure everyone has a fair and enjoyable experience during the contests!
You are allowed to submit one (1) entry per competition.

Your entry must be a card of your own creation.

You may add minimal comments to explain your card's design, balance, and/or qualities.

You may not significantly alter your card once it has been submitted. (Although minor tweaks, such as to adjust balance or correct spelling errors, are acceptable.)

You may not delete your submission post.

Manipulating votes in any way is strictly forbidden. Any violators will receive a warning and a possible ban / disqualification from future contests.

Any discussion of entries, ideas, and so on should take place in this week's designated Discussion Topic. This is the Submission Topic, and it is for submission posts and up-voting only.

Recent New Rule - So called "troll entries" can be submitted but will not be able to advance to the final. Fun entries are OK, but outright, unbalanced parodies are not. If you're unsure, check with a moderator before submitting.

Recent New Rule -You MUST upload your submission to a site that stores images, for example Imgur.com, Photobucket.com etc. This is for your own good as Hearthcards only keeps your image for a limited time and sometimes has problems resulting in lost images.
---
Competition Process
Entry Phase and Early Voting (Starts 20:00 UTC 1/October/2015, Ends 18:00 UTC 6/October/2015)
It is during this Phase that you may submit entries to the Submission Topic. You may also, of course, feel free to give early up-votes to any submissions that you like!
Voting Phase (Starts 18:00 UTC 6/October/2015, Ends 18:00 UTC 7/October/2015)
During this Phase, the Submission Topic will be locked, so no more entries may be submitted. Instead, use this time to browse the submissions and up-vote your favorites!
Final Phase (Starts 19:00 UTC 7/October/2015, Ends 19:00 UTC 8/October/2015)
During this Phase, the Discussion Topic will also be locked, and a new Poll Topic will go up. Discussion will be allowed to continue in the Poll Topic, and it will also include all the qualifying finalists and a 24-hour poll to decide the winner of the competition!
How do we determine the qualifying finalists? First, we'll take the highest-voted entry on each page of the submission topic. Then, we'll fill in the rest using the formula detailed here...
(ab) / (c) = x
Where,
a = The total number of submissions on the same page as the submission.
b = The total number of up-votes that the submission received.
c = The total number of up-votes on the same page as the submission.
x = The submission's final score.
The formula basically measures which cards stood out the most, with the necessary assumption that each page is about equal in overall submission quality. The bottom line is that, although entries on the earlier pages of the Submission Topic are much more visible and thus receive many more up-votes than entries on later pages, you don't actually have to rush to get your entry in as soon as possible because the up-votes end up being weighted by what page your entry ends up on in order to determine its final score. It will be the ~15-25 entries that receive the highest final scores (depending on the popularity of this week's competition) that move on to the Final Phase.
But wait, there's more! During each Weekly Card Design Competition, each Fan Creation Forum moderators will be given a Wild Card, which they can use to advance any one entry that they feel was initially overlooked or under-appreciated to the Final Phase, regardless of its final score. Wild Cards are our way of spicing things up a bit, but please don't ask to be given one or be upset if you aren't given one. These are just supposed to be fun.
(Also, it should go without saying that, while we moderators are allowed to participate in the competitions, we are not allowed to benefit from Wild Cards.)
---
Rewards

To encourage your competitive spirit, we do of course offer a few rewards to competition winners:

Their card forever immortalized in our Winners' Gallery!

The power to choose the theme for a future competition!

A unique Avatar Border & "Card Design Champion" Title, as depicted below!
---
Good Luck!