Asylum_Rhapsody
Card Design Champion
Mistress of Pain
Join Date:

3/29/2015

Posts:

3,259

BattleTag:

Asylum#1663

Member Details

---
---

Let's start off by congratulating the top-voted finalists of our "Vanilla Extract" competition. Fantastic work! And we'll be reaching out to our winner to help us determine what's in store for you all next week.
1st Place!

by ProjectHS
2nd Place

by YoThats
3rd Place (Tie)

by Dracossack
3rd Place (Tie)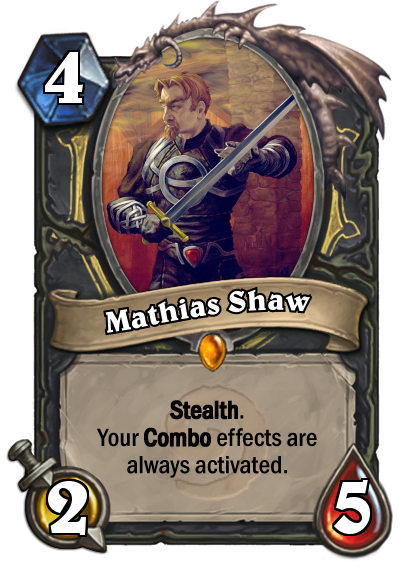 by Ser_Wa
---
Competition #33 - Strength in Numbers

This week's theme comes from Melmoth_The_Wanderer, whose "Forbidden Knowledge" came out ahead in our "Imitation Game" competition two weeks ago. Last week's "Vanilla Extract" was a more thematically-focused competition, so this week we decided to go with something much more mechanically-focused.
Entry Restrictions:
Your card must have an effect that depends on the number of minions on the battlefield (examples: Sea Giant, Frostwolf Warlord).

The effect may be based on the specific number of minions (examples: Battle Rage, Lil' Exorcist, Unleash the Hounds), or it may use a specific number of minions as a requirement for an effect (examples: Mind Control Tech, Gormok the Impaler, spells like Cleave or Dark Bargain that implicitly require a minimum number of enemy minions in order to be played). However, if you choose the latter, the required number of minions may not be 0 or 1 (non-examples: Tinkertown Technician, Anima Golem, Competitive Spirit).
Note that AoE effects (examples: Consecration, Bloodlust, Circle of Healing, Stormwind Champion, Sunfury Protector, Betrayal), which are merely more or less potent depending on the number of minions on the battlefield, do not inherently meet the requirement, because the number of minions on the battlefield doesn't actually alter their use or effect. In other words, if the only thing changed by the number of minions affected by an effect is the number of minions affected by the effect, then it doesn't qualify.
---
Competition Rules

We, the Fan Creation Forum Moderators, may edit and/or disqualify your entry if you neglect the competition's rules, so please read carefully. These measures are designed to ensure everyone has a fair and enjoyable experience during the contests!
You are allowed to submit one (1) entry per competition.

Your entry must be a card of your own creation.

You may add minimal comments to explain your card's design, balance, and/or qualities.

You may not significantly alter your card once it has been submitted. (Although minor tweaks, such as to adjust balance or correct spelling errors, are acceptable.)

You may not delete your submission post.

Manipulating votes in any way is strictly forbidden. Any violators will receive a warning and a possible ban / disqualification from future contests.

Any discussion of entries, ideas, and so on should take place in this week's designated Discussion Topic. This is the Submission Topic, and it is for submission posts and up-voting only.

Recent New Rule - So called "troll entries" can be submitted but will not be able to advance to the final. Fun entries are OK, but outright, unbalanced parodies are not. If you're unsure, check with a moderator before submitting.

Recent New Rule -You MUST upload your submission to a site that stores images, for example Imgur.com, Photobucket.com etc. This is for your own good as Hearthcards only keeps your image for a limited time and sometimes has problems resulting in lost images.
---
Competition Process
Entry Phase and Early Voting (Starts 20:00 UTC 17/September/2015, Ends 18:00 UTC 22/September/2015)
It is during this Phase that you may submit entries to the Submission Topic. You may also, of course, feel free to give early up-votes to any submissions that you like!
Voting Phase (Starts 18:00 UTC 22/September/2015, Ends 18:00 UTC 23/September/2015)
During this Phase, the Submission Topic will be locked, so no more entries may be submitted. Instead, use this time to browse the submissions and up-vote your favorites!
Final Phase (Starts 19:00 UTC 23/September/2015, Ends 19:00 UTC 24/September/2015)
During this Phase, the Discussion Topic will also be locked, and a new Poll Topic will go up. Discussion will be allowed to continue in the Poll Topic, and it will also include all the qualifying finalists and a 24-hour poll to decide the winner of the competition!
How do we determine the qualifying finalists? First, we'll take the highest-voted entry on each page of the submission topic. Then, we'll fill in the rest using the formula detailed here...
(abc) / (de) = x
Where,
a = The total number of up-votes in the entire topic.
b = The total number of submissions on the same page as the submission.
c = The total number of up-votes that the submission received.
d = The total number of pages that the entire topic spanned.
e = The total number of up-votes on the same page as the submission.
x = The submission's final score.
It might seem a bit complex and convoluted, but the bottom line is that, although entries on the earlier pages of the Submission Topic are much more visible and thus receive many more up-votes than entries on later pages, you don't actually have to rush to get your entry in as soon as possible because the up-votes end up being weighted by what page your entry ends up on in order to determine its final score. It will be the ~15-25 entries that receive the highest final scores (depending on the popularity of this week's competition) that move on to the Final Phase. The spreadsheet showing the final scores of every submission will be released after each competition.
But wait, there's more! During each Weekly Card Design Competition, each Fan Creation Forum moderators will be given a Wild Card, which they can use to advance any one entry that they feel was initially overlooked or under-appreciated to the Final Phase, regardless of its final score. Wild Cards are our way of spicing things up a bit, but please don't ask to be given one or be upset if you aren't given one. These are just supposed to be fun.
(Also, it should go without saying that, while we moderators are allowed to participate in the competitions, we are not allowed to benefit from Wild Cards.)
---
Rewards

To encourage your competitive spirit, we do of course offer a few rewards to competition winners:

Their card forever immortalized in our Winners' Gallery!

The power to choose the theme for a future competition!

A unique Avatar Border & "Card Design Champion" Title, as depicted below!
---
Good Luck!