Phoenixfeather
Card Design Champion
Perfectly Balanced
Location:

Cora City, Asaria

Join Date:

9/14/2016

Posts:

1,107

BattleTag:

It's a secret!

Member Details

This Week's Finalists
---
Competition Theme: That's All, 'Vokes
To start, congratulations to Hikarigami for winning WCDC 10.18! This final competition for season 10 is sure to invoke the hero in all of us!
This week, you must create a Hero Card that utilizes the Invoke mechanic, as well as ONE card of that class that either directly uses the Invoke keyword (Example: Seal Fate, Disciple of Galakrond) OR a card that is more powerful after using Invoke (example: Fate Weaver, Veiled Worshipper).
Rules:
The Hero Card must be a Class card. No Neutrals allowed.
Your Hero Card can be allowed to Invoke any number of times before upgrading, and can be upgraded any number of times. For example, it may take three Invokes to upgrade and may have two forms, or it may take one Invoke to level up and have four forms. The only requirement is that it must take at LEAST one Invoke to upgrade, and that it must have at LEAST two forms total. Also, if your Hero Card has three or more forms, each upgrade must require the same number of Invokes.
This should go without saying, but the Battlecry of the Hero Card should scale with upgrades. You may choose whether or not to equip a weapon at certain levels; it is not required.
The Hero Power does not have to cost 2 Mana, but it CANNOT be a passive Hero Power, as that would cause issues with the Invoke mechanic.
While the card that powers up once you've Invoked should preferrably require the same amount of Invokes your Hero card needs to upgrade, you can make it so it upgrades after any number of Invokes (minimum 1).
Your additional Hero card forms should be under a spoiler. You may choose which one of the forms will be shown outside the spoiler.
---
We have calculated the 4 entries with the highest scores!!
Check out all the finalists below and vote in our poll (vote for as many or as few as you like) to help decide the winner and be sure to check back after the poll finishes for the announcement of the winner and the start of a new theme!
Archlich Kel'Thusad and the Great Mr.Bigglesworth by RaptorWithWings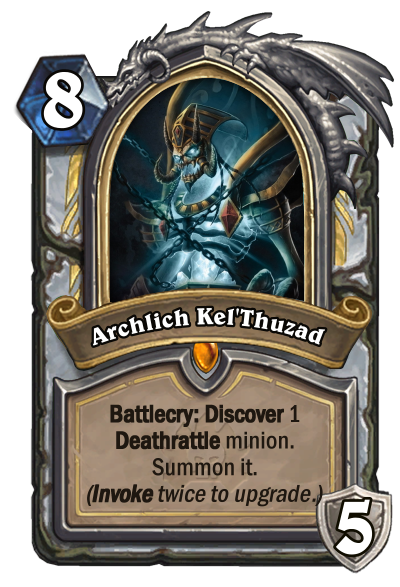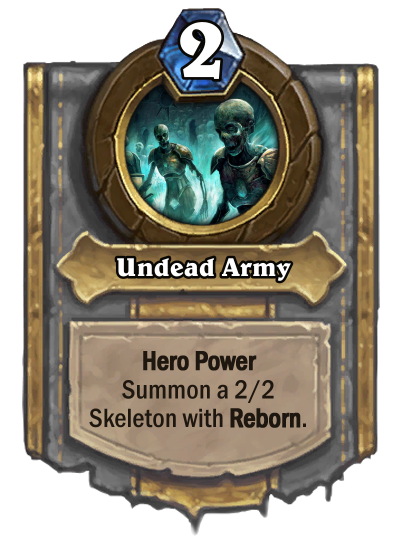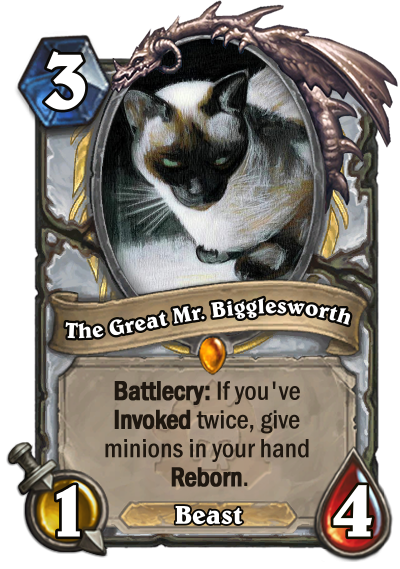 Hero Upgrades and Tokens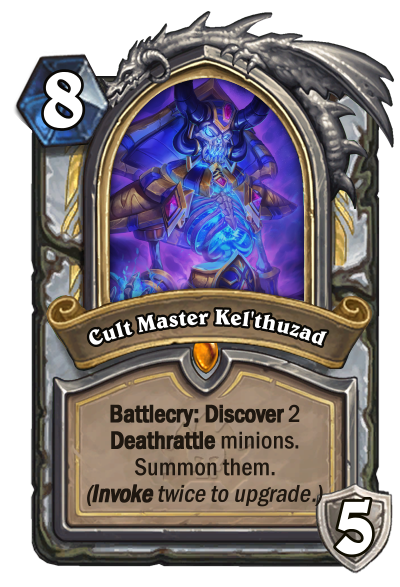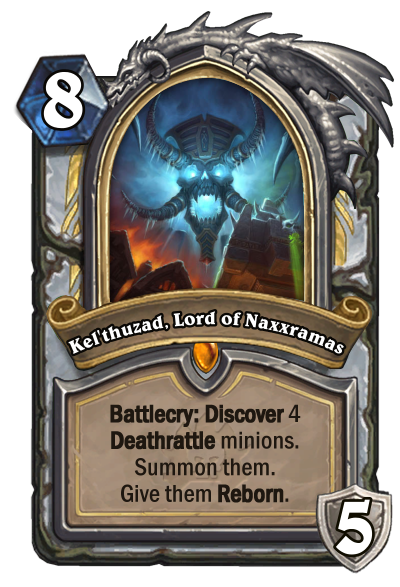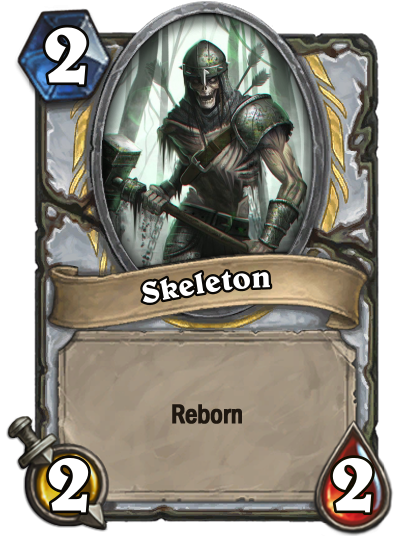 G'huun The Pestilent and Grand Ma'da by Blightcaller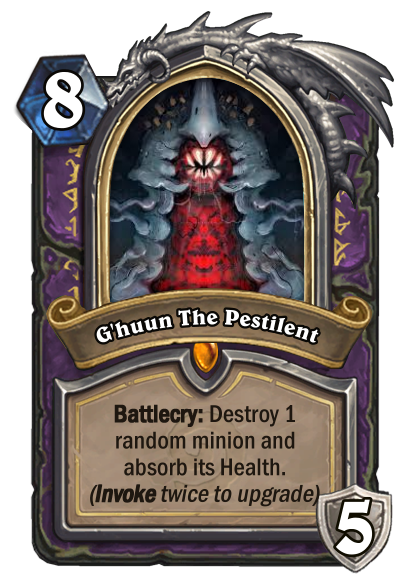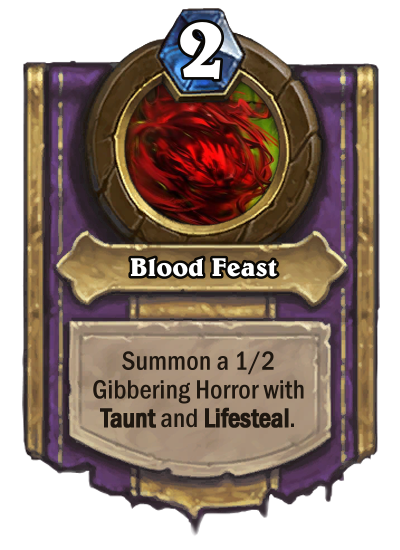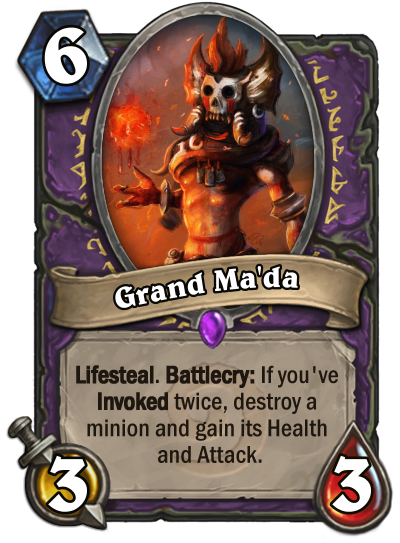 Hero Upgrades and Tokens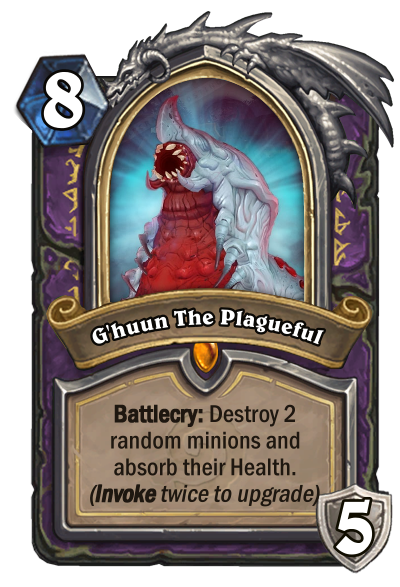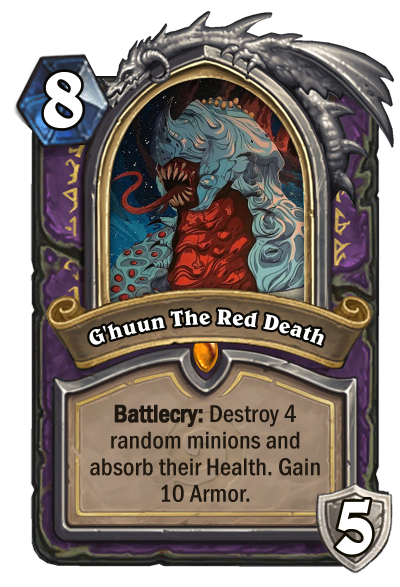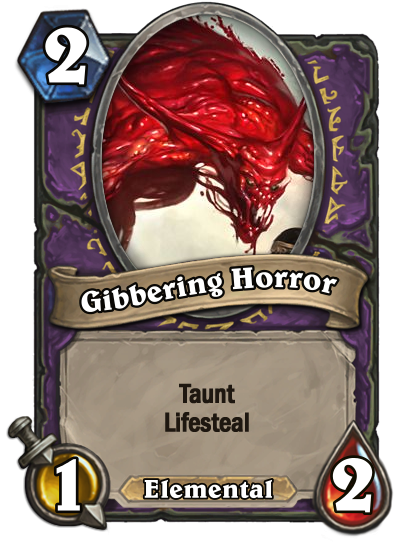 Archmage Modera and Arcane Elemental by Rakio
Hero Upgrades and Tokens
The second (once upgraded) Modera battlecry is EQUAL to the Kazakus battlecry. Initial battlecry is the same, but you can choose only it's cost and ONE effect. With fully upgraded battlecry you can choose it's cost and THREE effects and also cast a Greater Arcane Missiles spell.
Hero Power and deathrattle of a minion is cast an Arcane Missiles spell.
Kazakus,the Alchemist and Forbidden Invokation by Revelation1984
Hero Upgrades and Tokens
Wished to be pink.
Then did.
Then fired myself.
Then did again.