Azshara
Card Design Champion
Frostwolf Warlord
Location:

Nazjatar

Join Date:

3/31/2015

Posts:

363

Member Details
Fix Existing Cards!
Do you have a card you just hate? Maybe you think it's just underwhelming...

Regardless - this is the thread for you!
The premise simple, think of one or more existing cards you think could do with some love, and recreate them.
Maybe change their stats, adjust their effect from battlecry to deathrattle, or give them a whole new effect entirely!
Without the weekly card competitions, hopefully this will give something people can contribute to any time.
Without further ado:
---
Brightwing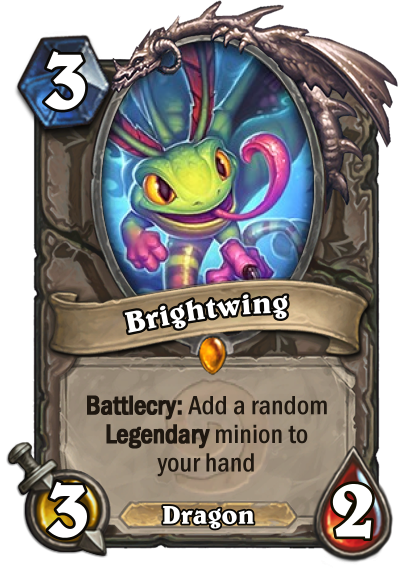 ===>
With Brightwing being added as a new Legendary to the Classic Set, I think her effect is somewhat boring. Sure, the value is alright for in arena, and she works as a low cost dragon activator, but it could do will a little more flair.
Since she's a Faerie Dragon, I thought it fitting to give her an Emerald Dream type effect. As Arfus is to The Lich King, Brightwing could be to Ysera. Given the relative power of Dream Cards, I decided against her adding the card directly to your hand, or making it a deathrattle - instead, shuffling means the value is delayed into later in the game.
Hopefully with this change her power would be a little less random, and make her more interesting.
---
Anyway, if this thread happens to take off the ground; let me know what you think, and have fun!
Last edited by
Azshara
on Aug 7, 2019