thepowrofcheese
Grand Explorer
Black Knight
Join Date:

1/27/2015

Posts:

1,344

BattleTag:

Archivist#1737

Member Details
THE TINKER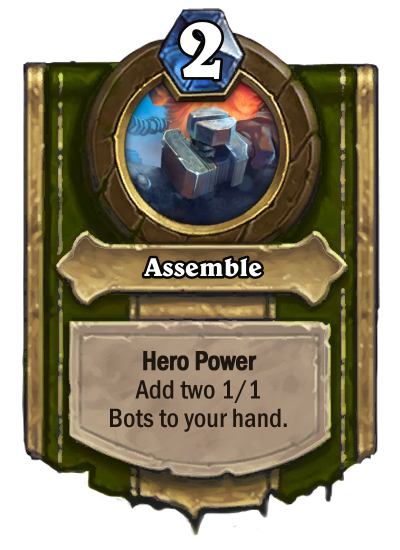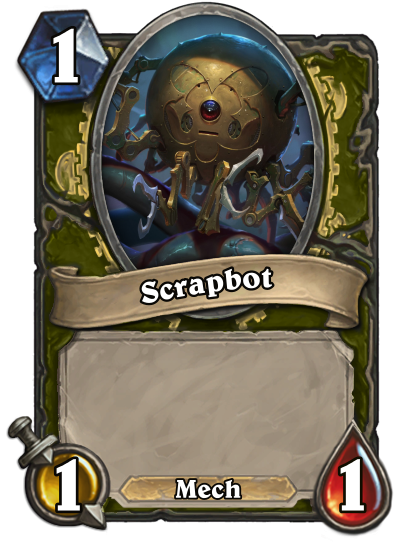 Welcome back to Blasthammer's Garage! So, you want to see more of what we Tinkers can do, eh? Like I said last time, we Tinkers are crafty thinkers that make all kinds of wonderful toys! We got mechs and weapons and gadgets and bombs and more scrapbots than you can count! Today, I'll show you a few Basic things so you get a feel for how we work. Don't worry, even some of this stuff can get pretty crazy!
---
Keyword: Synchronize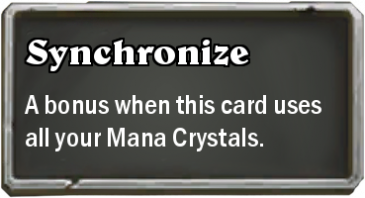 Before we get too far, I wanted to remind you about Synchronize ! Sometimes when you're tinkering away, you find you've made something better than what you expected! Use all your Mana on a card, and that card will get a bonus! It's like Combo, but you can use it without playing cards before it! But on the flip side, you only can get one Synchronize effect a turn (usually) and most of the effects won't be just 'do damage' or 'get stats.' Sometimes it'll be stronger the more cards you played, or if you've got some Scrapbots in your hand from your Hero Power! We'll talk more about that later. Now, to the workshop!
---
Example Cards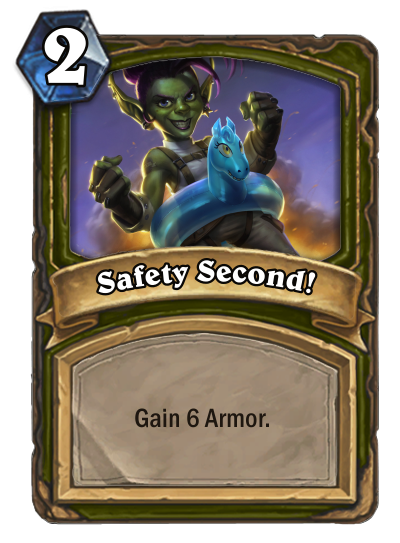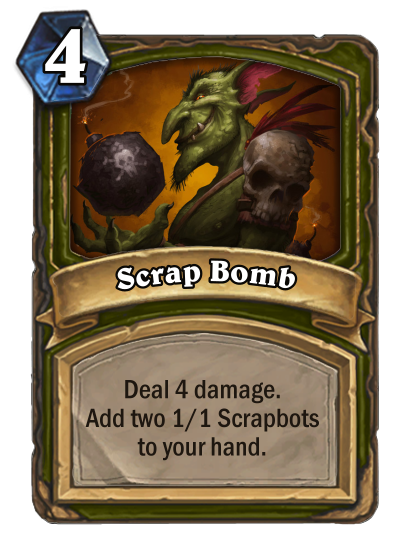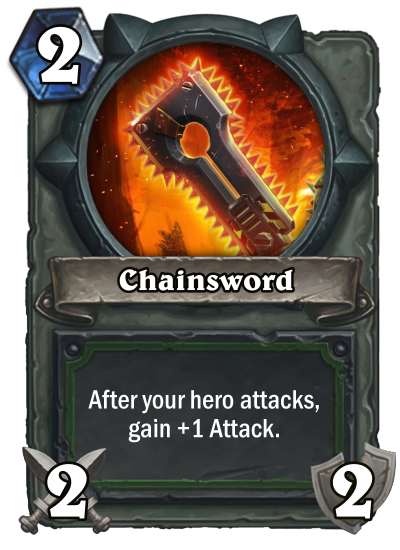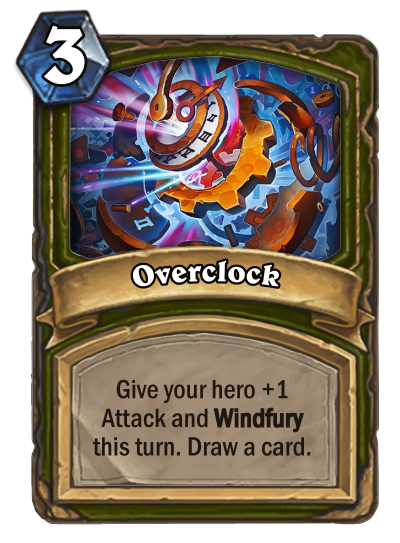 Here's a couple neat things. Basic stuff, but important! A lot of my best work is based off some simple ideas. Let's take a closer look, eh?
Noise Machine - WHAT!? I CAN'T HEAR YOU! WHAT!? TURN IT OFF? OH! Heh, sorry. You saw this before, when it was a Secret. Still got some Secrets, but this little baby turned into something a bit more... preemptive! Casters hate 'em. I got a few buggers like these, they do a great job screwing with our enemies and protecting our workers.
Safety Second! - Yeah, we got all kinds of workers here, building mechs and bombs. You know my garage's number one rule? Results first! And money! Money's also first. What? Safety? No way! That's second, at best. But still, important. Lots of dangerous stuff here.
Scrap Bomb - Like this guy. Light it, throw it, big boom. Lots of shrapnel to make more Bots out of. What's with all the Bots? We love 'em here! If we're bored, or out of ideas, we make Bots. Lots and lots of Bots. Later on, I'll show you some clever things we can do with 'em, too!
Chainsword - Watch your fingers! This guy's sharp! Yeah, we Tinkers have weapons, and they're a LOT better than those used by other classes. For one, some of ours explode! That's, um, that's a feature. I think. You see, we've got bombs and missiles and stuff, but Tinkers are, uh, easily distracted. Some of our tools don't always hit our exact mark. So we use weapons when we need to be precise.
Overclock - And if we need to be really sure our target gets got, we throw all the safeties off and kick it into overdrive! What? I told you the explosions were a feature!
---
Remaining Cards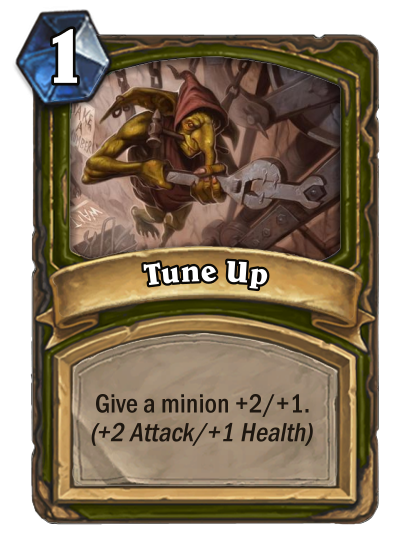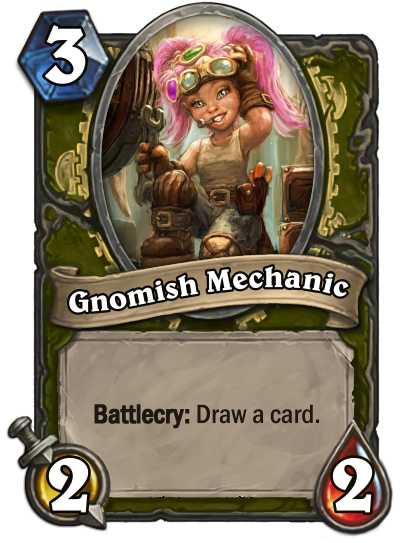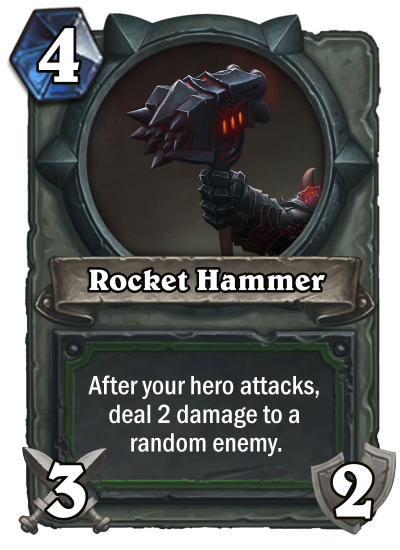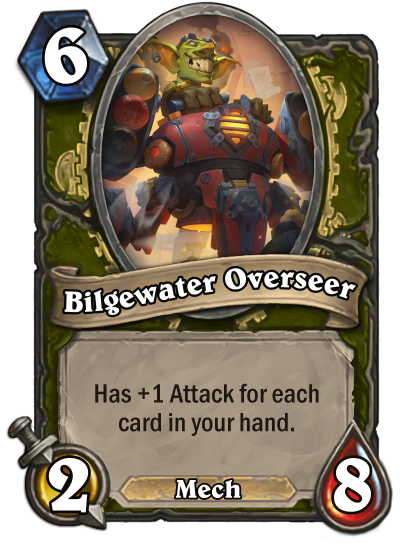 Tune Up - Tinkers are always tinkering away at our toys, looking to improve them. Or at least, try something different. I always say, if the Mech is still walking, give it more weapons!
Dynamite Toss - Yeah, don't pick those up. Whenever I pick up some dynamite, I uh... tend to space out. And then everything's on fire. Just, uh, skip this crate.
Gnomish Mechanic - Hrm? Oh, her? Yeah, I got gnomes working for me. They aren't that bad when they're under my thumb! Don't tell her I said that. But anyway, you've seen Novice Engineer s and Gnomish Inventor s before. Our mechanics are somewhere between those two skill levels, but they do good work. For me. That's the important part.
Rocket Hammer - See this? This is a weapon that's supposed to explode! Every thwack against a baddie will blow up a buddy of his! Give it a try. Wait, NOT HERE!! Give me that!
Bilgewater Overseer - Just wave to that nice goblin as you leave. He's one of my Overseers. They watch over the garage, making sure everyone gets their work done. But if he has to fight, he's got plenty of experience! That and his big fancy Mech! Can I say Mech? Technically they weren't called that before the fight with the gnomes. Oh whatever. If someone sues me, I'll send an Overseer after them.
*Note* Forgot about the limited number of keywords, replaced Brass Bodyguard with Bilgewater Overseer and changed Tune Up .
There you go! Like I said, Basic stuff, but its a good foundation for some of the crazy contraptions we make here! We got all kinds of cards that build off each other and Synchronize together for strong effects or big bursts of damage! We can also swarm our enemies with all those Bots we've got! And if we're feeling real clever, we can even turn our Bots into other stuff when we need to. Thanks again for visiting! If you like what you see, come back again and I'll show you some of my Classics!
Previous Phase
Notes: Image Verification Process Run!
Last edited by
Arthas
on Feb 5, 2019