Turkeybag
Card Design Champion
Ancient of War
Join Date:

12/20/2013

Posts:

596

Member Details
The Battlemage


Info:
Battle mages are pretty much a fusion between warrior and mage. They use magic to create weapons, armor, and to do other things that'll help them in melee combat.

The hero power may seem weak, but it trades really well, being able to take out minions like Dire Wolf Alpha , Sorcerer's Apprentice , and so on. The downside is also redundant if you use it after attacking, as you wouldn't have been able to attack anyway.

Strengths: Versatile (Has a large Variety of tools at their disposal).

Weaknesses: Obvious (Conjuring a weapon takes time, and spellfury needs a decent weapon so you need to think ahead, and your opponent has a chance to interrupt your plans), brutally countered by weapon removal.

More will be revealed as the class is fleshed out!
Keyword:

Spellfury gives 1 damage for every X damage your hero did from attacking this turn. So if your hero did 10 damage, Spellfury: (1) would give 10 bonus damage where as Spellfury: (3) would only give 3 (it'd give 4 bonus damage if your hero did 12 damage). It can be tricky to master as damaging minions to buff your Spellfury can lead to you not needing the bonus damage. Also don't worry, there will be ways to go all out with this!
Showcase Cards: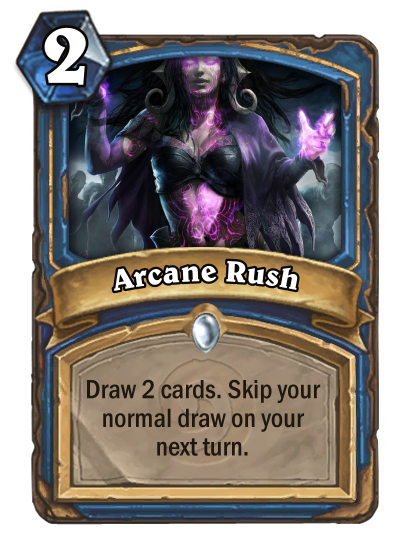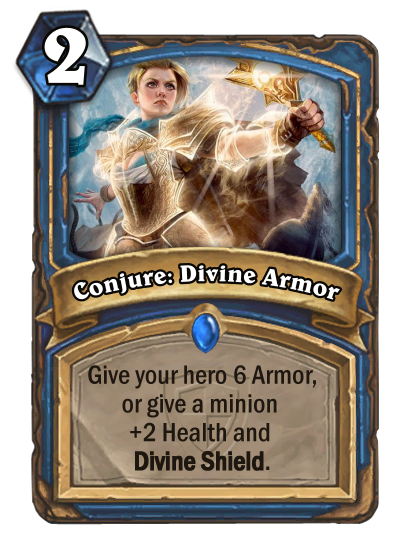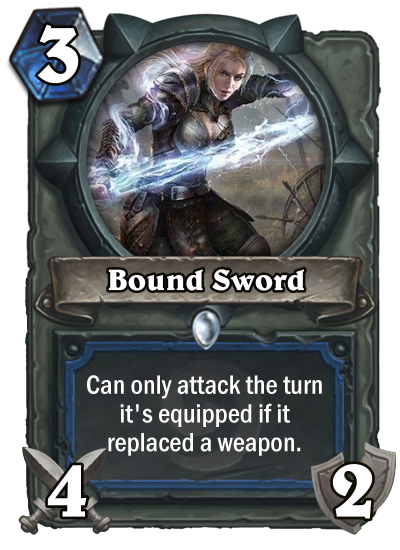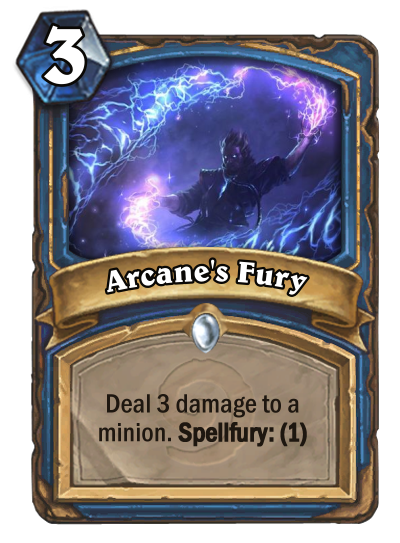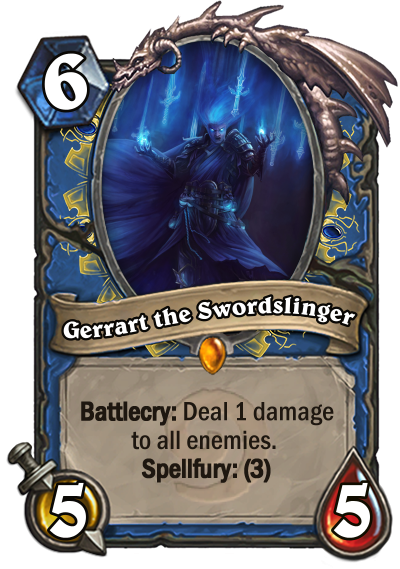 ---
Arcane Rush: Don't think of this as a 2 mana draw 2 with a drawback, but as a 2 mana draw 1 with an upside (you can play your next draw immediately). You'll only skip 1 draw even if you play more than one on a turn!

Conjure: Divine Armor is an example of one of the classes themes, targeted cards with effects that change depending on the target. It has a paladin theme due to being from TgT.

Bound Sword: Has the typical can't attack when equipped battlemage theme, but with the option of trading some value to gain tempo.

Arcane Fury: If used alone it's pretty weak, but spellfury (1) makes it gain damage easily. This can deal 5 damage just with an attack from the hero power weapon making it pretty good!

Gerrart the Swordslinger: On his own he's an alright card. Normal decks will have some difficulty getting more than 1 bonus damage out of spellfury (3) , but decks aiming for big spellfury turns will love this guy. A simple, classic legendary that shows what the class is about.