Demonxz95
Card Design Champion
Eternal Prophet
Join Date:

3/20/2016

Posts:

4,059

Member Details

(shoutout to Cogito for designing the banner)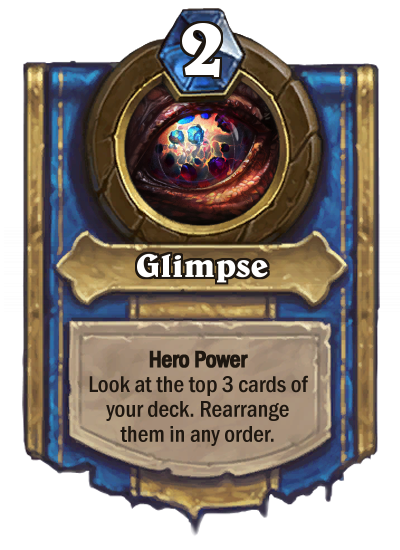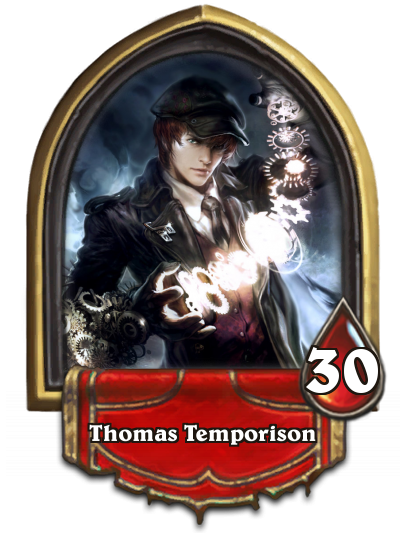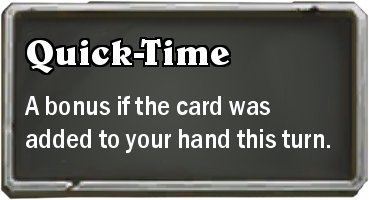 My entry for this competition is the Time Traveler class. This is a class themed all around... well, time which is represented in several different aspects of the class. The Hero Power of the class is Glimpse , which has you look at the top 3 cards of your deck and rearrange them in any order (if your deck has less than 3 cards when you activate this, it will simply show you less cards instead), allowing for strategically planning ahead a few turns because now you know what you're going to draw and being able to change and optimize your draws.
This class also introduces a new keyworded mechanic for the class, Quick-Time . Quick-Time effects activate if you play the card on the same turn it's added to your hand (either by drawing it or generating it, anything counts). In most other classes, this effect seems like it would be inconsistent and top-deck reliant. The Time Traveler class however has many ways to get around this, namely their Hero Power in which you can rearrange the cards you draw to make sure you draw the Quick-Time cards when you actually want to draw them. There are also some cards in the class which can make Quick-Time cards even easier to activate.
UI for the Hero Power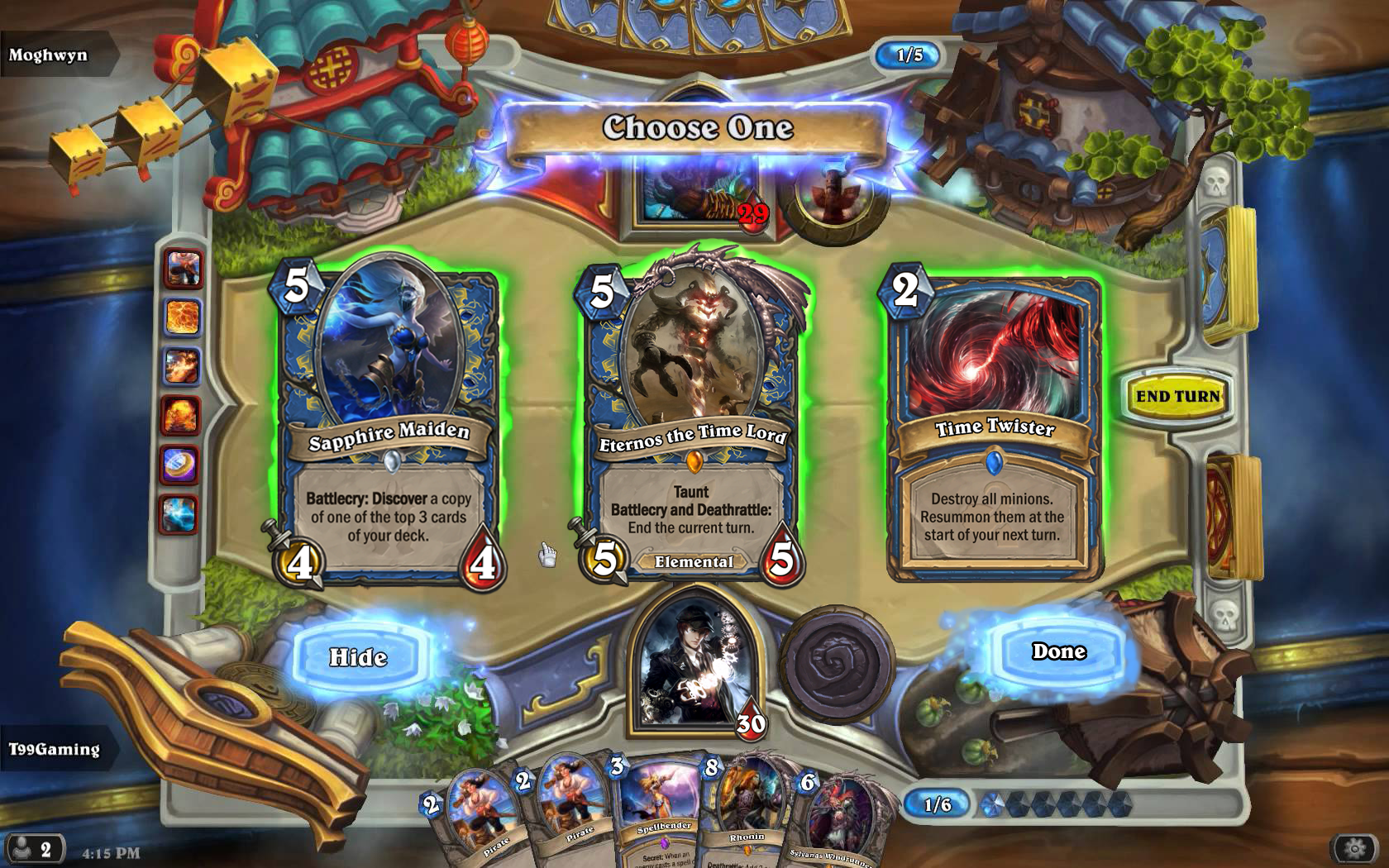 Click and drag the cards to change their positions.
(special thanks to NiRaSt for making the image)
(Just pretend those Mage cards aren't there)
Speaking of cards, let's look at a few. Here are 5 cards that showcase some of the aspects of the Time Traveler class.
| | | |
| --- | --- | --- |
| | | |
| Rift Elemental (Classic) serves a simple introduction to several aspects about the class, the first, most notable and probably most important thing being the Quick-Time mechanic. If you play it the turn you get it in your hand, it acts as a 1 mana 2/3. It also introduces the theme of Elementals to the Time Traveler class. Time Traveler has quite a few Elementals and Elemental synergies. It also introduces one prominent aesthetical theme of the class, rifts. | Time Twister (WoTOG) is a card supporting one of the most important and prominent themes of the class, time and manipulation thereof. Upon playing, you destroy the whole board and it comes back when your next turn starts, giving you time to build a board and/or search for answers for when the minions come back. | Eternos the Time Lord (Un'Goro) is a Legendary for the class that, in addition to being another Elemental, focuses on the time aspect in a huge way. Upon playing and upon death, his effect immediately ends the current turn and moves over to the next player. Unfortunately this isn't very easy to ignore because he has Taunt meaning your opponent will probably need to kill it at some point and may end up skipping a portion of their turn. It also introduces another aesthetical theme of the class: Sand. Sand is the element of time after all. |
| | |
| --- | --- |
| | |
| Sapphire Maiden (KotFT) is a card following another very prominent theme of the class, that being deck order. This theme is used by the Hero Power, Glimpse , letting you rearrange the order of the cards you draw and plan ahead for future turns. This allows you to get a copy of the cards for yourself to put to use right now as well as also seeing the top 3 cards of your deck, again allowing for planning and strategy. In addition to that, it also puts a 4/4 body on the board. | Guild Teleport (K&C) is the final example card for Phase I and another card to follow the theme of seeing and manipulating the top of your deck. Play it and pull out all minions in the top 3 cards of your deck right away. In conjunction with Glimpse , you can easily optimize your drawing order and the outcome of this card, as well as being able to judge the best time to start planning this strategy out. Perhaps a "Big Time Traveler" (akin to Big Priest or Big Warrior) could come out of this card. |
Notes: Image Verification Process Run!
Last edited by
Arthas
on Jan 4, 2018