Yuvalito
Sea Giant
Join Date:

7/29/2015

Posts:

655

Member Details
This was updated in 13/12: Five new cards are ready for you to research down below :)

Greetings, Students!
Today you will visit Dalaran for the first time. A city packed full with old books and scrolls, and even older wizards trying to unveil their secrets.
It's a city of great libraries and knowledge and information, and as you know- knowledge is power.
This is my newest custom expansion. I will create new cards for it over the next days, and I would be very happy if you will tell me your opinion about them and rate them.
These are the mechanics of Dalaran's Magic:
* Almost no RNG, more complex gameplay- after a few years, I really think Hearthstone should raise its difficulty a little bit.
*Deck building interaction- some cards in Dalarn's Magic alter the way you build a deck. The word Decklist, that appears on some cards, means their effect happens even before the start of the game, and lasts whether they are in your hand, deck, battlefield or even dead. (Kind of like C'Thun buffs).
*The Library- Dalaran's Magic biggest mechanic. It works kind of like a sideboard. While building a deck, the moment you put a card that interacts with your Library in some way into your decklist, you are requested to assemble your Library-a sideboard that consists of at least 5 cards, with at least 1 being a minion and 1 being a spell. Your library is built by you, using the cards in your collection, and is unique for each deck that you make, meaning Each deck you make can have its own 5 card library.
An example of a possible warrior library: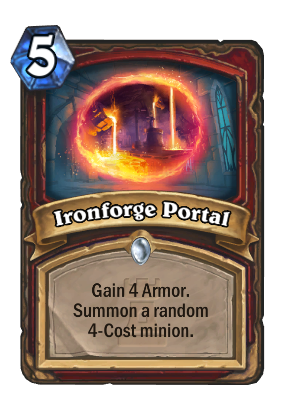 As you can see, the library consists of 5 cards- at least 1 is a minion, and at least 1 is a spell.
The library has no immediate effect on the game, but the cards that you put in there can come into play with certain Dalarn's Magic cards. It acts like a sideboard- for example, if a lot of Truesilver Champions rule the meta, you can put Harrison Jones in your library, while not wasting a deck slot in your regular decklist. If you did not understand this idea fully please comment me below and I will try to explain it in greater detail.
*???- coming soon
When I talked about cards that interacted with your library, I meant for cards like this. This minion is understated, but it can make you choose between the cards that you choose to put in your library, giving you a lot of flexibility. When our Warrior friend for before plays Dalaran Student, he will be able to choose between these cards: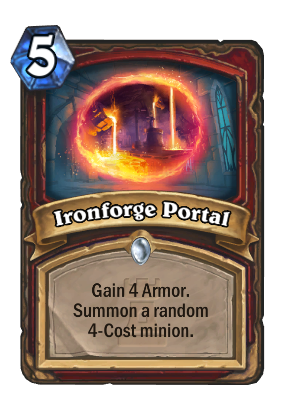 Pretty cool, huh?
13/12 Update- Dream
7/12 Update- The Guardian

2/12 Update- Shiny!
26/11 Update- Shuffled
23/11 Update- Anceint Scrolls
21/11 Update- Development of Lifetwist:
Dalaran is a home for many researchers with many different views on the world, but only few of them are as unique and as ambitious as the vision of Lifetwist. The engineers of Lifetwist strive to make the world a better and safer place- and dream to solve the war between the Alliance and the Horde using their under development anger-eliminating magic.
These cards are super powerful- only if you can get rid of any minion with unequal Health and Attack from your deck. Can you make a good deck to make them shine in? Let me know!
Master of Extinction is a really cool twist (in my opinion, of course) on the Library mechanic. He has a small body, but can destroy any minion on the board that is also in your library. When putting this minion in your deck, your library will ideally consist of 1 spell and 4 minions. The minions in your library should be minions you are really annoyed at, and ones that you see often in meta decks. This card rewards unique deckbuilding from your opponent, as Master of Extinction is a really weak against interesting decks with unusual cards.
First Release
The next card we will be taking a look at, is the tiny Gnomish Powerholder. It gives you Spell Damage, and hers stats don't suck. Will she see play?
The high concentration of wizards and knowledge seekers has been drawing a lot of opposition, and one of them is the Powerful Antimage. He can easily cost (0) against spell heavy decks like Tempo Mage or Malygos Druid.
A really really powerful card. Its weak when you play it, but it has a ton of value potential later in the game. I will say that a 0-mana curator is a pretty good thing to have in your deck.

Einvor the Old is one of the cards that interact with your decklist. If you build a deck and put Einvor in it, your deck will not be complete until it contains 35 cards. Really good for fatigue wars, and for those times your really want to fit in these extra cards into your decklist and just can't.
Please rate the cards and tell me what you think about the library concept, the theme and the expansion in general. I will be happy to explain one of the cards if you didn't understand them fully. I need to know if you want to see more of this.